This box set is the fifth edition release of the Fantasy Games and includes both Bretonnian and Lizardmen starting armies. The models are all present and still on the sprues except for a couple which have come loose, but are still in the box. All the markers and dice are also in the box. The box is complete! Also included, but not pictured are the army list books for the Lizardmen and Bretonnians. All of these are from 1996! I can't believe these were still lying hidden in my parents garage!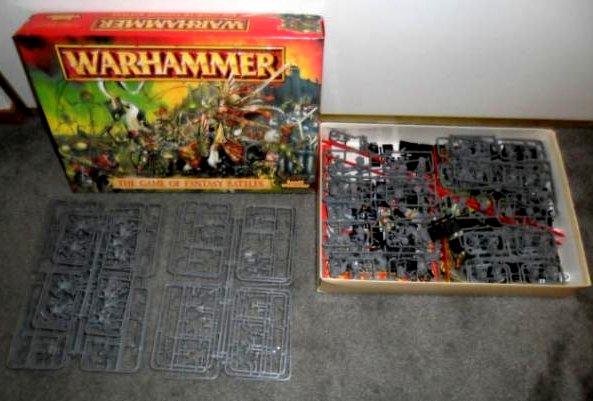 I thought about fielding the Saxons with the Brets and make up some fluff that my lord is from Norsca and settled in exchange for land and titles like the Normans
but I bought the Bret Battalion box, so I have those man-at-arms with tower shields. They just don't look the same, though I'll work on fielding them together.
I thought about Kitbashing Mantic Undead with
GW
Brets and making an undead Bret army.
I'm at the point where I have to make a serious decision for this bret build. Mantic undead +
GW
bret or
GW
bret + Wargames Saxons or straight
GW
Bret.
http://www.manticgames.com/Shop-Home/Kings-of-War/Undead/Core-Units-Troops/Product/Undead-Skeleton-Troop-10-Figures.html
Giant Snails
http://www.thewarstore.com/product67772.html
Some players suggested I could make a double bretonnian & Vampire Count army as the Army of Mousillon
For those of you who are up on fluff: Mousillon is a fallen section of brettonnia. Later removed from the kingdom and deemed a cursed land. So I was thinking about doing these up to represent the "fallen". But I was wondering what to include in such an army? Naturally Blood knights and black knights but aside from that, what do you think would be a good representation in such an army?
The Unholy Knights of Mousillon. They are mentioned in the
VC
army book in the fluff about the Cursed Sheild of Mousillon, yet i haven't seen more than this. So it is of my opinion that these knights are the polar opposites of the Grail Knights. Withholding all pluses of the ideal of Laudin, yet with a more sinister twist. Unless anyone has any information to the contrary.
Bretonnian vampires. Here's how I'd work the mix:
Men-at-arms / Graveguard : Bret bodies, with skeleton heads or cut off their noses and paint them to look like zombies. Paint hands as though they are wearing gloves
Pegasus Knights / Vampires on Winged Nightmares: basic Pegasus Knight kits, but with appropriate bits and paint to suggest a vampire. Also, use these more frequently as FelBats
Knights Errant / Black Knights : Knight box with skeleton heads
Knights of the Realm / Blood Knights : Knight box with full helms, paint and bits to suggest elite vampires
Relique / Wraiths: Banshee on a 40mm scenic base serves as Relique, with Wraiths as Battle Pilgrims (the banshee can come off the 40mm, to go to an appropriate
VC
base)
Heroes : any mix of character models from either range
There are some things which don't translate between armies, but playing primarily as a Undead Bretonnian with the possibility of Vampires as a side army. Everything not listed above, is used "as-is" within the appropriate army. The only change to the Breton models is the use of skeletal heads and some arms instead of the living heads, and the
VC
models get some Bret bits in turn.
I've already put the halberd arms on most of the man at arms. The bowmen just need heads. if I was going to kitbash the mantic skellies, then I should have given the bret models the skull heads and/or arms and the mantic skellies the bret heads
Then I could steal some fluff and ideas from:
http://www.librarium-online.com/forums/fb-army-fluff/167332-darklord-duke-mousillon-

vc

.html
http://www.dakkadakka.com/dakkaforum/posts/list/364386.page
Its still a thought process and one that needs to be decided fairly soon. Like tonight or tomorrow, or maybe even monday as it prevents me from building anything currently.
Automatically Appended Next Post:
After staring at these, I think I'll just make them regular Bret models.
I don't have the mantic undead models in front of me, I have bret models. I figure I could get the mantic undead later and build/paint then put them into units of brets to make the army
I'm thinking a red/yellow color scheme for this army. Red yellow would look nice on brets
Most of the men at arms will be brown, due to their leather armor, with some red/yellow accents
Headless Bretonnian Archers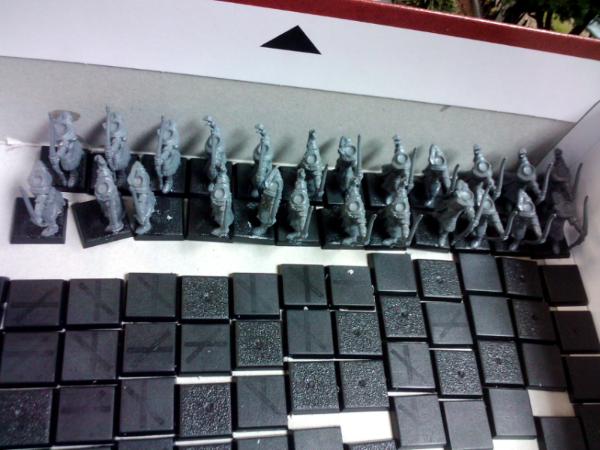 Man at Arms (half)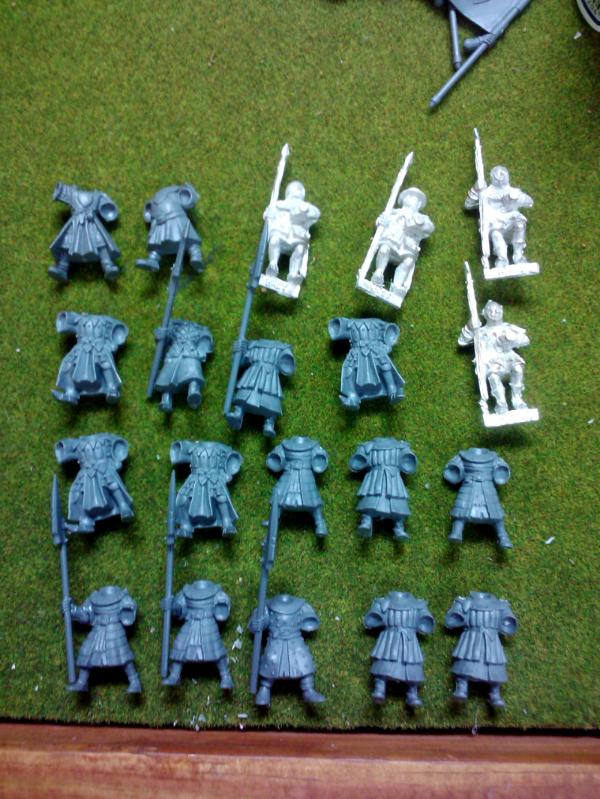 Man at Arms ( the other half)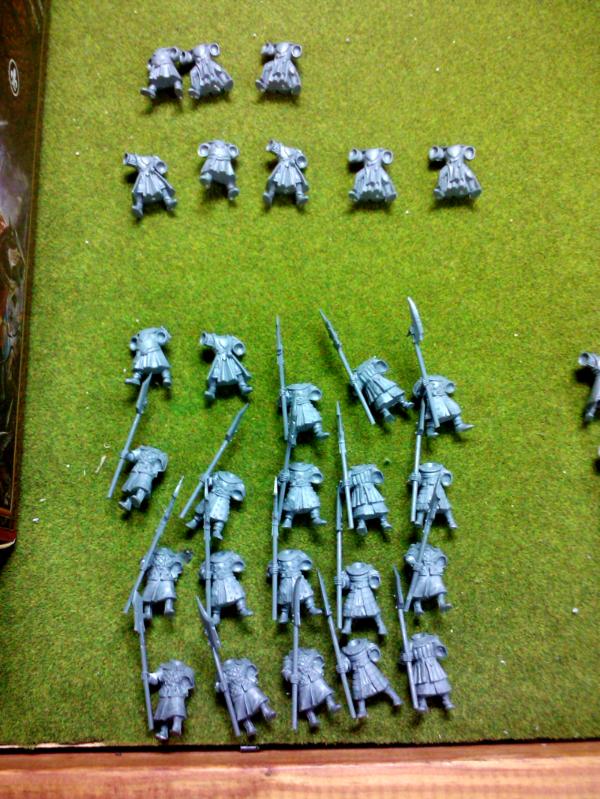 Automatically Appended Next Post:
Worked on the Bretonnians a bit more last night:
First Pegasus Knight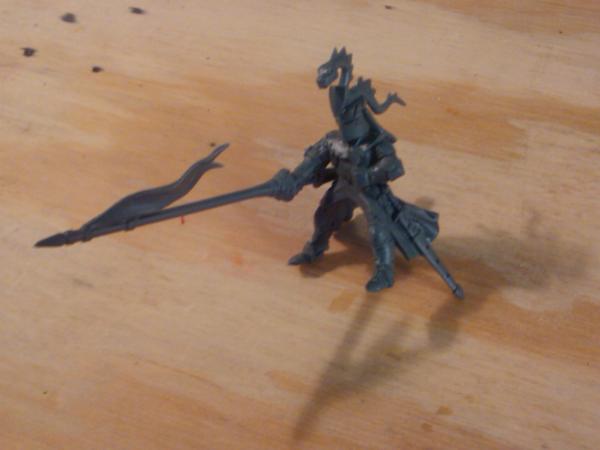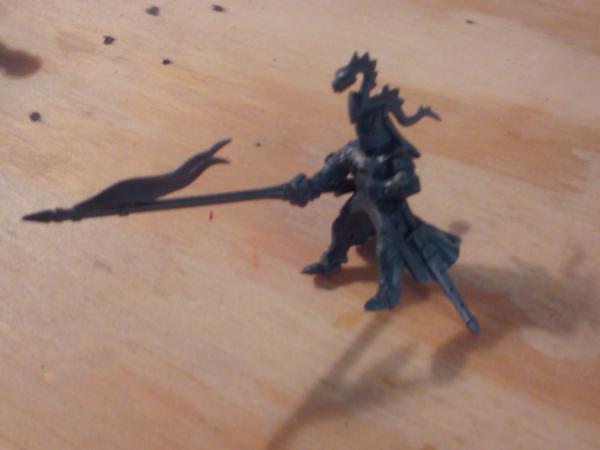 Men-at-arms assembled minus the tower shield, so that when I prime & pain I can get to the areas behind the tall shield. I'll attach the shield after.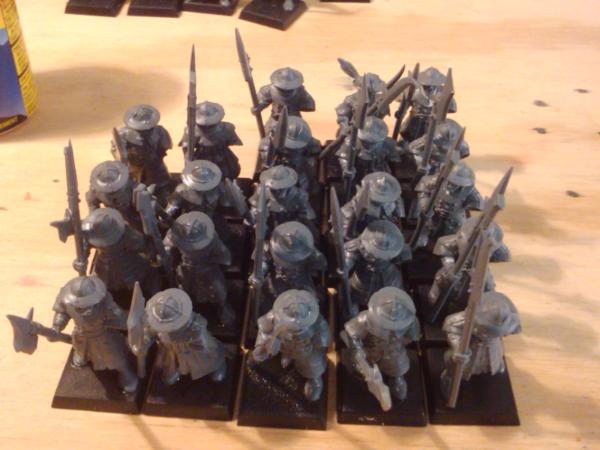 Peasant Archers, just add head, attach to base and they're ready to go!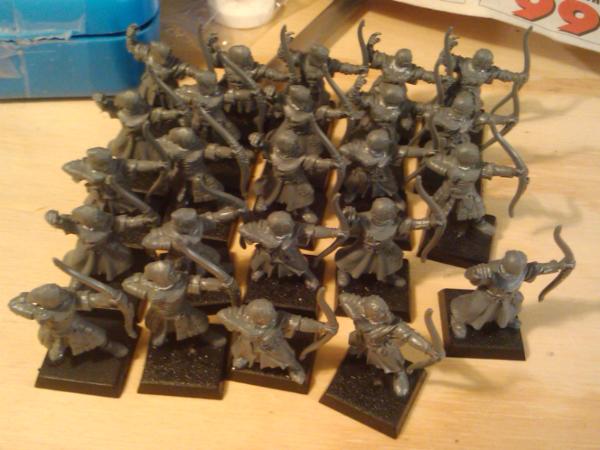 On all the heads I drilled with a pin vise into the body and into the base of the head. I was going to pin them together, but decided that when the superglue fills the hole that I made, it would be good enough to hold the models together with a strong bond.
I've been directed to check out:
http://www.roundtable-bretonnia.org/
It seems like a great resource for Bretonnia.
I've received lots of great input from a San Antonio, Texas base Wargaming group, 'The Gaming Garage'
https://www.facebook.com/groups/175757472448931/
As well as my more local and vocal Wargaming group here in Houston, Texas: "Warhammer40K of Houston"
https://www.facebook.com/groups/295114300504938/
and the Warmachine / Hordes Houston, Tx Facebook Group:
https://www.facebook.com/groups/128014557313818/
Lots of good people on all the groups willing to talk, discuss, organize games and tournaments as well as hobby days. Good times.
Automatically Appended Next Post:
I Think I've got on hand or en route:
2x Bretonnian Battalion (The box includes bits for:
1 Pegasus Knight, 20 Men-at-arms (including Champion, Standard Bearer and Musician), 16 Bowmen (including Champion, Standard Bearer and Musician) and 8 Knights of the Realm (including Champion, Standard Bearer and Musician)
1x men-at-arms box
1x Bretonnian Bowmen
1x 5th edition starter box (with Bretonnians and Lizardmen)
4x Bretonnian Spearmen (will be put in to the men-at-arms unit)
2x Reaper miniature female sorcerer models (to act as damsels)
And,3 more Pegasus Knights.