Here's my finished LoER Terrain Contest entry. It's in an odd category... not an in-game piece, but more of a diorama and utility shelf. Is the crumbling cliff-side trail the dangerous terrain, or is it the surface of my workbench, where models have been crushed in the past? Either way they'll be safe now that they have a nice wall-mounted perch. Here's a good variety of photos, some with models for scale only.
Overall I'm very happy with the aesthetic outcome... I like the color scheme, the drybrush and ink, the tufts, the overall build, etc. The pillars and skylight were both really fun. I enjoyed trying to use paint to blend a
bas
-relief rock band with a flat piece of backing, although I don't knw that I managed it. The skylight is really fun to play with when it comes to lighting and photos. The only bummer is that the whole piece is too shallow... I misjudged how much depth would be used up by texture and detail, and it's hard to squeeze 32s onto the bottom shelf. It will still get good use, and it was a great way to break in the Proxxon foam cutting table.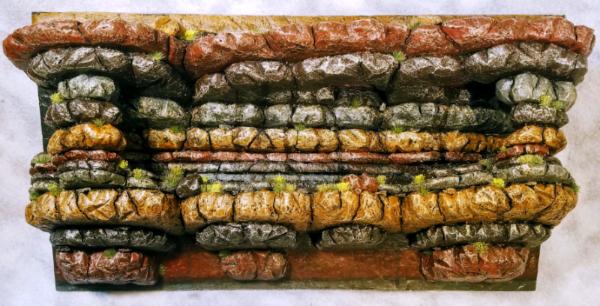 Other angles, close-up details:
With models for scale:
Mounted on the wall: