The next project for me is the Marksman Fire Team from the Empire of Men Kickstarter. I've got the five figures for the section plus the platoon leader, so lots of options for using them if I ever get to game again. I hadn't counted on them being 28mm 'normal' scale, instead heroic, like
GW
and others- they are very small. But amongst all the figures I got (female and male stormtroopers, commandos, heavy weapons, psykers, rough riders, vehicles, etc) I can field a homogenous force of up to 2500 points, I reckon, so all good. The detail is excellent and the animation is truly top notch (I think). Three of the six have their pistols (M1911's, from the look, although possibly Browning Hi-Powers) out, so I think they must be particularly bloodthirsty Valkyries and- having deliberately dropped their target with a non-instantly fatal shot to the A Zone, have now sauntered up to put the finishing coup
de
grace in the head, up close and personal.
Here's my palette I intend using for them: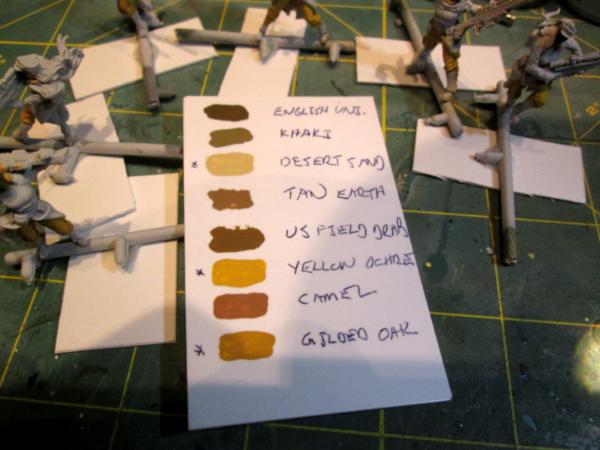 And here's the section on painting bases primed and the start of base coating: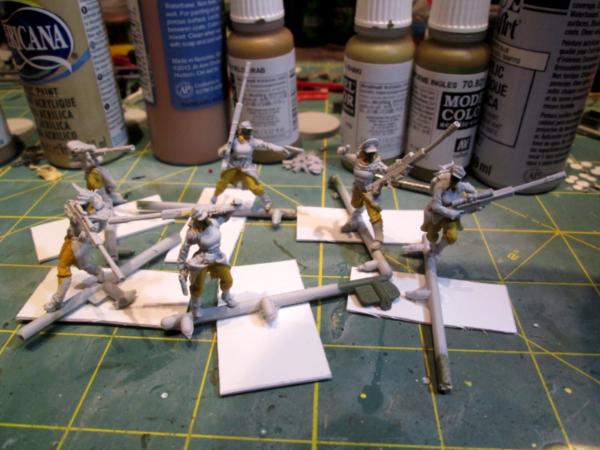 Learning objectives for this project are:
* Make best use of time to get them done fairly quickly (not speed painting, per se, but get 'em done as I have a lot more to do- there's all the Dominion stuff I got that has to be got to)
* Detail the bases a bit more realistically and in a more substantial fashion than I have done in the past
* Don't start any other projects until these gals are done
These to me are reasonable objectives.
More follows soonest.