I was planning this post for the 15th January, to celebrate ten years of my blog! It doesn't have as many pages as many other blogs, but it certainly has some experience. Sadly I missed that date. My mind is not operating at full speed since I had Covid in December.
A lot has changed for me since I started the blog. I gave up American Football about five years ago due to encroaching old age. I've played a lot of tag rugby since then though. (For those of you in the US, tag rugby is the rugby version of flag football, with the Velcro tags to pull off, and so on) . I no longer work in Hackney, but now work in Kilburn instead. I gave up the whole Head of Year stuff too. In fact, I've gradually given up ALL of my extra responsibilities so that I am "just" a teacher and I on;y work four days per week! I've moved from East to South-West London, meaning I commute for two hours to get to and from work in Kilburn, up in the North-West! Most significantly of all, I got married and so now I have to balance my desire to spend all of my money on toys with buying "nice" stuff for the house. My wife does not agree with me that framed pages from my "spare" Slaves to Darkness are "nice".
Anyway, if you'll indulge me, I'd like to give a little retrospective of my blog!
I started with Badab and it has remained my main passion. This fella was right there at the start of my first post, along with the first replies from Gitsplitta and inmygravenimage. Thanks for all of the support, fellas!
I still think this Baal Predator from page 5 was my greatest accomplishment from the early days of the blog.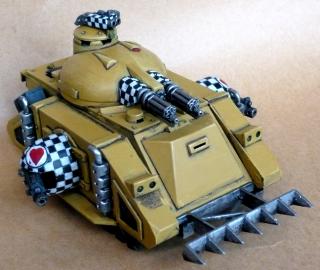 Astral Claws stuff starts popping up from about Page 5, and by the end of Page 7 it was already January 2017! That means the next 25 pages came in the last 4 years. At least I am getting faster! These from late 2015 are still unfinished though! (I've made progress, I promise!)
Just before Page 8, I bought in big-time to Afterlife via Kickstarter. That led to a friendship with Joel from Anvil Industries, a great bloke and the creative mind and co-director of what I consider one of the best hobby companies out there. This is my original take on one of my favourite Afterlife minis.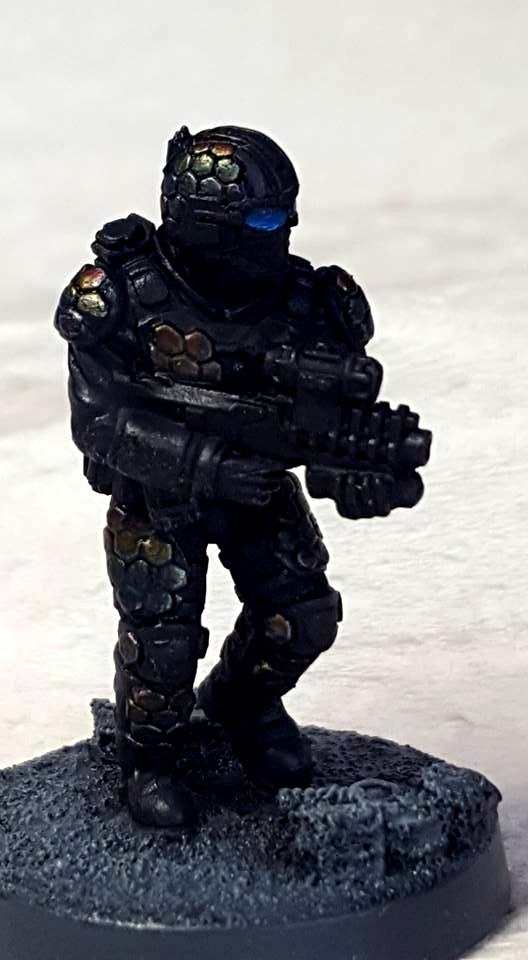 And then, we're really into the "modern era" of my blog, and still only on page 8!
I still want to finish a
GSC
army, but I like what I did with them for early Necromunda. Those yellow bases are gone though!

I really got into it with my Eldar, and they became the first army I ever truly "finished" I remain super-proud of what I made there, and still plant to keep expanding on them, probably for the rest of my life. I even did some sculpting, making and casting a sword and green-stuffing some real conversions I still love to show off, as well as some very cool Guardians and Warlocks.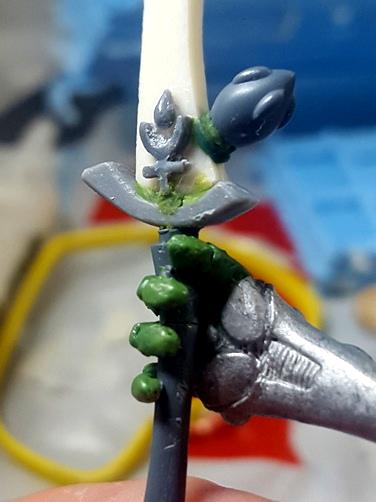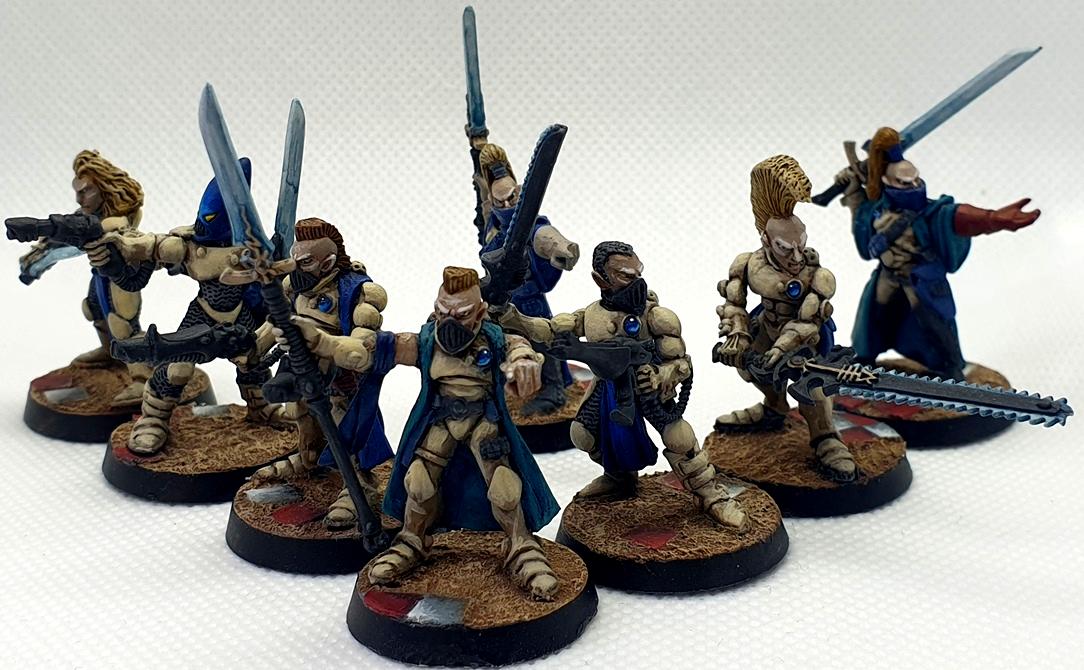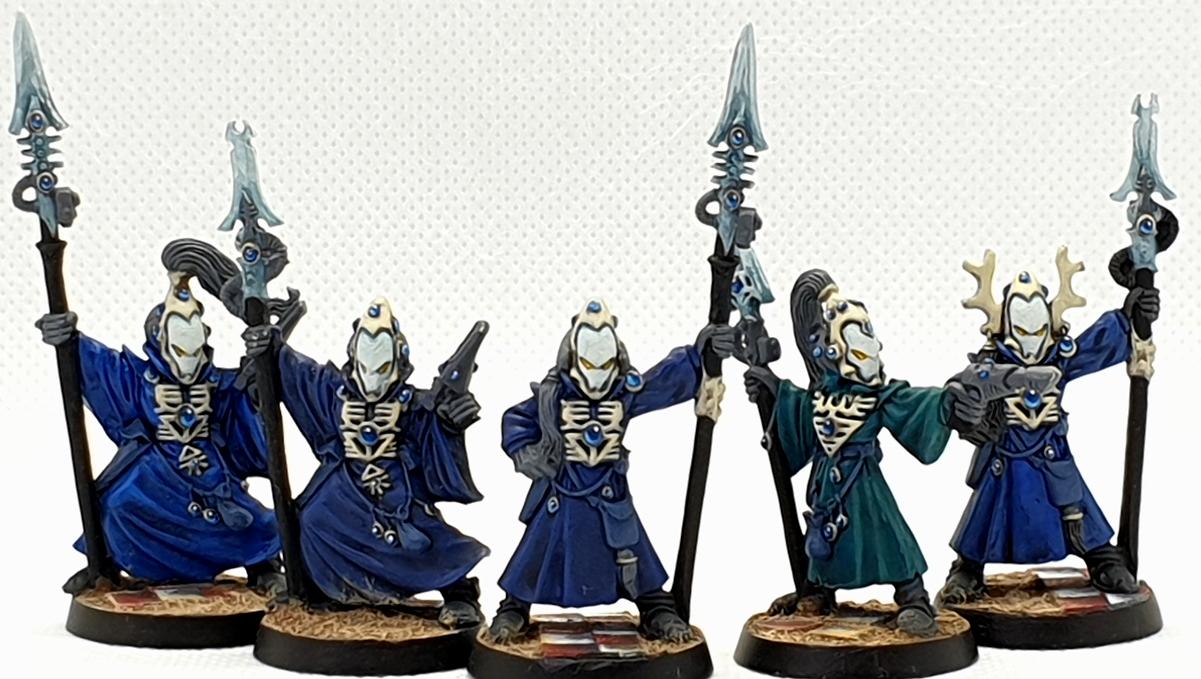 And that brings us to the halfway stage, in terms of pages! The second half of the blog all comes in about 18 months, real-time!
I started my Executioners, but it was my Mantis Warriors that I finished first. I'll never love them the way I love those Eldar, but they are a completed army, and I am pleased with them.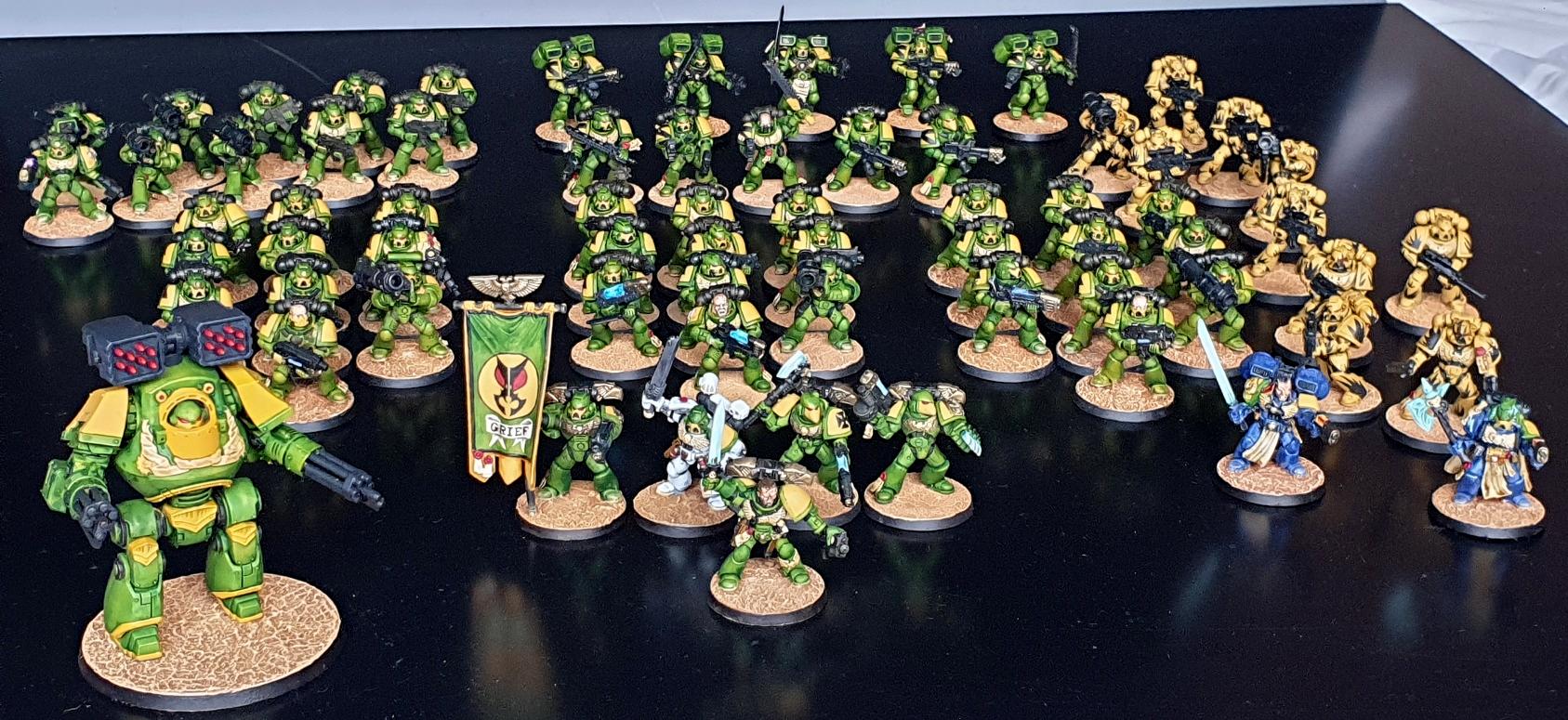 Parallel with the Mantis Warriors, I started my Nighthaunt. They are a simple army to paint, but as tends to be the case, I like to make life hard for myself, with details and extra conversions. I even taught myself how to sculpt 28mm roses!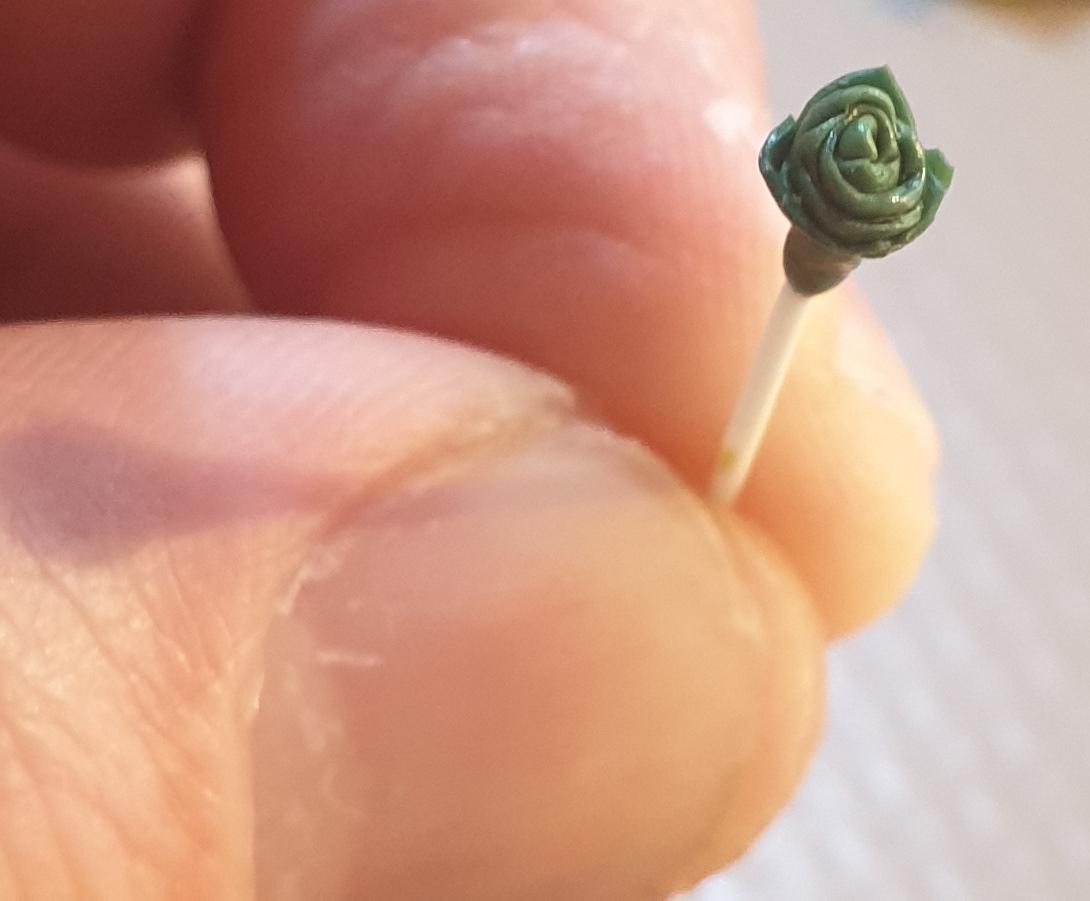 I was very pleased with the recent addition I made to my Nighthaunt, and I'm getting ahead of myself in terms of page numbers now, but this is the photo I want to use to show off my Nighthaunt, simultaneously with their display board and some of the terrain I made to go with them.
Back to the correct sequence, and something I am
really
proud of. I made a chance comment to John Blanche about auctioning some art to raise money for the NHS during the first
UK
lockdown. Not only did he say yes, he asked me to help organise it! As a thank you, he sketched my wife and I!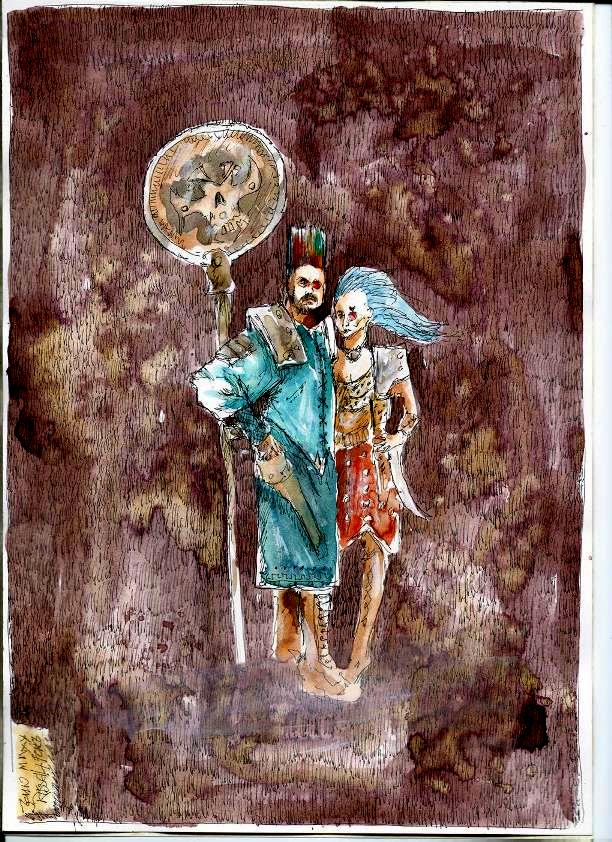 After that, I returned to the Executioners that I started before the Mantis Warriors and pushed on to 50PL. My favourite part is still the magnetised Scouts coming in on their choppers… I mean Land Speeders Storms, listening to Wagner. The Executioners are almost up to 75PL, and I will get them to 100PL before putting them away for a while before pushing on to 125PL. (I have another project about to take over!)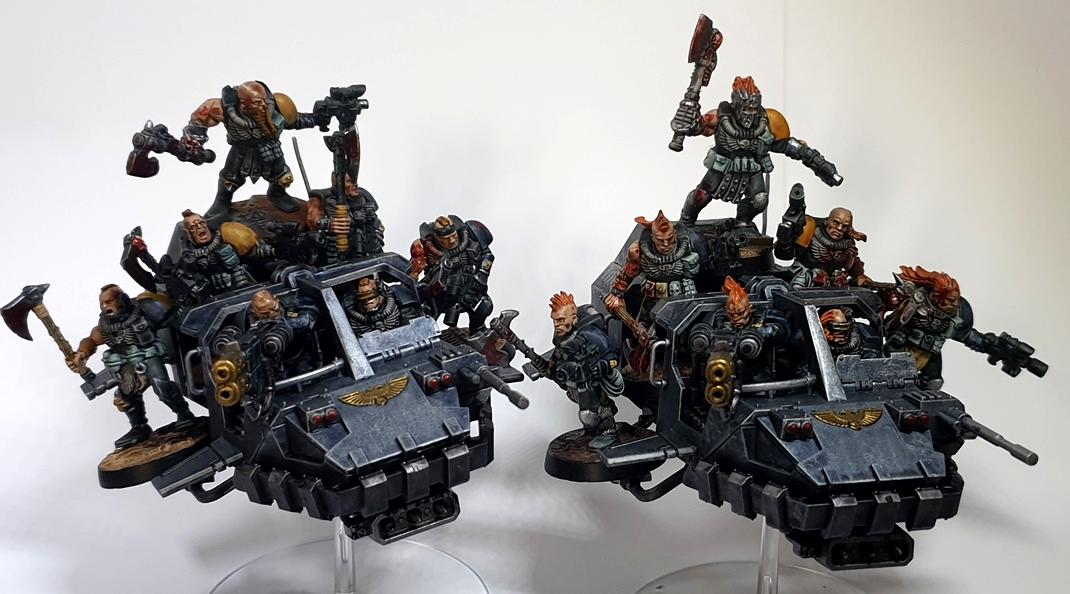 I have to include a picture of this chap. I actually did a little more work on him, adding some red into the recesses that I decided I had mis-painted as other colours. I have finished two of these guys and five more are mid-paint. They are now what I turn to when I want to paint carefully instead of quickly.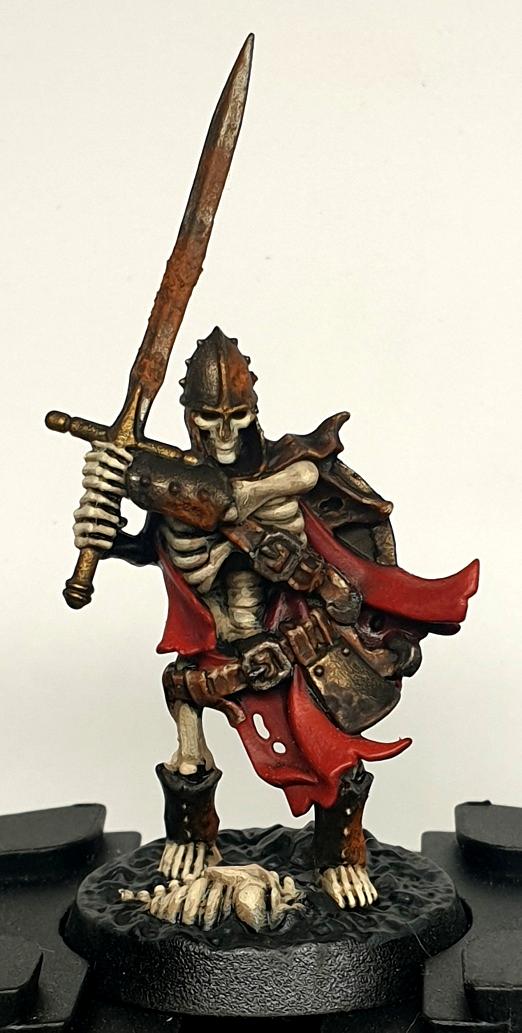 And that brings us pretty much up to date.
I've made a decision regarding where to go next. The Oldhammer Campaign that I mentioned is looking like a certainty to happen. ArbitorIan, real-life friend (for over ten years now! Wow!) and inspiration for this blog, is also taking part in it and he and I are planning something big for it! I just have to hope he doesn't simultaneously start the Badab campaign he's been promising as I am not sure my painting speed is up to the Oldhammer project AND getting to more
40K
Badab armies done in the next year!
I'll be posting some preparation and plans for my Oldhammer project soon, so for now, I just want to say thanks to EVERYONE who has posted in this blog, especially those like Gits and Graven who have been around the longest, and those who have given me the most encouragement over the last few years as the pace has picked up. It is great to know people like Captain Brown, Gobert, Nevelon, Viterbi, The Crowe, Youwashock and others will help me to maintain my enthusiasm!
Here's to ten more years!