Gits - Afraid not..that's taken from my decking...mine isn't really a boat, it's a houseboat..similar to those behind but without the rooftop terrace.
Once my loan's paid off next year it's time to start thinking about real boats.

Mooring fees include adding boats to the three free sides of mine, so that's just a no-brainer.
Narrow boat would be great, a 40 footer probably, plus a small run-around/mini cruiser type thing....eventually.
weety - Close....but you can take out the large part

ldd - lucky I don't drink then....err apart from that little lapse the other week

Tentacles are just under the surface...you have to look real close.....
Since we seem to be on a bit of a flood/boat tip at the moment....
Honest, that's a field that is.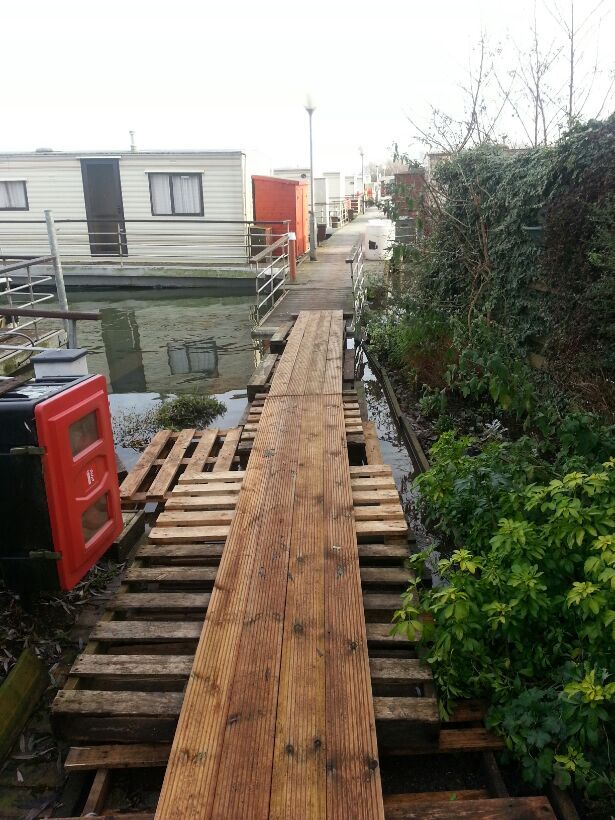 Coming back the other way....
Can't see mine, but basically the same as those.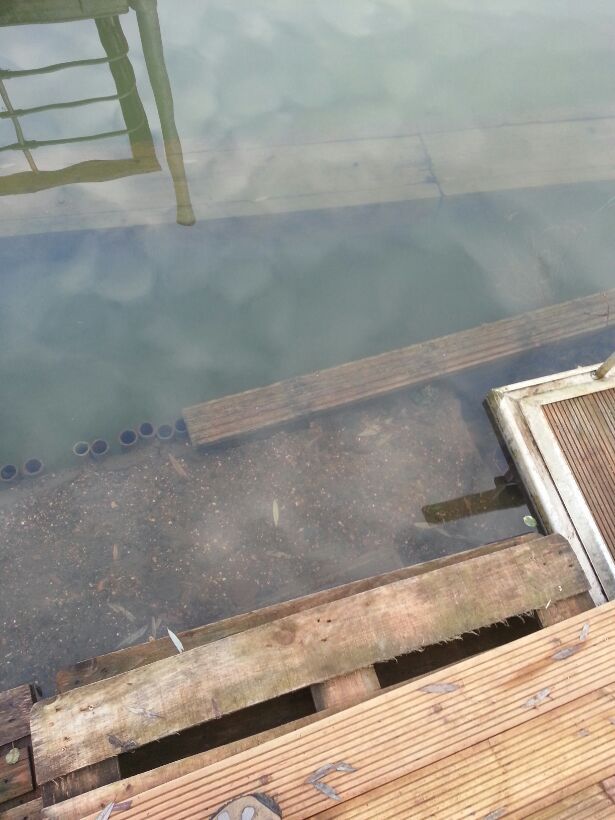 That shouldn't be under water..water should be a foot or more under that
View across from my deck...I was standing on that quay last night....oh wait, you can't see the quay, it's under water...
And back to model related stuf....
Just to let you know now, there's no progress to show on anything, but plentiful supply drops in the last few weeks, some of which should be of interest.
That does hopefully meaning progress is coming soon...
OK, hold tight, here we go...scream if you want to go fasta...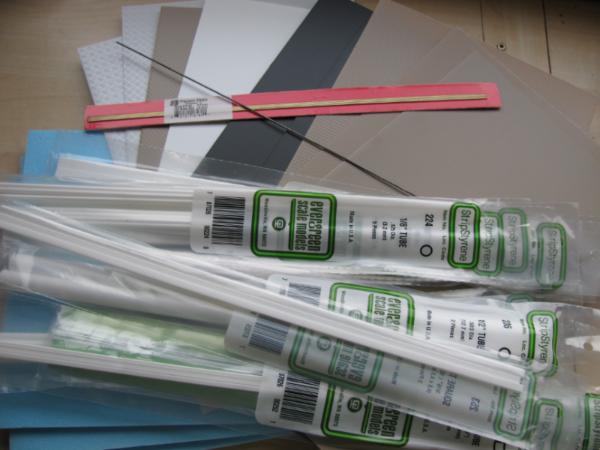 General stock, grabbed some 'tile' sheets for a bit of variety, and some foam for more terrain work.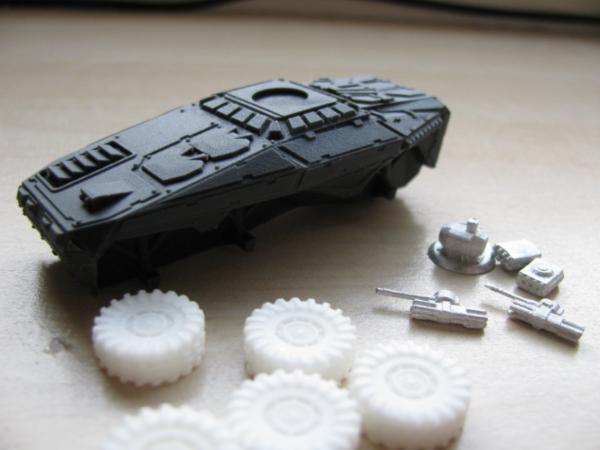 15mm apc from Antenociti's...wheels, bits and hull will obviously be going to different projects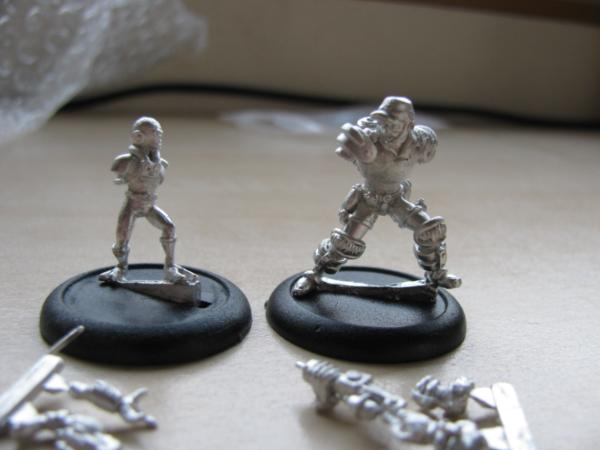 Couple of AE Bounty guys from cipher designs...really like the first mate on the right, may end up as a Dredd figure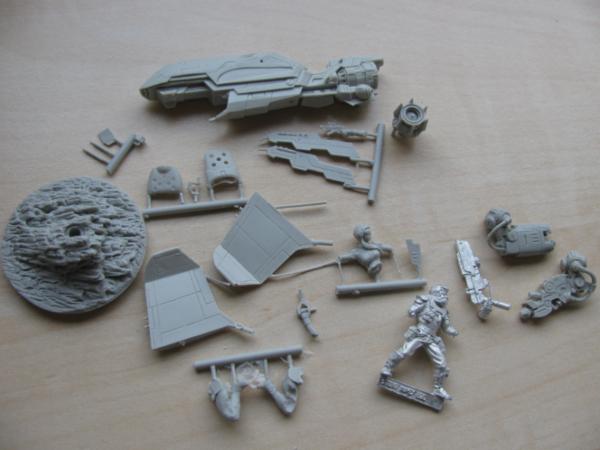 Some more gorgeous sculpts from McVey Studios...jetbike is lovely. May get some minor conversion, not sure yet, I do love the sculpts coming out of here. A metal geezer, and a couple of arms that the meks are squabbling over already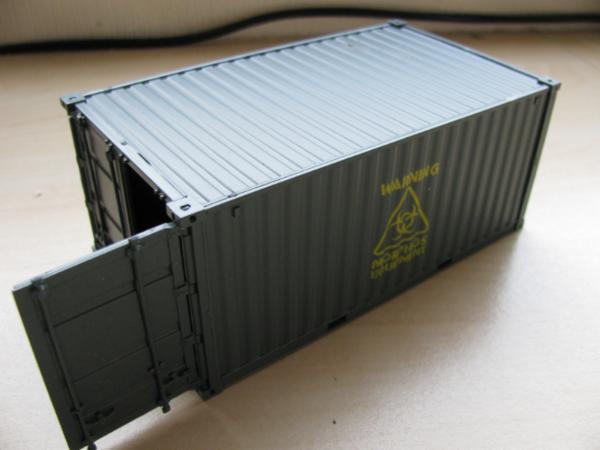 Always good to have some containers lying around...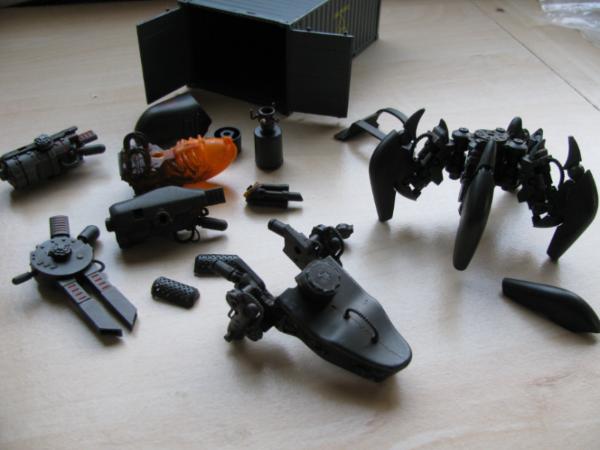 ...especially if they're full of stuff

AT
-43 bit grabbed in the Wayland sale, been meaning to see what could be done with some of this stuff for a while. Got most of the actual piece apart without damaging too much, not managed to seperate the legs out yet though...still, got some funky bits there, interesting ideas are afoot...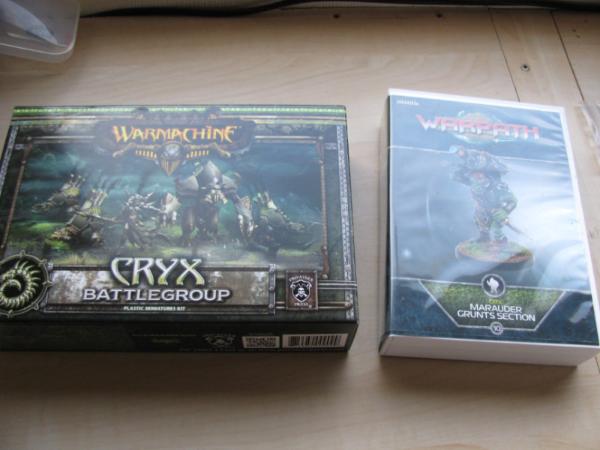 Plastic Cryx set...looking forward to working with this stuff in plastic, and some Mantic Orx, which seem to be disguised as a VHS cassette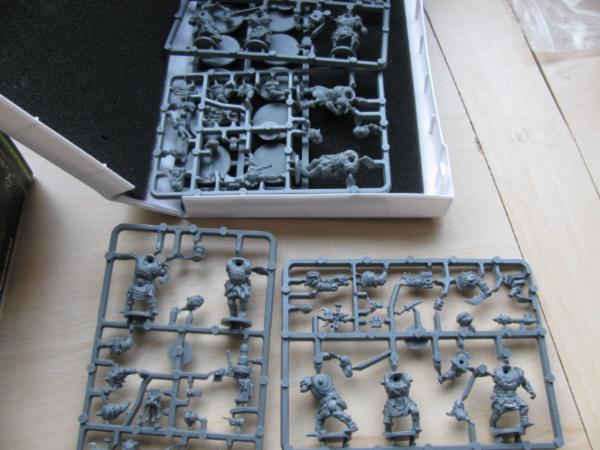 The orx marauders...not the best sculpts on the planet by a long shot, but in the sale I think this was like £3 for the 10 guys...I can work with that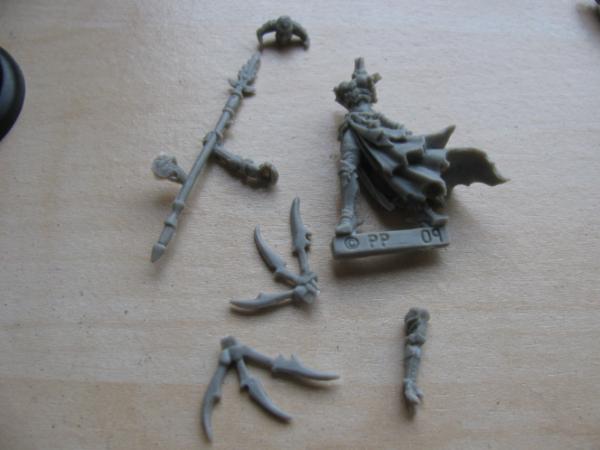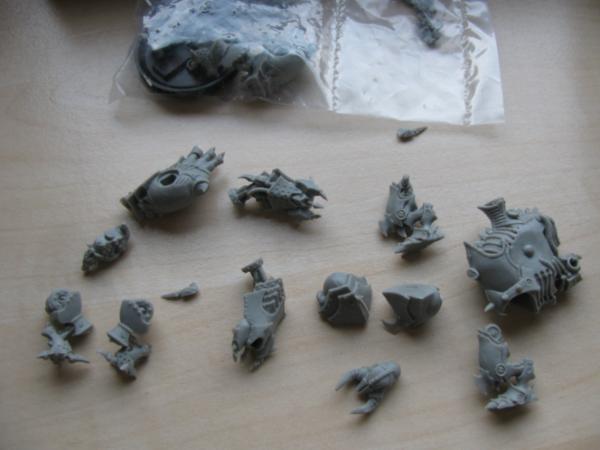 The Cryx set:
Warcaster - bits for the chaos guys. Slayer warjack, 2 deathrippers and a defiler - lovely bits for the meks and chaos warpsmiths to fight over. And all emminently choppable....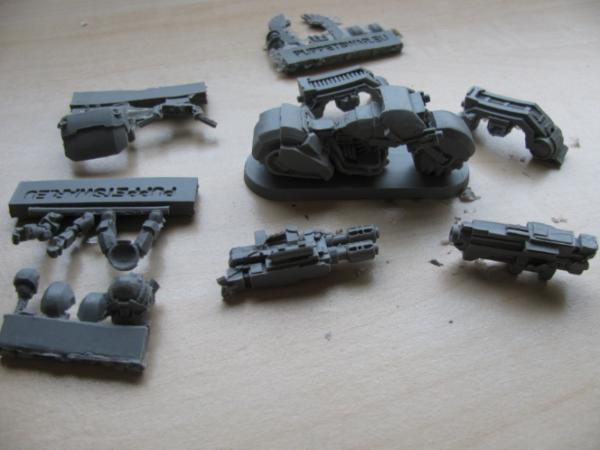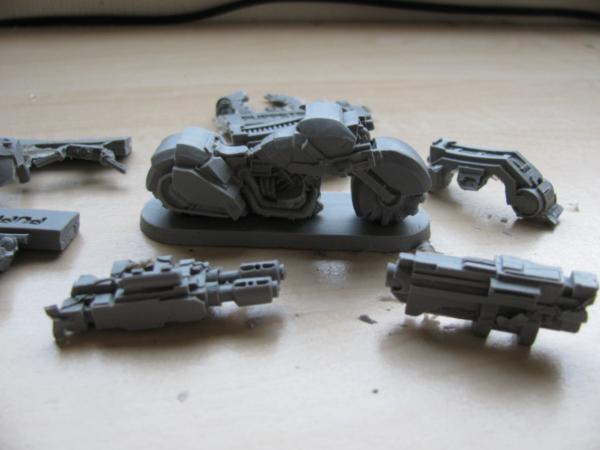 Biker from Puppetwar...fair bit of clean-up required on this - pretty bad mould lines in obvious places. Will it go to Mega-City or to the mek-shop? 50/50 at the moment, time will tell...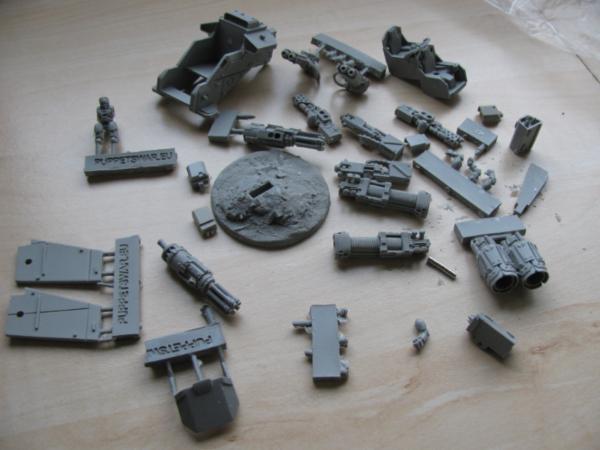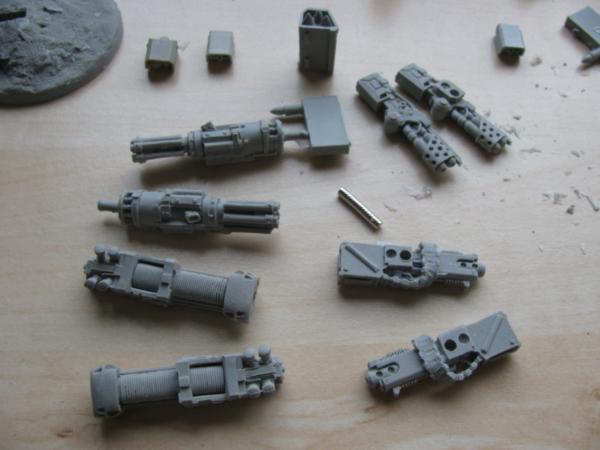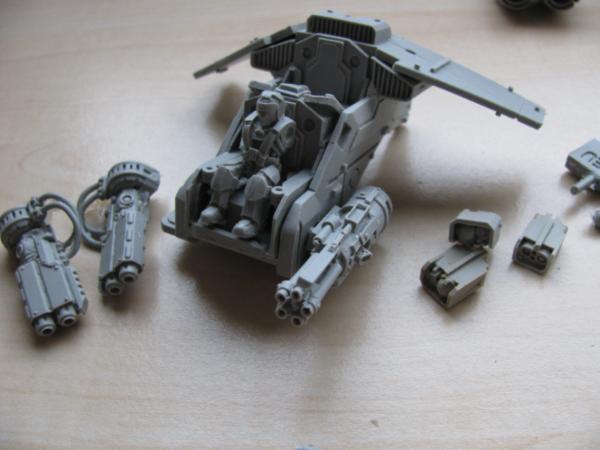 Flyer from Puppetwar...much cleaner mould, nice detailing, nice little touches like the panel lines continuing on the pegs to hold wings in place.
Look at all those dakka options too...and magnets come supplied for easy swapping.
Nice job on this kit. Bits will be going to the meks, to Mega-City and possibly to the warpsmiths too...
And my Dreadball set arrived too. Let's do the whole unboxing thing hey...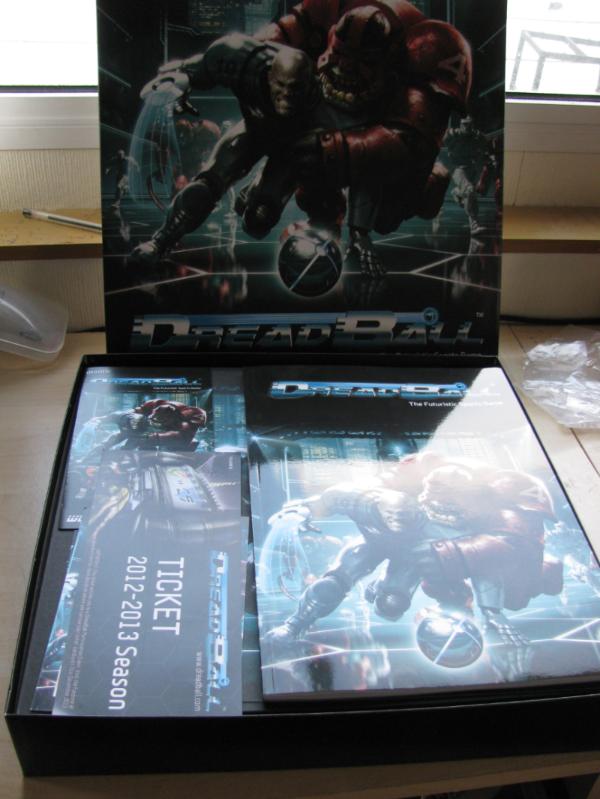 Ahh, shiny new box...mmmmmm.
Shiny rule book, a ticket for a participation event and a signed print of the cover.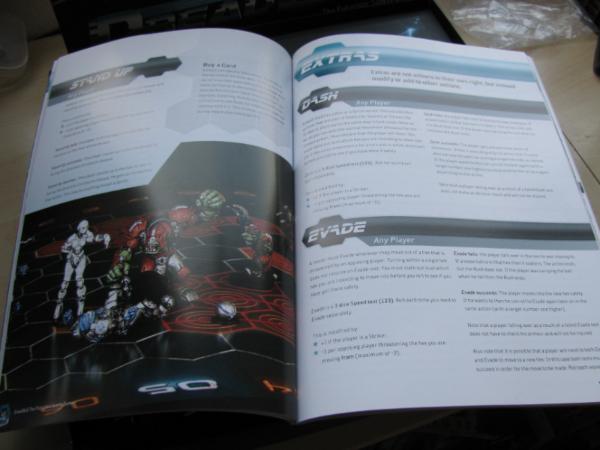 Rule book is nice quality, looks well laid out (although I've not read any yet, so might not be...), and lots of photos and pics.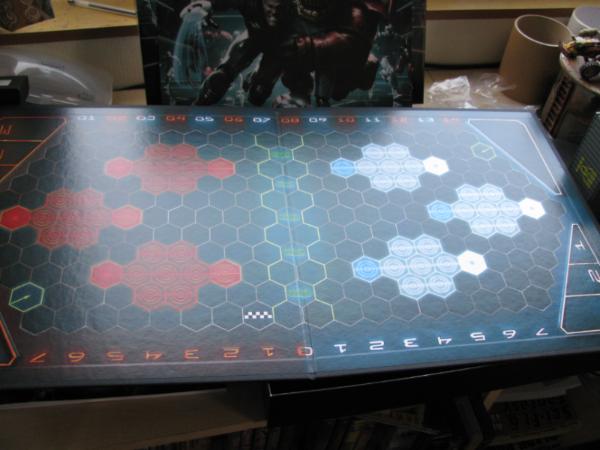 Play board. Various other versions were available (mdf, acrylic etc) but I was more intereted in the minis than the game so didn't bother. May still try and get a game or two in over xmas though, that and zombiecide, should get some opportunities...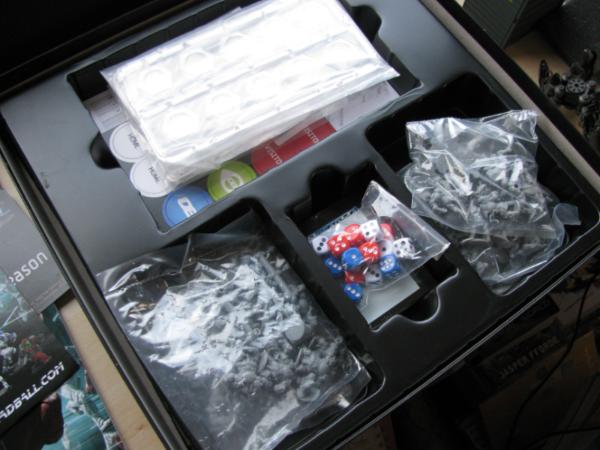 Stuff innit?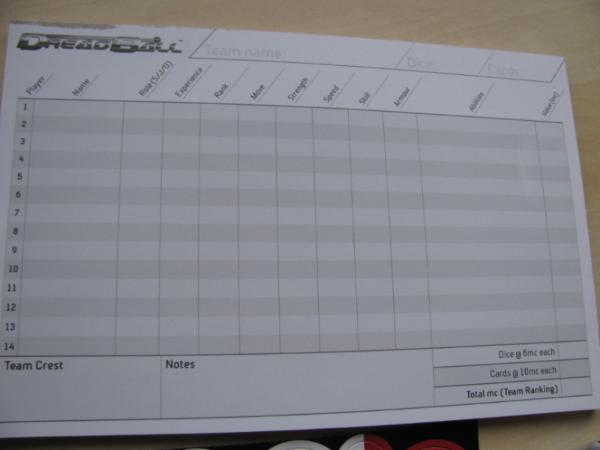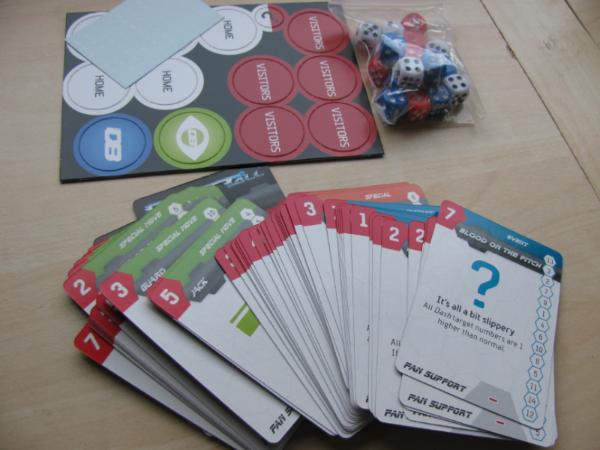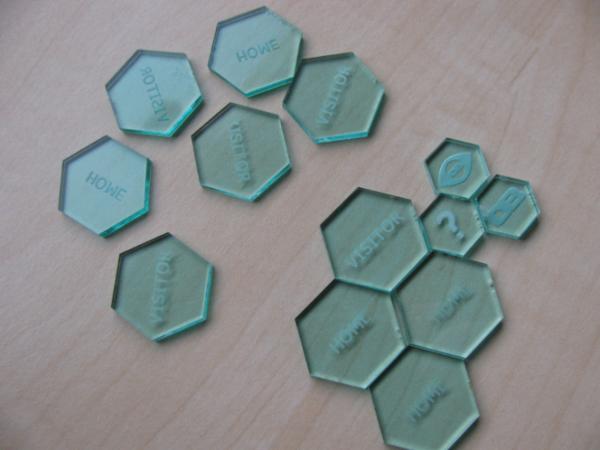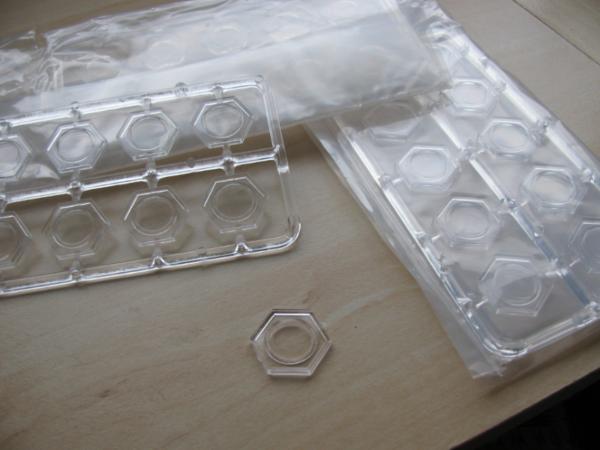 Roster sheets, card tokens, acrylic tokens and 40 odd hex bases for the minis. All looks nice.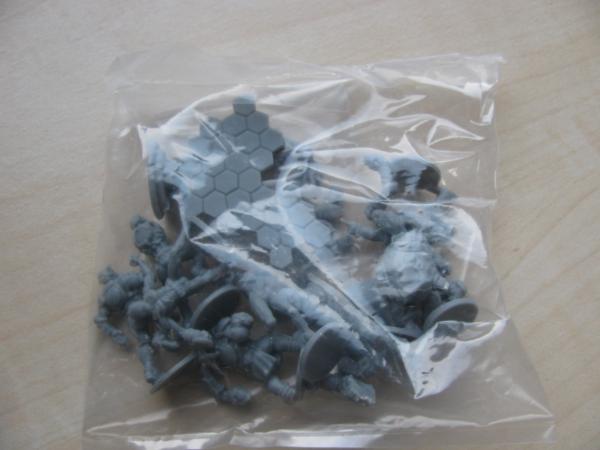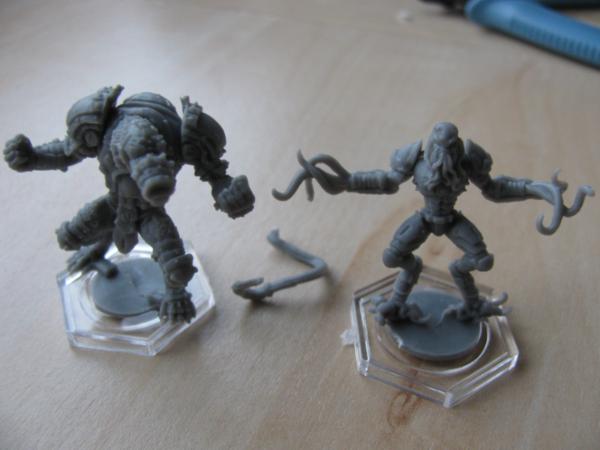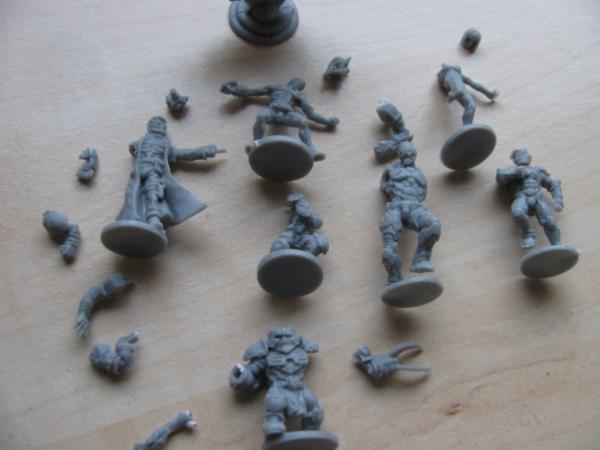 One bag containg the MVP's - special characters from a variety of teams, plus a coach and a trophy.
Nice quality of detail, a bit of flash clean-up needed, but to be expected. A few of the poses look a little 'meh'. but as it's unlikely they'll be keeping the poses in several cases....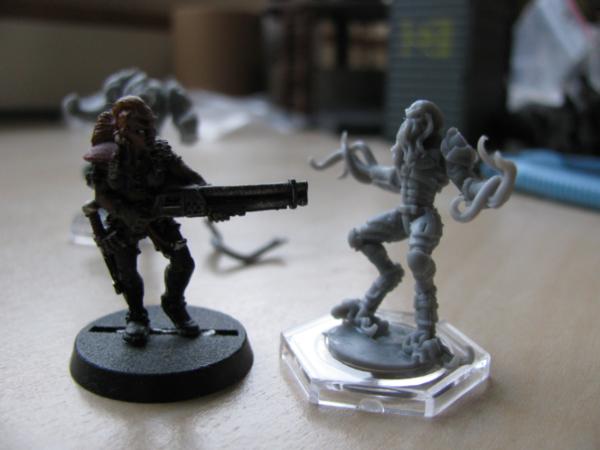 And the obligatory scale shot, ganger takes on one of the nameless.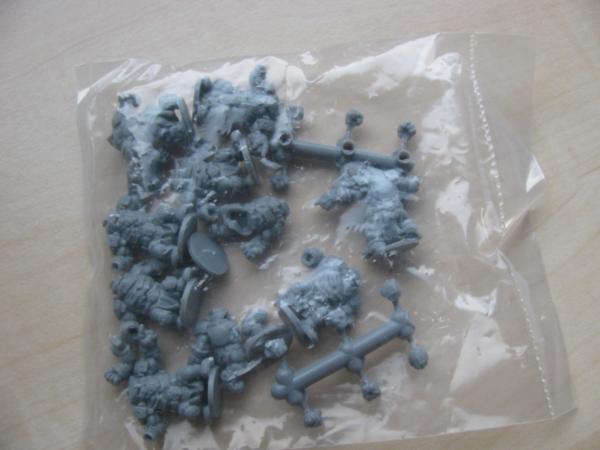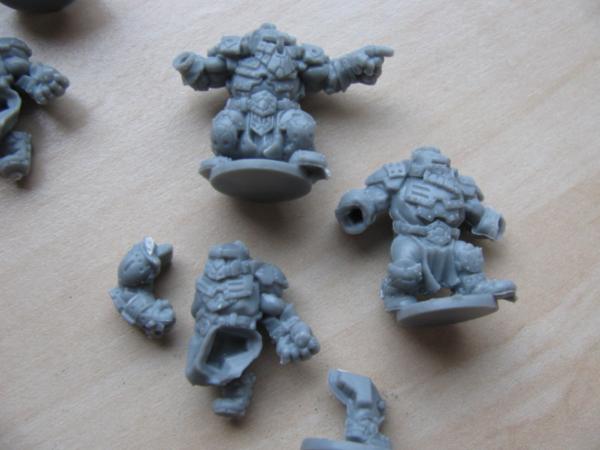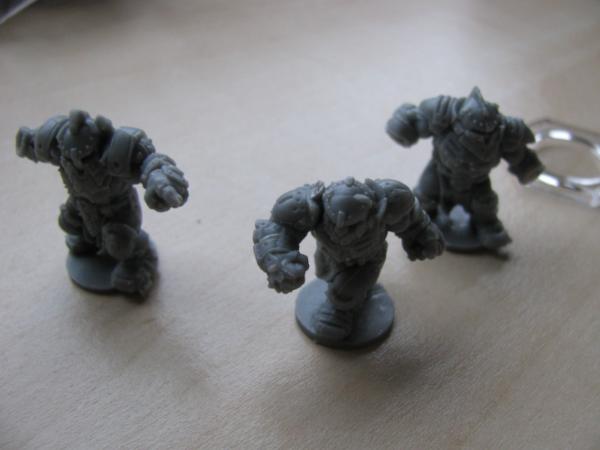 One bag containing the Forge Fathers team. Dwarves. 10 guys to a team, 3 different poses. A few will become squats obviously, others not so sure of yet, not looking for a squat force
atm
, so...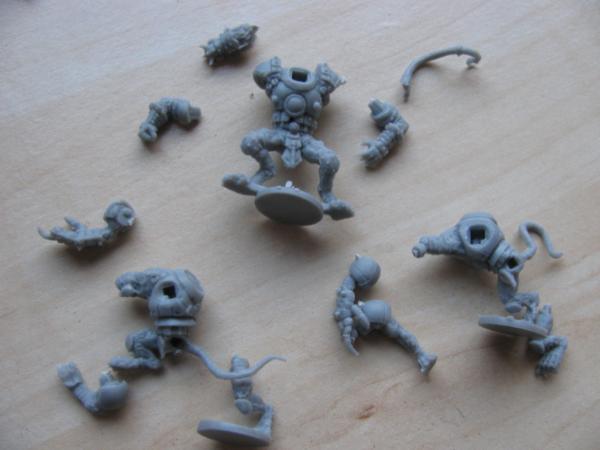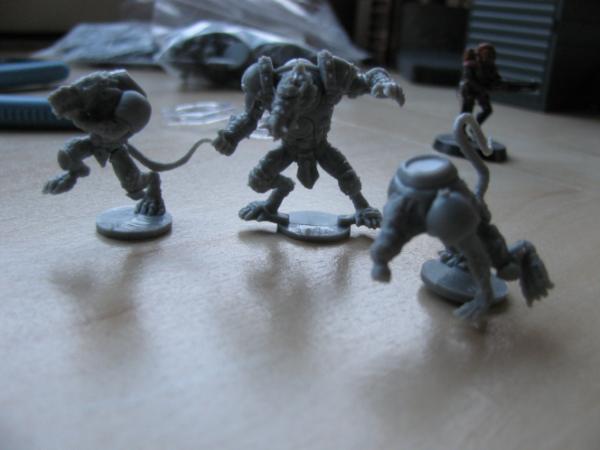 One bag containing the Veer-myn team. Gas-masked rat-dudes. Some will be heading to the forces of chaos certainly, there's a few bits that may end up in the mek-shops.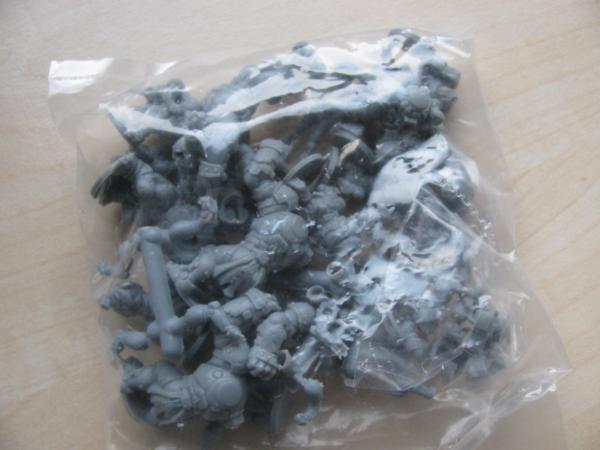 One bag containing the Marauders team and the Corporation team. Orcs and humies, these are the guys in the basic box.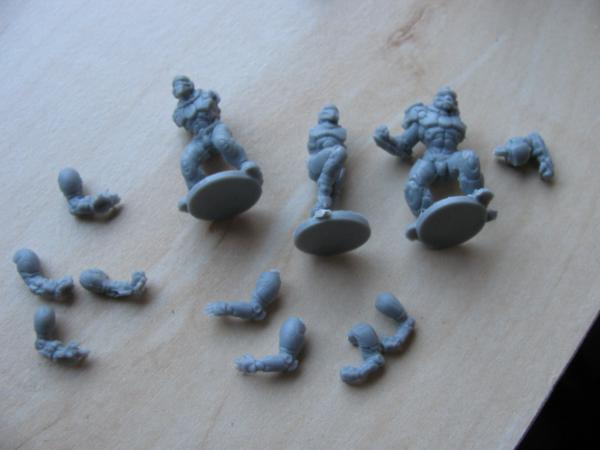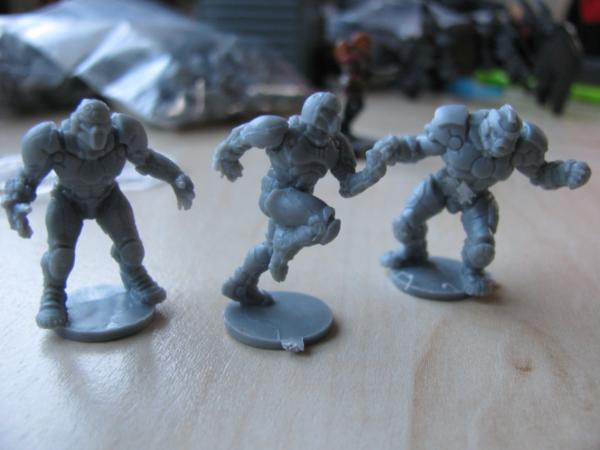 Corporation. Couple of right arm choices. Obviously multiple choices for these guys, Imp and chaos.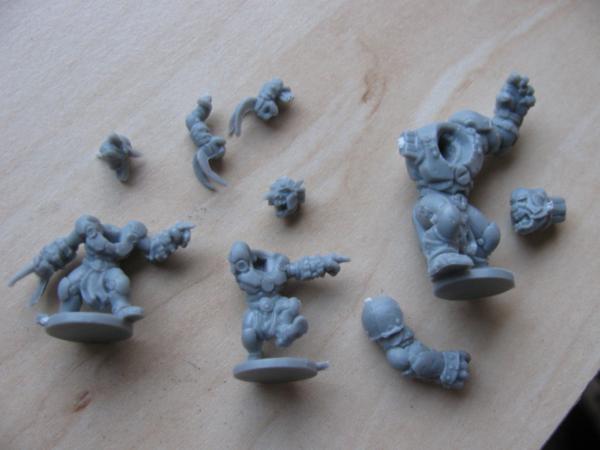 Marauders. Grots and orcs...think it's patently obvious where most of these bits will re-appear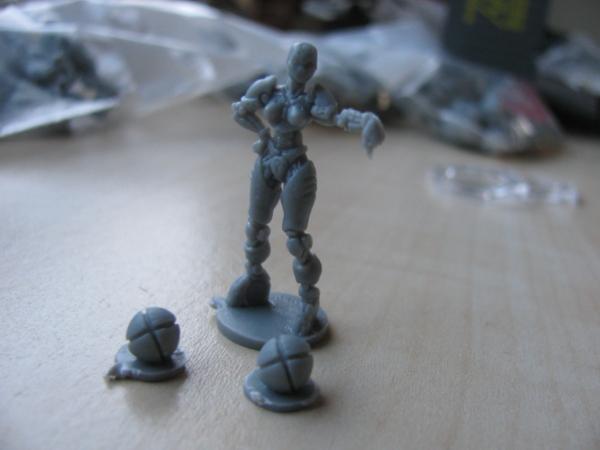 Ref-bot and a couple of balls.
Not looked at the rules at all yet, though have seen a few good things mentioned around Dakka - downloadable rules have been available for a while.
Still to come for me:
Two more teams - robots and the nameless, those should be lots of fun to chop up.
Two packs of keepers - one set for the 4 teams above, one set for the robots, nameless and 2 others.
Pack of various cheerleaders.
Pack of various coaches.
Four large special characters, alien, nameless, robot and human/orc.
OK, that's it for now...who knows..there may even be new work to show next time...