Quick update:
not a whole lot of progress this weekend, mostly because of other chores/things in the way
I did however finally get to finish up the casting process and get some casts done i had started so long ago.
To recap the idea was to take a few terrain platsic pieces and see if i couldnt make molds of them and do some casts.
As a general note, were you to be doing this yourself I wouldnt actually suggest it unless you are planning on producing
in bulk (like 10-20 casts of it), because you have to buy not only the plastic (10-20 bucks ish for a lot of it) but ALSO
the casting material (another 10-20 bucks priobably), along with some sort of clay/whiteboard/etc.
The process I used was one which produced detailed casts, and is material cost wise cheaper but requires more tools to do,
I mainly did this because that's what my friend knew and he was the one showing me all this.
so step 1: embed the plastic halfway in clay (this takes a while), the plastic needs to be clean of any clay on the surface, but
your edges need to be met up with clay so no mold material sneaks under. The holes are "keys" so that the 2 mold
halves fit together uniquly later. the clay must always be kept slightly damp so it doesnt crack, as the cast will fill those cracks.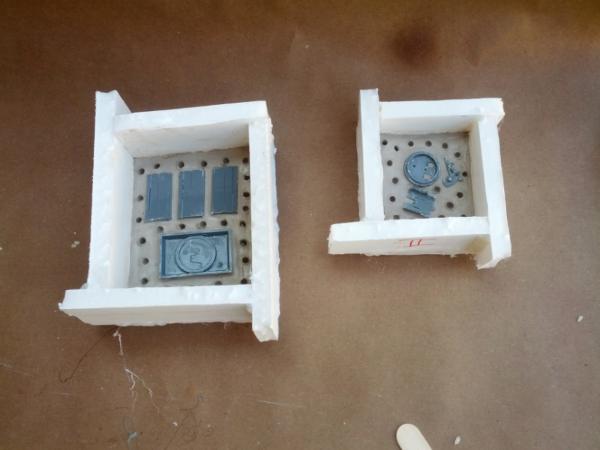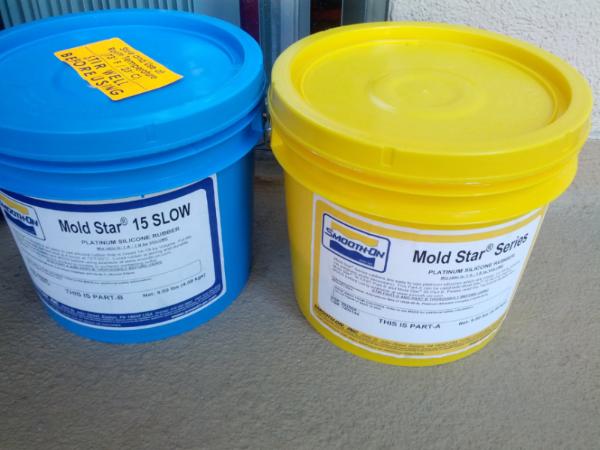 step 2: get out yer silcon rubber and make the first half of the cast:
2a: first take ur damp clay and fill it with rice, the goal is to get a volume estimate of material using something that
wont stick to the clay too much, hence rice. You want 1/2-3/4 or so inch of mold material above ur highest and
lowest points in the plastic so it holds together well (hence the super high walls abov ethe clay)
2b: split the rice into 2 clear cups and mark those halfway lines, empty rice.
2c: pour the first part into 1 cup, second part in the other.
2d: when ready.. mix away! we did a double pour type mix, which is you pour cup A into cup B,
mix as best as you can (getting all the walls mixed), then poiur the total contents of B back into and mix more.
2e: next we take our mixture and put it into a vacumn chamber to get rid of bubbles, as it pressurizes it all sort of
bubbles up so you may have to release pressure so it doesnt boil over. at a certain point it "froths" and then falls back down,
that's when we start our timer (i believe 12 minutes)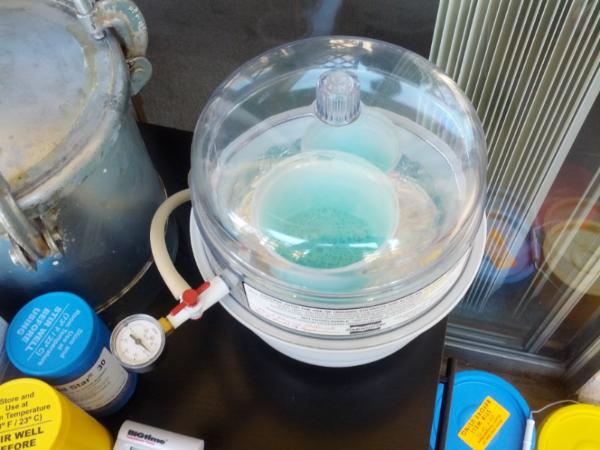 2f: one done take our our nice bubble free cup and start pouring into the mould. The way to do it is you pour VERY slowly
in longgg thinn strands in one corner of the mold. The idea is to let it slowly flow over the plastic. The reason for the long thin
strands is that as the silcon falls it releases still more bubbles, so the longer and thinner if falls the less bubbly it will be.
NEVER switch corners once you start pouring.
2g: now wait! our molds took like 12 hours to cure NO TOUCHY until then.
Cleanup note: when closing back up ur plastic/silocon rubber containers, apparently putting just a hint of a blast of nitrogen (you can get the stuff in a can) makes it last a lot longer.
step 3: the other half. basically just remove our walls, remove clay carefully so you dont pop the plastic bits out of the mold, clean up plastic, make new walls, do step 2 again.
and now for the results of that!
ohhhhhh ahhhhh, so pretty! so clean! THey were pretty much perfect molds. But we have a few steps left before making things.
Basically now we to poke holes in our mold (u know those attach points on sprues? yeah those). 1 of those holes is where we stick the syringe to actually fill this with plastic.
The other holes are for air. Baiscally we need to find those random crevasses where we expect air to get trapped and poke a hole there to stop that.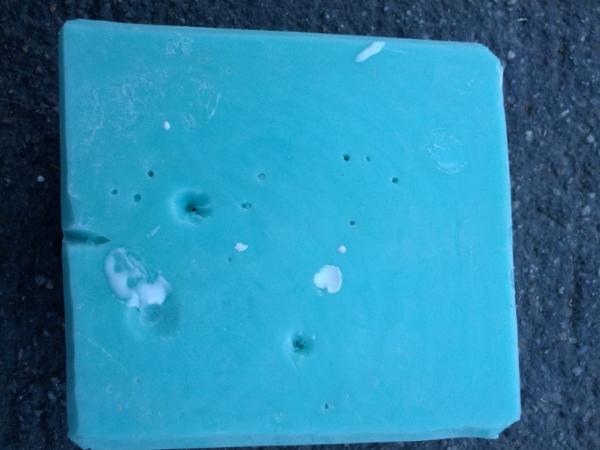 the bigger "craters" are the holes for the syringe, both so we know where to put it and so that it's easier to seat.
Once that's done we can now actually cast things!
step 4: casting
4a: first we gotta lightly coat our molds in talcum powder (baby powder), pretty much you coat it on, jigger it around then blow it off. SUPER light coating is enough.
4b: now we measure out our 2 part plastic in again 2 cups. since we're dealing with very little plastic precision is SUPER PLUS IMPORTANT. We used a 3 minute
setting plastic and one the first try I got the proportions about 1mm off and instead of setting in 3 minutes it set in about 30 seconds.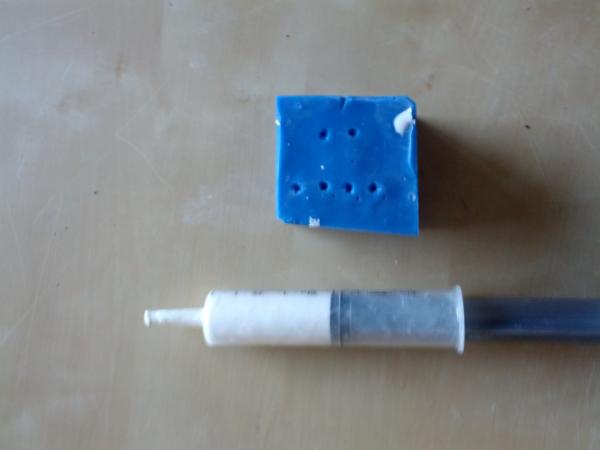 I now ahve a syringe of plastic as a memento of why precision matters.
4c: anyhoo, once measured, again do the double pour, mix it up (in my case really fast! but it requires less mixing because its a lot thinner),
pour it in the back of the syringe (holding down the front with my finger), add the plunger, FLIP it over and sloowwwly push the air out with the plunger.
once it's all liquid just jam it into the hole and push slowly but forcefully until plastic pours out of all your air holes and then move on.
These were some of my results: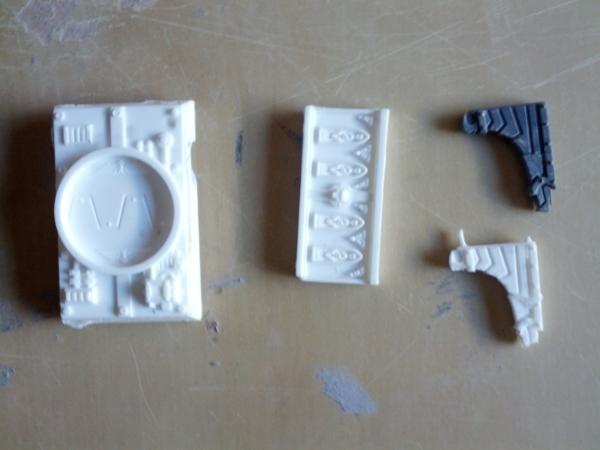 ALl in all im happy. There were air bubbles introduced by using 3 minute plastic, but that's why I picked terrain stuff to copy, because some damage here and there
is a good thing. Furthermore I now have lots more wall sections and posts to play with and break.
Is it cost effective? probably not unless again ur doing a lot of casts for a huge project, but it's a good skill to know, especially when there is something
that cant be made anymore or is unique and real world you want to cast. Also dont sell casts of
GW
stuff because that woould be illegal. Dont sell molds
of their stuff either.. yadda yadda yadda, be smart guys.
Finaly notes: if this is intimidating yeah sorry it's a lot of steps! But I have been told there are other ways of doing this that doesnt require vacumn chambers
or anything of that sort, there are plenty of at home casting materials that are easy peasy to work with.
The downside is that they just cost more (material cost higher for less tools cost), but it can be done.