Thanks! There has been a lot of experimenting and figuring out the building scheme is handy because it does at least start determining other colors on the board.
First up is rust/paint chipping, and for that I present you guys.. this stuff!
http://www.ak-interactive.com/ecomm/?acc=Catalog&sacc=view&IDCat=658&idp=6154&idc=3
The basic idea is you put down your base "rust" underlayer. In my case just blobs of burnt umber type colors, browns, and occasional splashes of a straight up orange. Also maybe some drybrushing of leadbelcher.
Then you put down a layer of some sort of finish to protect it (in my case ardcoat), then a layer of the chipping fluid,, and then finally your "beauty" layer of whatever paint/metal color you are chipping away with.
When ur done with that layer, jsut start coating it with water and scrubbing with a toothbrush/toothpicks/etc and watch the other layer chip off. It works pretty fantastically: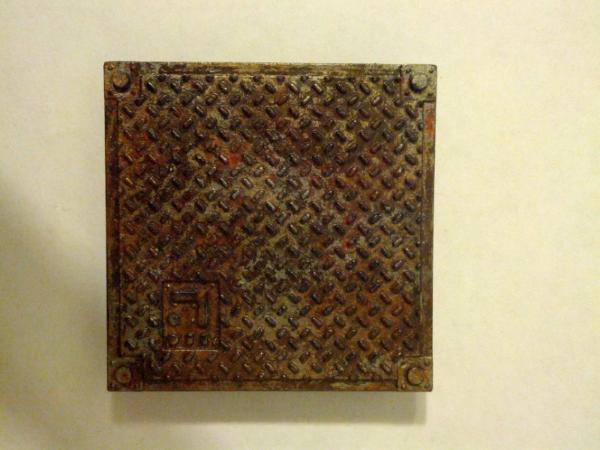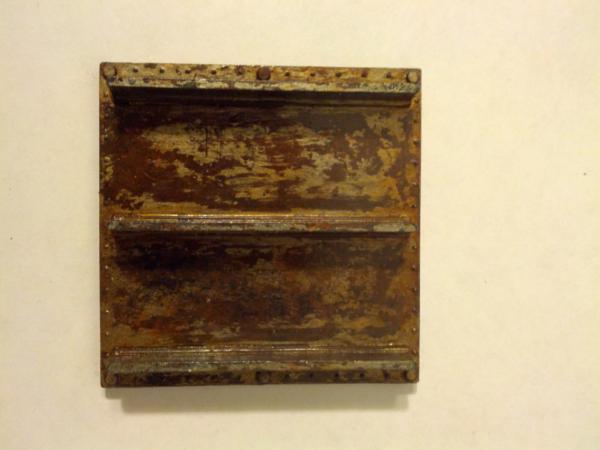 There are, however, a few things Ive figured out.
First of all you really do need your beauty layer to have a HIGH contrast with the under layer. I tried like a somewhat olive camo green on top and it just.. doesnt really show up at all. One of the key problems i did is after I chipped it off I coated the whole thing in a nuln oil wash and it just really blended it all together. As a result I highly reccomend you do any sort of washes on the beauty layer BEFORE you chip, just to preserve the maximum amount of contrast. It reaallly helps. I'll have examples of sucesses and failures tomorrow when there's more light, but yeah there is definitely such a thing as too subtle.
The plus side tho is that if it's too subtle.. just put another ardcoat/chip coat/beauty layer on top and voila start over, just more complexity to your final result! no harm done (it's all pretty thin so gonna be a while before you really start losing detail).
The second KEY point to this you MUST let it all fully dry before you do this. Each layer in all this MUST be fully dry before you put on the next layer, otherwise it starts to chip early and just sorta ends up blending together.
Next up is doing a old bronze look! With the recent release of nihilakh oxide old bronze is easier than ever, and I decided to test it on my statue to pretty satisfactory results I have to say.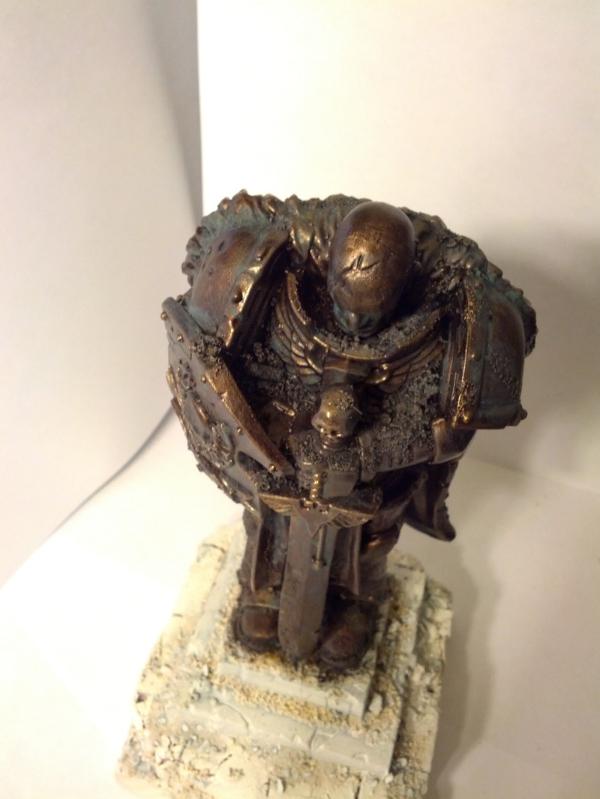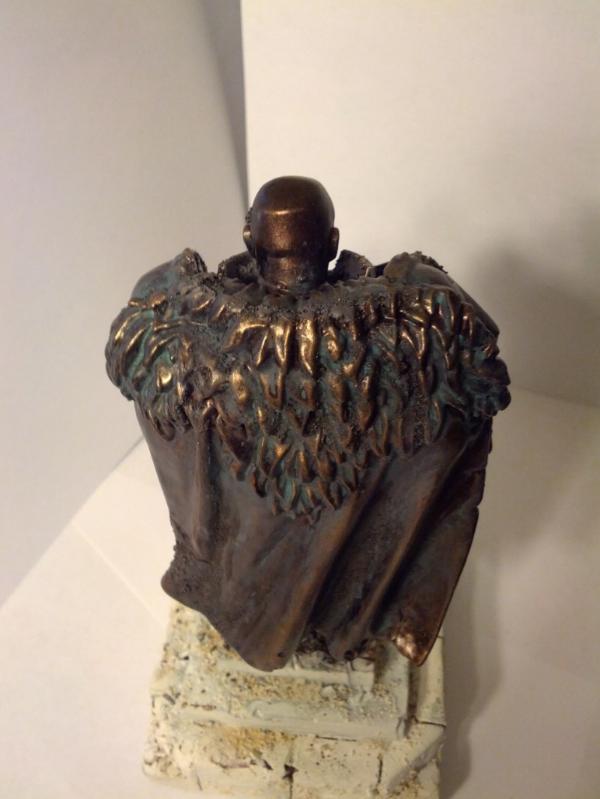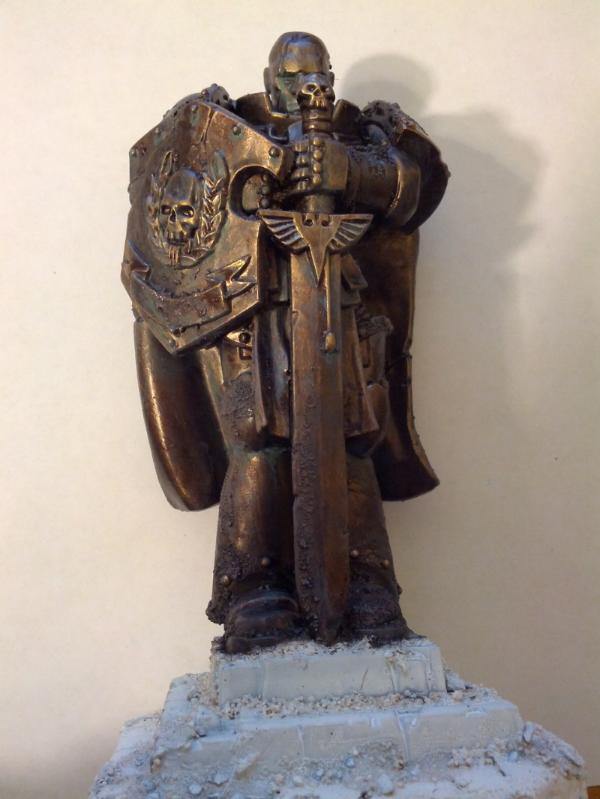 Finally comes a building. This is where, well, you just gotta do it and try it out. I generally am an "overthinker" when it comes to building colors, and as a result spend days thinking about how something is going to look before i work upt eh courage to try it. I'm just too afriad of messing it up the first time and doing another coat/potentially losing detail or something.
But I figured if i started with my pegasus hobbies ruins I could mess up the least expensive/least complicated ruins I had, and furthermore I figured
id
color it in somewhat of a "standard" way with a basecoat of stormraven fur, various patches of browns and greens, and then a drybrush of dawnstone on top. For the flooring
id
get a bit more compcliated and continue experimenting with marble effects.
This is the result: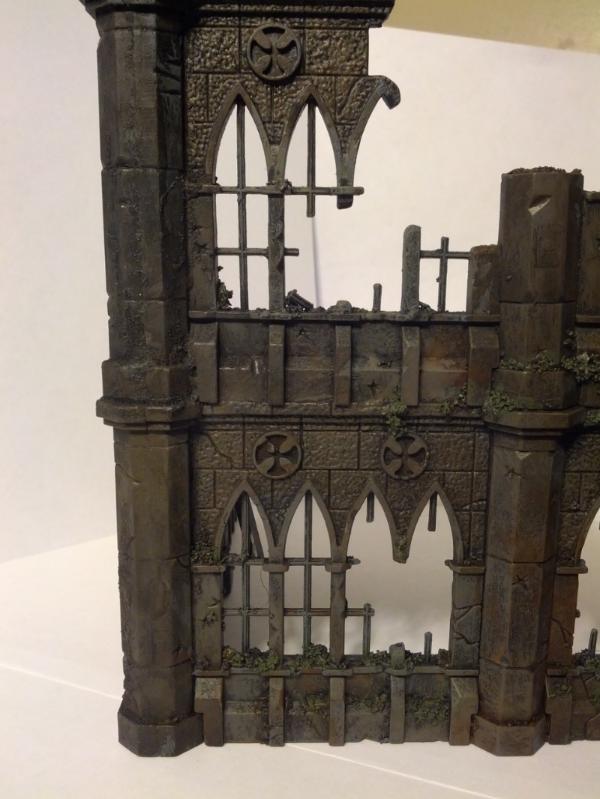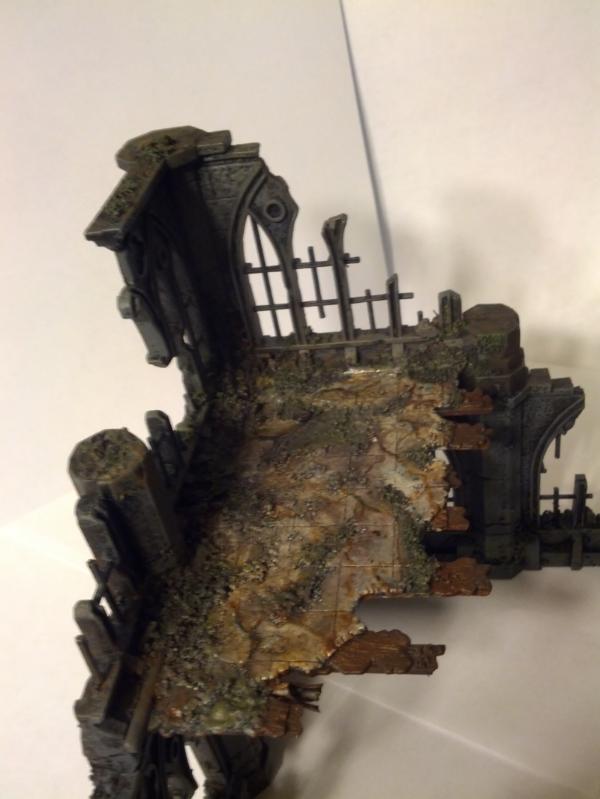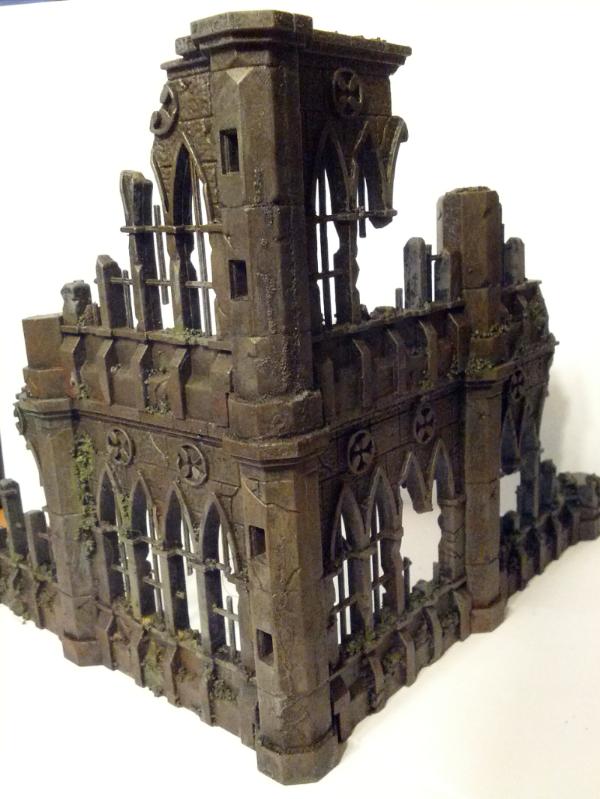 And, well, I was kinda bored. None of the detail really popped, and more dawnstone really wasnt helping either. I could have gone even whiter but i just, didnt really like the grey. It's one of those things where I knew that a majority of the board would be straight grey, with the exception
fo
the foundations. So the idea of grey tiles with whiter foundations and then.. grey buildings on top again just.. didnt appeal. Sure I have plans to make the mechanicum buildings wilder colors, but I wasnt thrilled with where the church was going, especially since it dictated the colors of a few other buildings as well (i want some consistency between like the cathedral/administrtion building and the colesium)
so then I found this color scheme which was al
ot
more exciting:
http://www.dakkadakka.com/dakkaforum/posts/list/150/547736.page
that to me works a lot better. Higher contrast, using the bronze (which I can make look aged super well), and a better template to get marble effects as well. So I went over to my
GW
and picked up these gems:
Baneblade brown (darker)
Rakarth Flesh (my base marble/limestone/etc color)
pallid wych flesh (highlights)
and went to town one the other half of the church.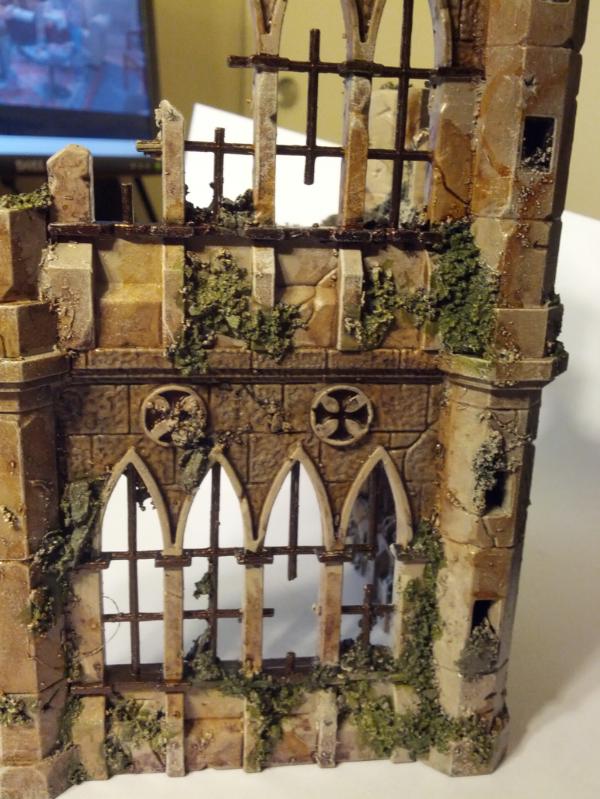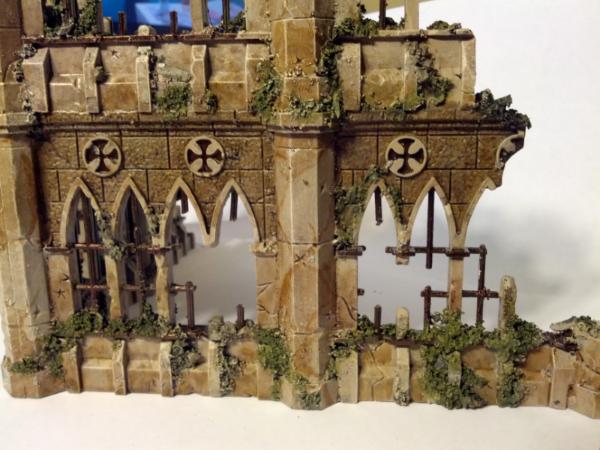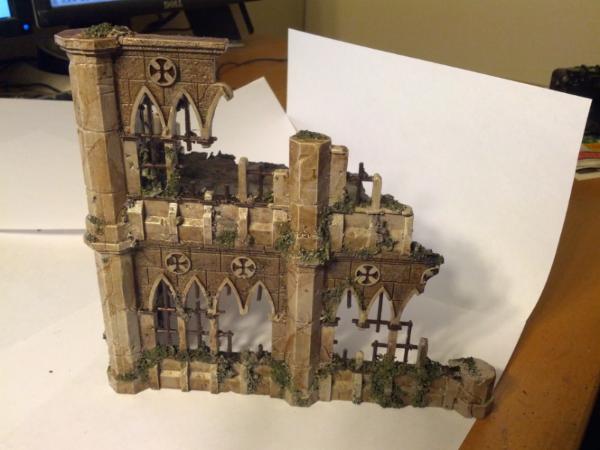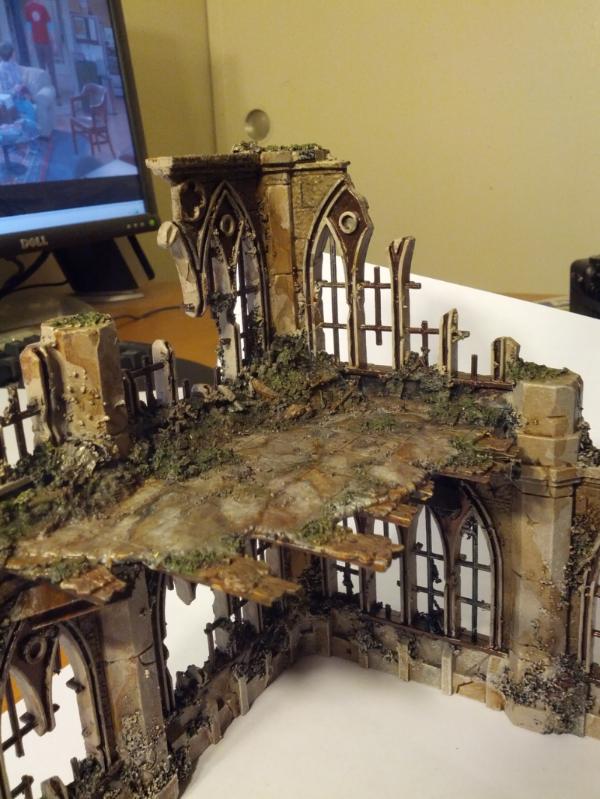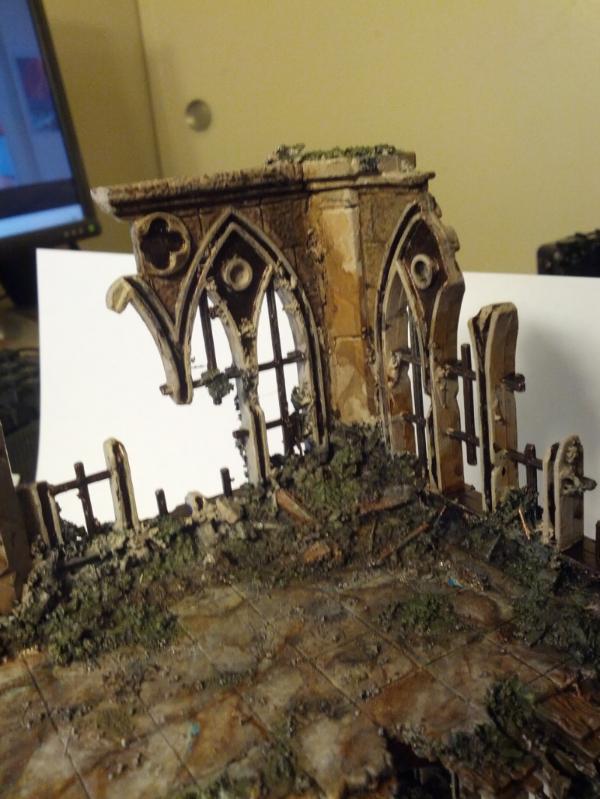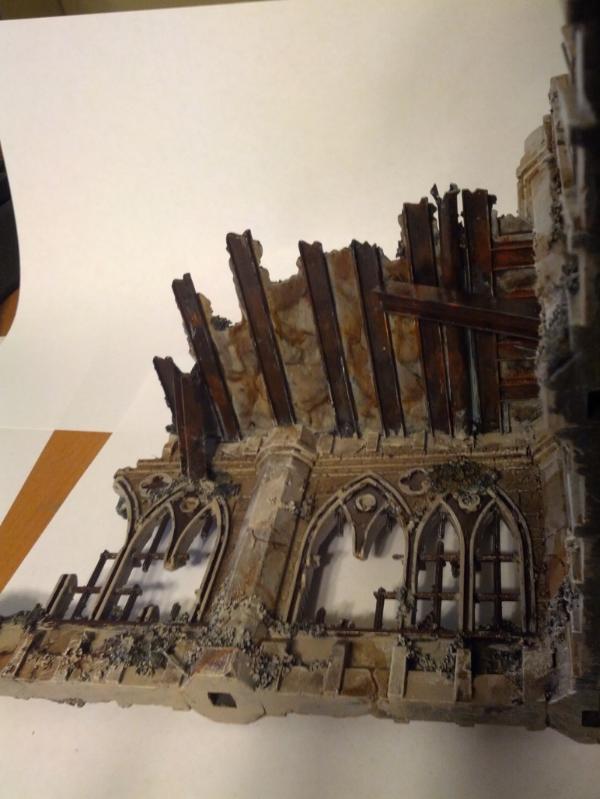 which im MUCH happier with. It pops more, I see all the details, and it looks more like limestone. It's not perfect, I still need to add the dripping effect and I am nto quite certain about the colors of the "rough" stones that are darker, they still seem a bit off (i might just need to add more variety there between the stones), and I may yet tone down some of the darkening of the pillars so they are less contrasty, but overally it's just a lot more effective to me. (I still also need to figure out just what colors the grime would be). What do you guys think?