Hello fellow dakkaists!

This is my first time doing a P&M blog, so be nice => If you have and advice on how to make the thread more readable you're more then welcome to

PM

me =)

I give you, Da green knights! A bunch of orky boyz thinking they're grey knights

(If anybody has an idea for a better name, I'm all ears =D)
First thing i gotta mention is that I started playing orks since they are the most fun one can have in the
40k
lore. But before getting my army any big I switched over to tau since I also liked their lore and all the mecha shooty stuff. But the craving for the orky conversions was burning ever so brightly within me. When my local group got into the Shadowmunda one of the guys who is a really inspired converter and a long time ork fan told me that he was gonna make an army of harlequins which would be portrayed as stormboyz with ballet tutus and on rollerskates. I found this to be the most amusing idea ever. And so i had the idea of ork grey knights. I wanted this project to walk the thin line of being recognizable as both orks and grey knights. For that I decided to use the awesome ironjawz models which are basically orks in full plate armor making my job half done. They have a lot of exposed skin which is very non grey knight so I'm combating that with green stuff. Another thing I sculpt are helmets and visors (or what that part of the helmet is called), although I'm not exactly happy with how they're turning out, maybe I'll redo them later. And all the rest are tons of bits I got from a couple of my ork collecting friends. Since these are intended for playing Armageddon: Shadow war that dictates what miniatures I make and which weapons I arm them with. Those are a Justicar (brute), two troopers, two gunners (arbdoyz and ardboyz). For the specialists I have a paladin which is the actuall warboss of the Waaagh! made from a megaboss miniature, a purgator and an interceptor again made from ardboyz. Sadly I still don't know what am I gonna use as a non-paladin terminator. Pretty much all of them are armed with a pair of falchions modeled with axes cuz we're orkz! Stormbolters are pairs of sluggas glued together. The liber daemonica is changed to be a pair of glyphs: Fing (demon thing) and Zog (****).
Next goes the backstory I made up for the Waaagh! which you're not forced to read =)
So here are my orks cosplaying grey knights.
My pride and joy,
the warboss - paladin Grzztk: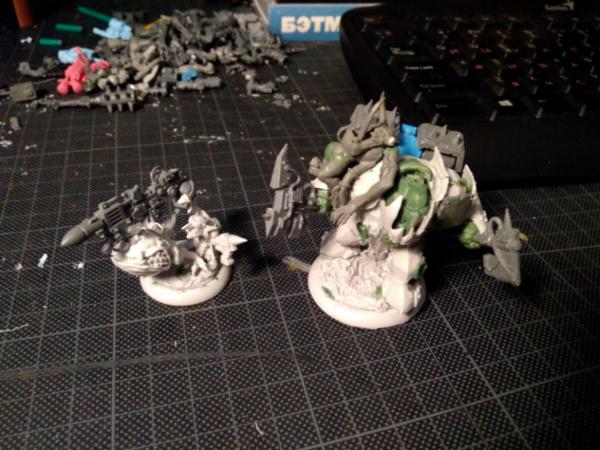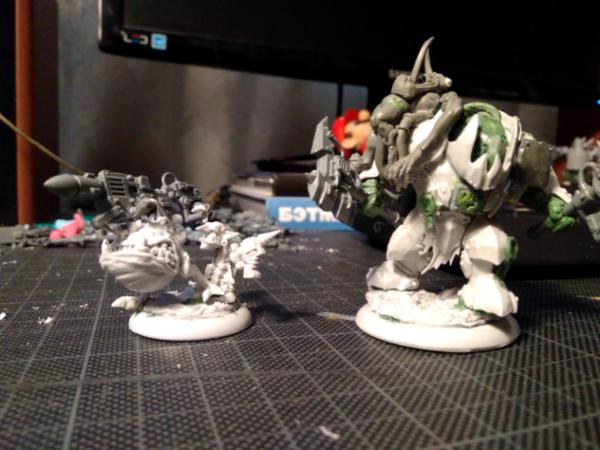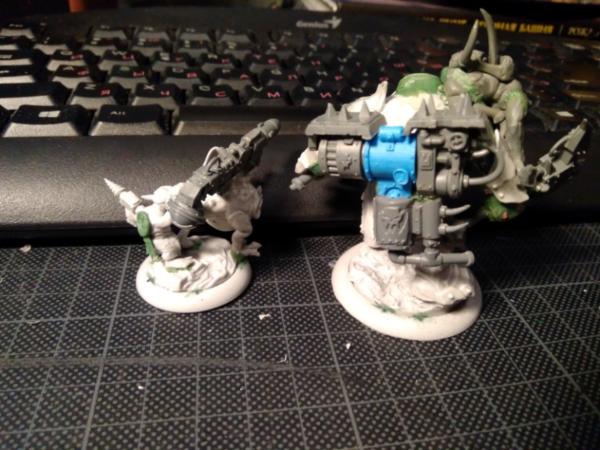 The megaboss model is absolutely great in detail and all, although I would prefer it to be more poseable. Also he originally had a very fantasy like dragon skull on his shoulder which i just had to replace with something. And boy would you look at that. The pink horror of tzeentch really fit well. The one thing I still have to do about it thought is to get some tiny chains to bound his arms and legs.
I also had the greatest fun making the squig gun. I decided that since he's most likely going to be armed with falchions I have to make up a way for him to carry a psycannon and both axes at the same time. Here comes a cosmetic model of a grot (mek gunz crew) and a squig with an integrated psycanon. They are not acually gonna be used in any way on tabletop, they're just there to represent that the paladin has the gun without requiring a third arm to wield it.
This is the banner that goes on top of his backpack. It's currently at a friend that's gonna freehand it to be an orky parody of the
GK
paladin banner.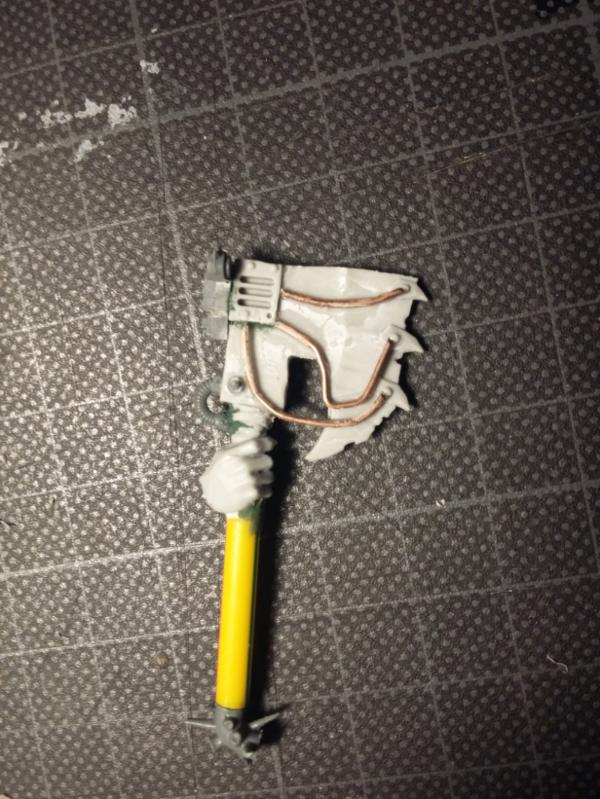 The nemesis demon ham... axe.
The justicar: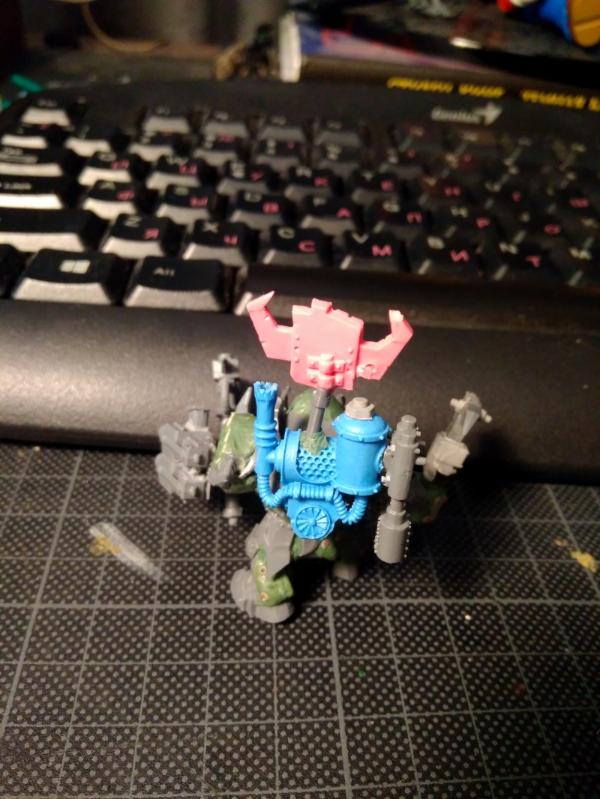 At first i wanted to make him from just another ardboy but then I decided that the nob should be bigger than the other guys, thus a brute.
Troopers: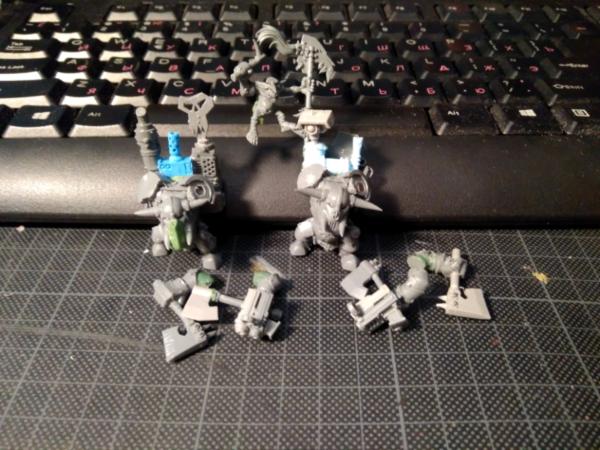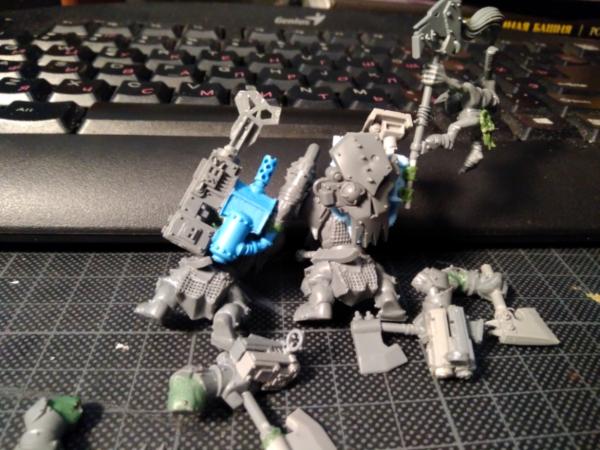 I wanted to give everybody the best backpack possible but boy am I gonna pay for that with not being able to use the
LOS
-blocks at all.
Gunners: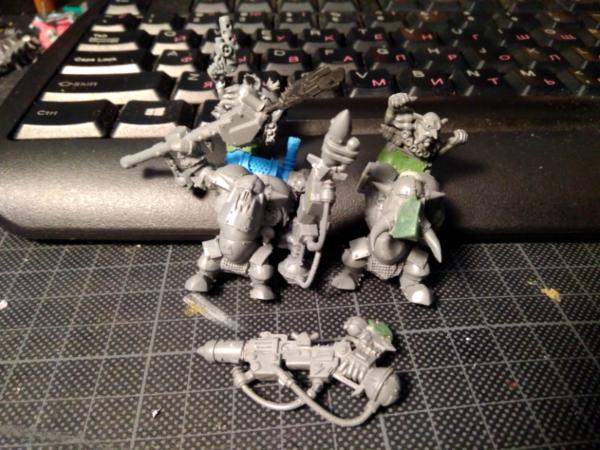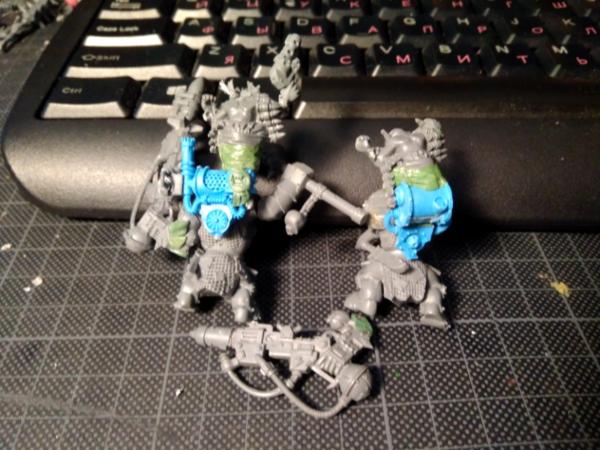 They have little grots helping out with ammo. The guns are psycanons, but the rocket part at the end is magnetized in case if I ever want to use a psilencer.
The specialists
, purgator on the left and interceptor on the right: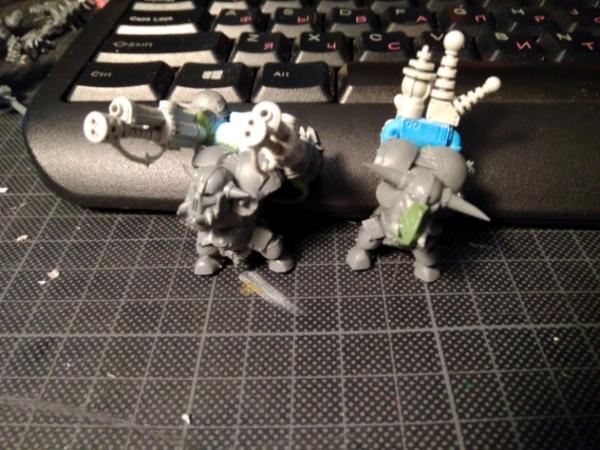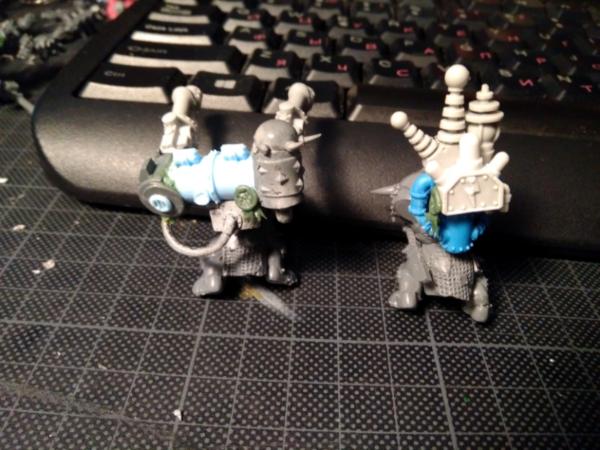 I may be wrong but i think that the flamers and the stuff on the interceptor's backpack come from a stompa.
Bases: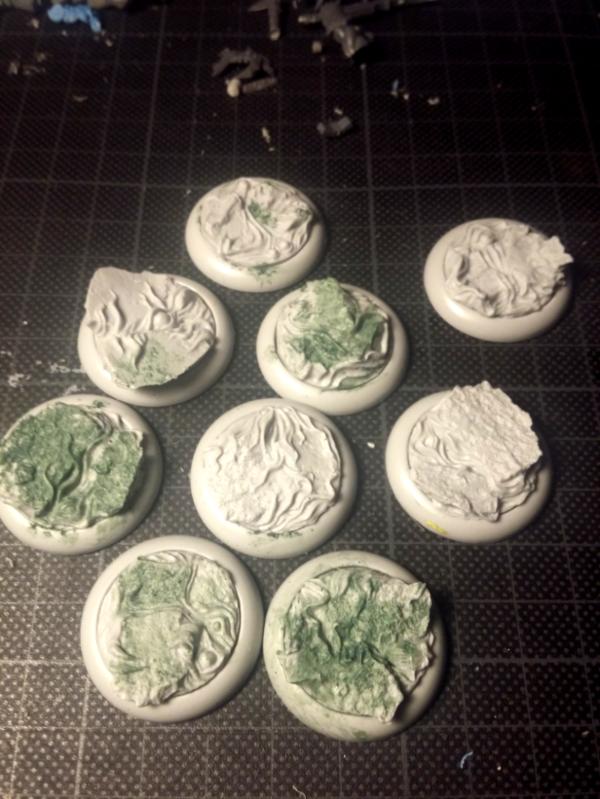 I wanted the bases to represent that the battle has already been brought inside the eye of terror, thus these corrupted wriggling bases.
Seals of orkity tools: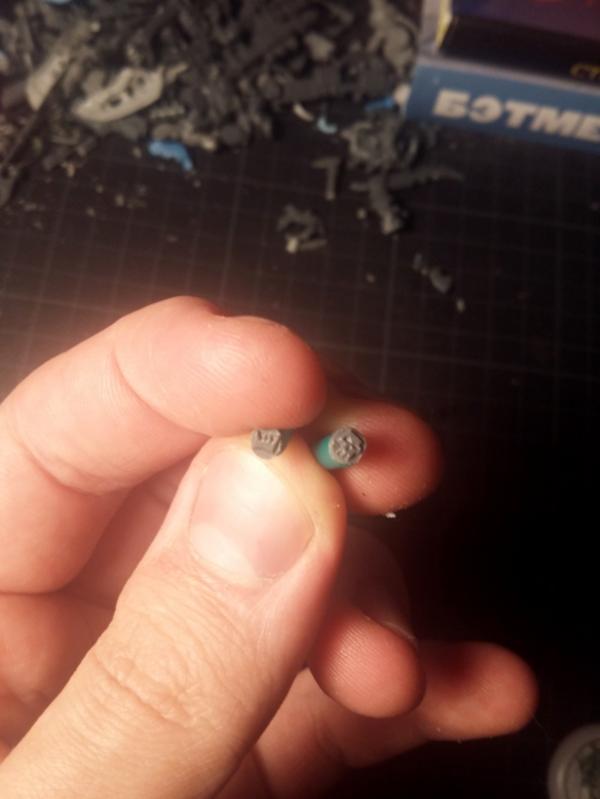 The things I still have left to do:
1) finish up the visors or possibly redo all of them.
2) give all of them the tiny glyphs on the shoulderpads
3) give the boyz the personal belly glyph like the paladin and justicar have
4) make a couple more guardian stave hands
5) stick them all to bases
5b) find a suitable terminator model already
6) begin the painting