And we're back!
To no one's surprise the book leads off with those icons of Rogue Trader, Zoats and Vampire Intelligences.
No. I kid. It's Space Marines.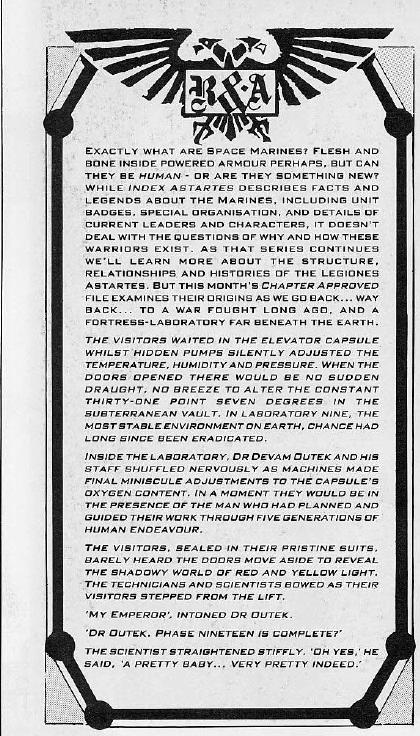 But what is interesting is that it kicks off with world building, the origin of the Marines.
I should note that when the Compil... COMPENDIUM! came out
40k
was 2 years old and several White Dwarf articles had already fleshed out Marines. Introducing for example the Ultramarine and their quadriplegic Chapter Master, their half Eldar psycker and their desert world inhabited by sand worms. For some reason those articles were never reprinted...
So we meet Dr Devam Dutek and his hard-working team of Death Star Gunners creating the first Marines in their lab deep beneath the Earth. I also think this is the first time the Emperor speaks on camera.

'Dr Dutek, Phase Nineteen is complete?"
Stirring stuff.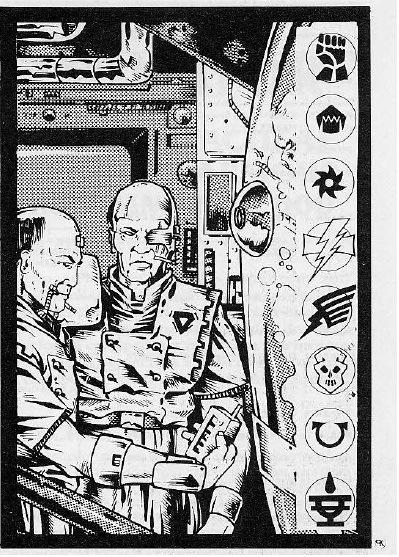 Dr Dutek's efforts lead to the creation of the first 20 chapters of whom only 7 survive today.
I wonder which 7 are the real fist founding chapters, we know it's not the Ultras, they and their desert planet are a 3rd founding chapter to replace the originals who fell to Chaos.
I should review that issue one day.
Unless I already did...
Anywho I can't tell you how annoyed I am that the art has 8 chapter symbols...
Also no Primarchs, no Horus Heresy, These were reconned in a few years later in Lost and the Damned (which you can read about here!
https://www.dakkadakka.com/dakkaforum/posts/list/229409.page
)
What the book does have is the list of 19 implanted organs that make a Space Marine!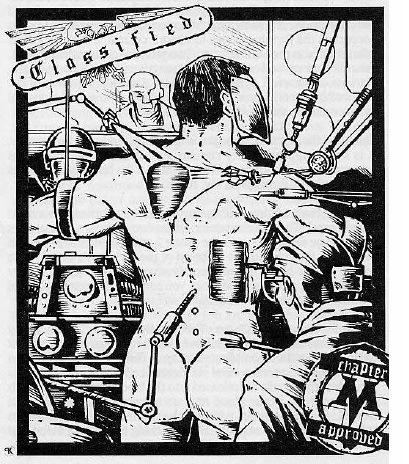 It's a fascinating bit of world building, totally unnecessary for a wargame but gives
40k
the texture that makes the whole thing work.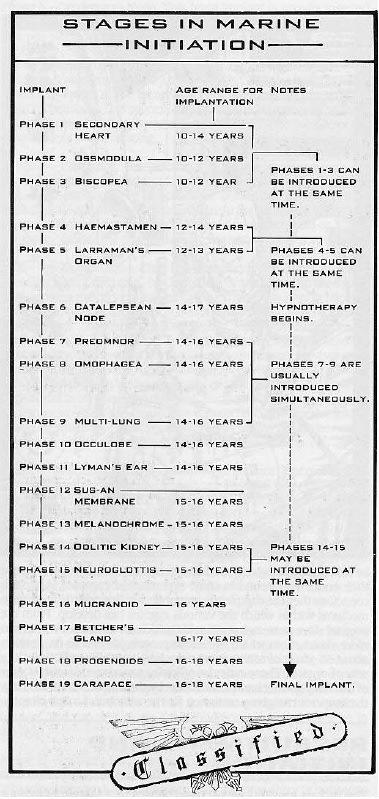 The article introduces (for the first time?) the idea that Marines are not just humans in power armor but superhumans who can spit acid, eat brains, survive in a vacuum and have two hearts for extra love for the Emperor. None of this ever affects the tabletop game, but it's an impressive amount of background for guys who (at the time) were just T3 dudes in power armor!
(This would be fixed a year or two later)
Marines also get a new unit, something called Terminators.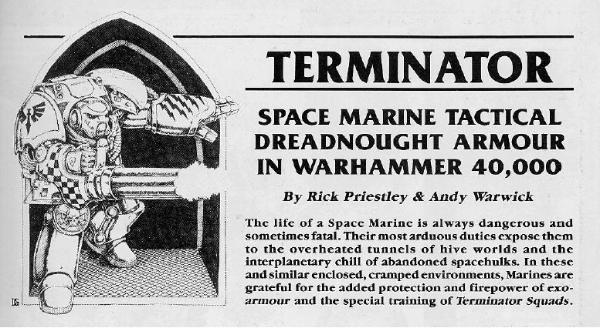 I remember them showing up in Dragon Magazine ads and I was impressed, somehow they'd made the already imposing marine armor bigger!
I know some proto terminators showed up before, but this was when their design and weapons were really finalized courtesy of the great Jes Goodwin.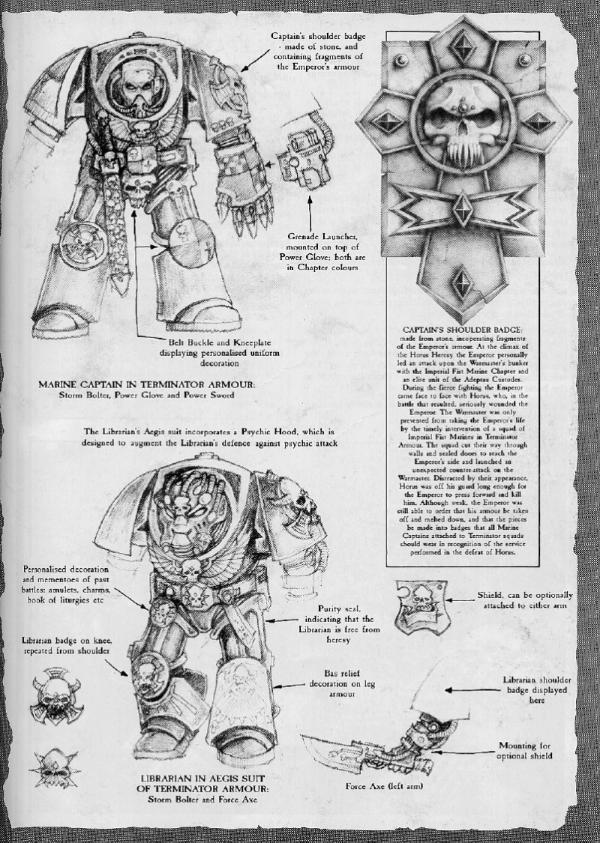 With 2+ saves, always saving on a 6 and a psychic save you could tell these guys were no push ov-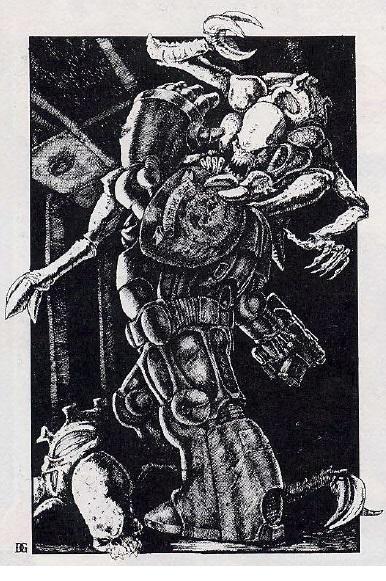 Oh. Ouch. That's gonna leave a mark.
I kind of miss the days when
GW
art was full of Marines getting slaughtered.
As befitting a new toy, Marines get a full colour double paged spread with art work and some models.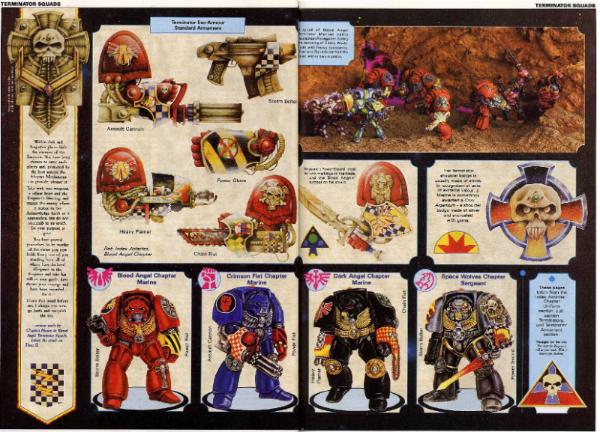 And of course their shoulder badges have fragments of the Emperor's Armor. I'm sure it's a reference to claim all Catholic churches have a fragment of the True Cross in the altar.
I'm not sure if the standard terminator appeared in Space Hulk or this book first, anyone know?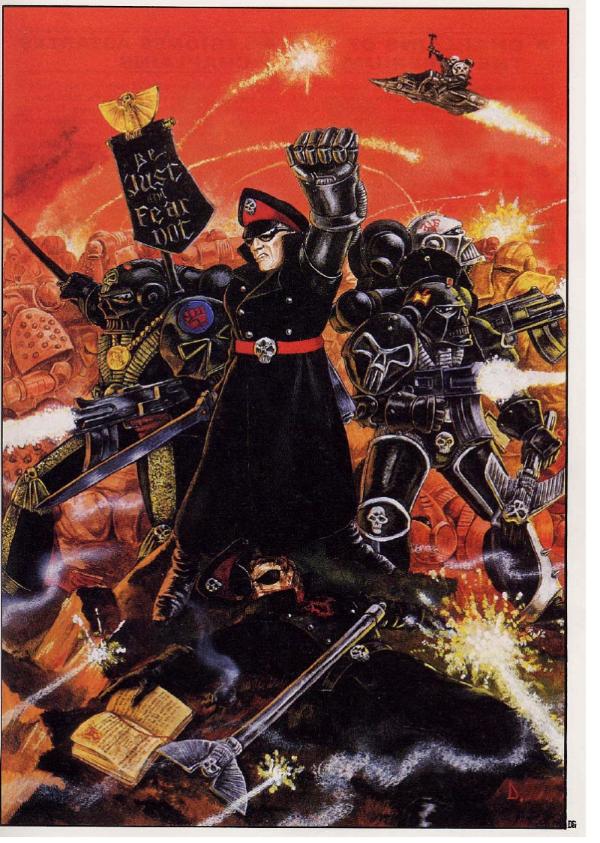 Marines and the Imperial Guard get something new in the next article, morale officers to keep them in line. And of course they have radically different approaches.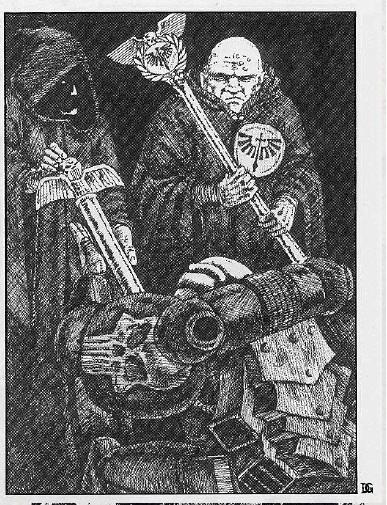 Space Marines get Chaplains, skull faced armored warriors who lead from the front.
Man guys with skulls for a head. There's a bad ass idea that will never get old.
I am sure this idea came from Starship Troopers where the squad Chaplain jumps with the rest of the Mobile Infantry. As well as the humor in the idea of a traditionally non-combat, wimpy role becoming the badest of the bad asses.
Commissars meanwhile...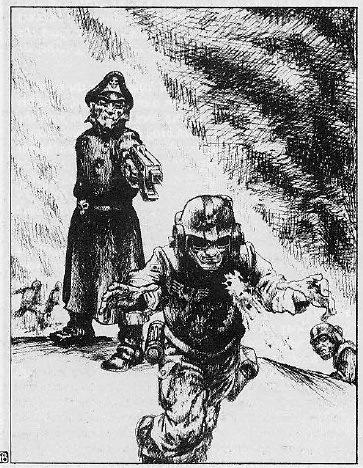 Have a different idea of how to keep discipline.
Dressed like Gestapo officers, taking their name from Soviet political officers, they are the Imperium's grim-faced enforcers.
And finally we have another new Marine (and Guard and Squat) unit, the Medic.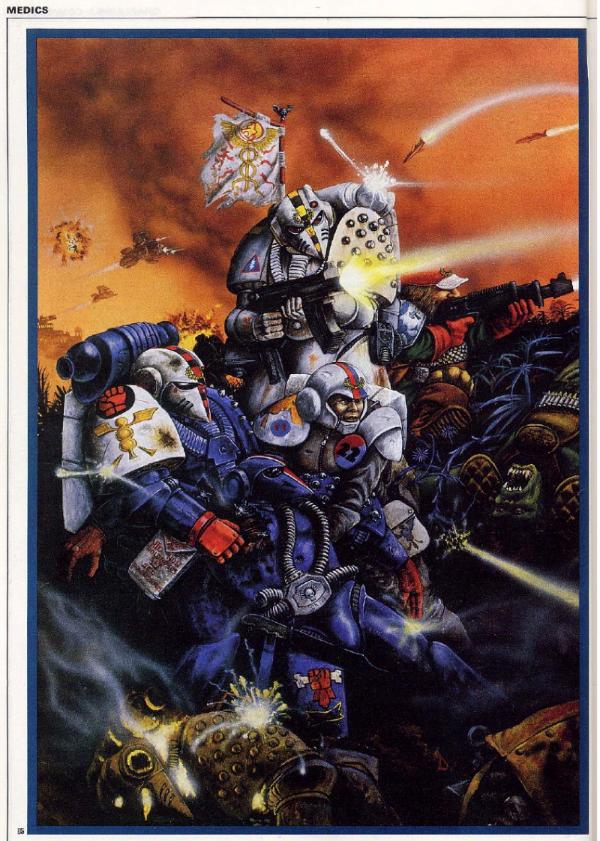 But as you might expect, Medics in
40k
are a bit more Grim Dark.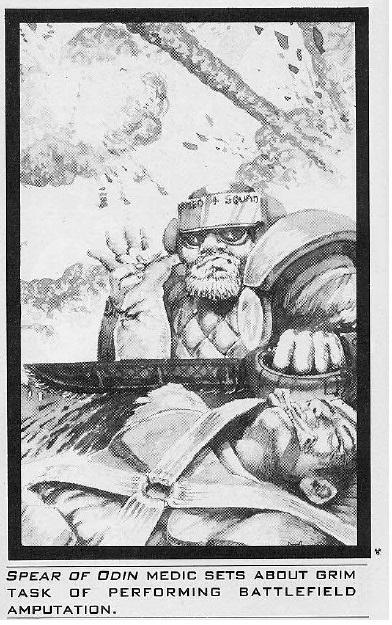 Just a bit.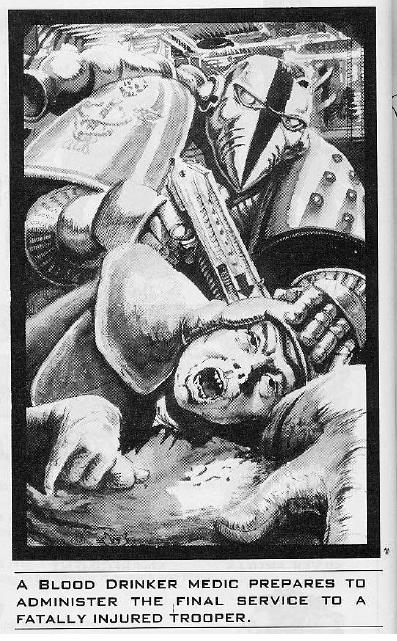 And of course a new troop type requires a full colour painting guide.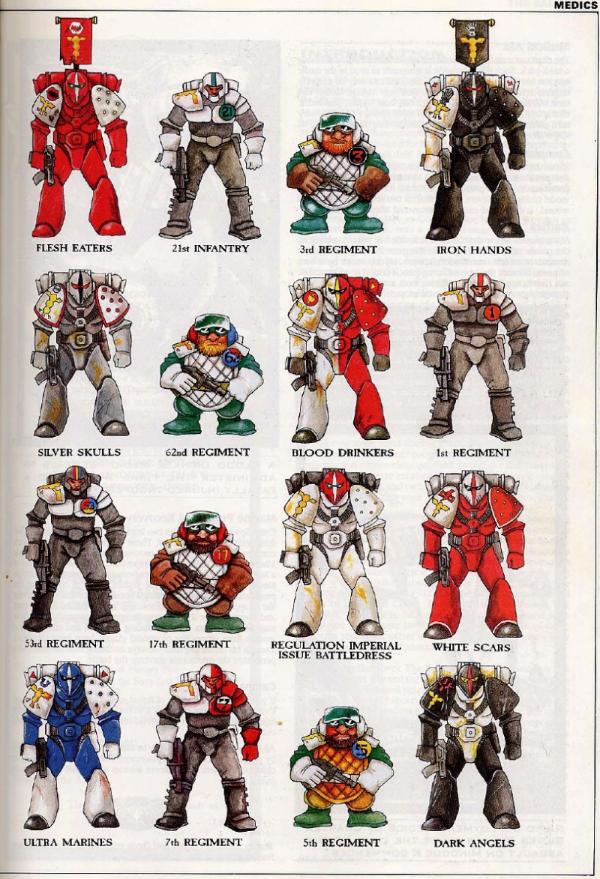 For me stuff like this really lured me in, it made it clear there are A LOT of factions and you can create your own and paint them how you like. To this day it's one of the great strengths of
40k
.
But this being the Rogue Trader era you can be sure there were over complicated rules too...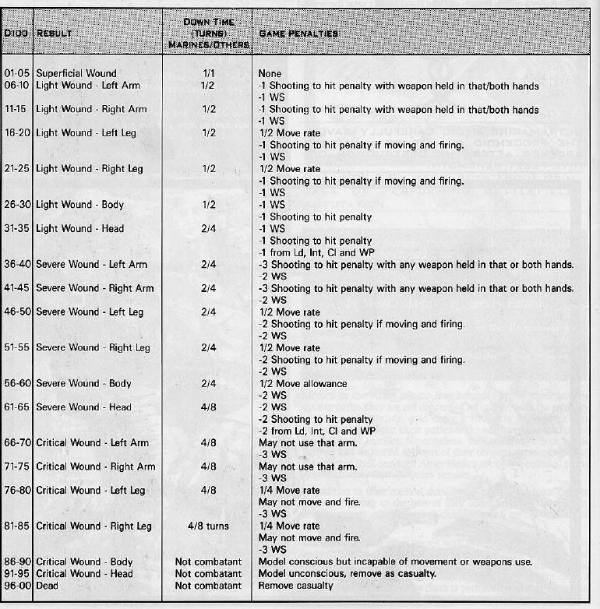 D100 rolls for each wounded model! Tracking wound locations! Stat modifiers!
Ug. It's like no one ever stopped to wonder if these rules would be fun. Because when I'm playing Space Knights vs Space Bugs what I really want is realistic wound rules.
And that's kind of
RT
in a nutshell, awesome fluff concepts and dire bad rules that don't know if they're for an
RPG
or a wargame.
And we'll be back soon with more fluff, more new units and of course the Tyrant of Baab.
Automatically Appended Next Post:
Ah turns out I did review the original Ultramarines, in my defense it was 11 years ago...
https://www.dakkadakka.com/dakkaforum/posts/list/207705.page