Hey folks!
You can read my other battle reports for this event here:
Whiskey Challenge / Celebrity Match
Round One
Round Two
Round Four
Round Five
Round Six
The Pink Waaaugh!
HQ1: Ghazghkull Thraka
HQ2: Big Mek with
KFF
and Powerklaw
Troop1: 7x Nobs, cybork bodies + wound shenanigans in dedicated transport battlewagon
Troop2: 16x Boyz, Nob/Powerklaw/Bosspole
Troop3: 12x Trukk Boyz, Nob/Powerklaw/Bosspole + Trukk
Troop4: 10x Gretchin + Runtherder
Elite1: 15x Burnas
Elite2: 5x Lootas
Elite3: 5x Lootas
Fast Attack1: 3x Warbuggies with
TL
Rokkits
Fast Attack2: 1x Deffkopta,
TL
Rokkits + Buzzsaw
Fast Attack3: 1x Deffkopta,
TL
Rokkits + Buzzsaw
Heavy1: Battlewagon
Heavy2: Battlewagon (Deffrolla, Boarding Plank, Grabbin' Klaw, Armor Plates, Grot Riggers, Big Shoota).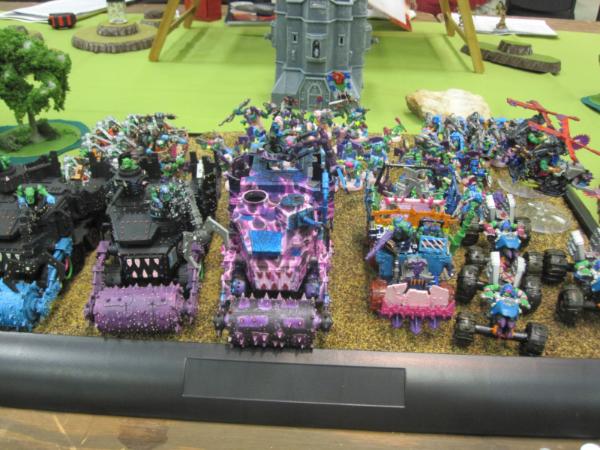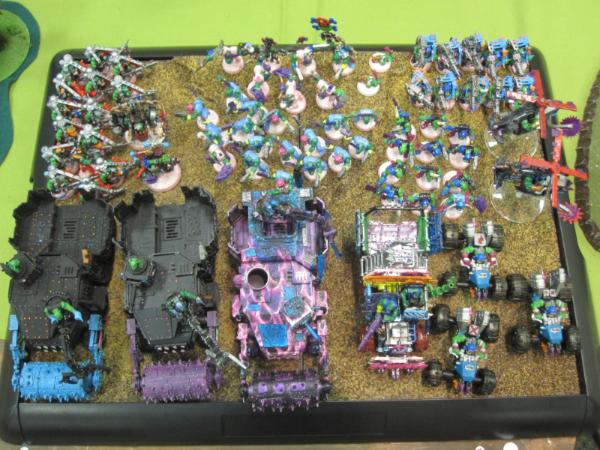 After a narrow win Round Two, I'm still at the bottom of the rankings, meaning that I'm going to face off against another face-crusher. I find myself moved up to table #2. Stack Rankings were based on strong vs. weak, and after my poor performance in round one, I was apparently the second weakest winner now- causing me to go up against the second strongest winner. Up to my table, and...another Dakka-ite! Our very own Yermom! Interestingly, for the longest time, I thought his name was "Yermon" and spent several hours at the
GT
not making the connection between Yermom the Daemon player and "Yermon" the Tyranid player. At some point, I was like, "Wait...you usually play Tyranids don't you?" LIGHT BULB!

I know I look a little toasty in that picture, but its just a trick of the lighting. Completely sober!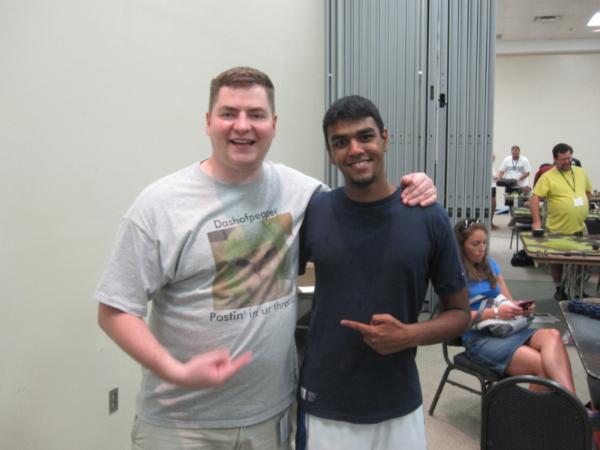 Poor Yermom was in a bad situation going into our third game - despite tabling his first opponent, his second round opponent managed to keep a SINGLE MODEL left alive at the end of the game, hiding in a corner. Yermom was distraught!

Yermom's Daemonic Assault:
His preferred wave starts with an (X)
HQ1: (X) Kairos Fateweaver
HQ2: (X) Bloodthirster (with Unholy Might)
Elite1: (X) 6x Bloodcrushers, Icon, Instrument, Fury
Elite2: 6x Bloodcrushers, Icon, Instrument, Fury
Elite3: (X) 6x Fiends
Troop1: (X)5x Horrors, Bolt of Tzeentch, Changeling
Troop2: 5x Horrors, Bolt of Tzeentch
Troop3: 5x Horrors, Bolt of Tzeentch
Troop4: 5x Horrors, Bolt of Tzeentch
Troop5: 8x Bloodletters
Fast Attack1: (x) 3x Screamers
Fast Attack2: (x) 3x Screamers
Fast Attack3: 3x Screamers
Nova Mission #3 is Spearhead, with the win conditions taking the following precedence:
1. Table Quarters
2. Objectives
3. Victory Points
Pre-Game Tactical Assessment:
Daemons scare me. I won't lie. I don't have much shooting, I'm an assault based army. Daemons are better at assaulting than I am. Even if I get the assault off, his bloodcrushers and fiends will rape whatever I throw at them. Everything has Eternal Warrior and an invulnerable save, making Ghazghkull feel useless. Worse, with Fateweaver in the mix, he gets to reroll all saves. Yermom is a talented player, and I don't expect him to fall for burnination tricks, or to clump up closely enough for me to get 15 templates over anything decent. I had pulled Hulksmash off to the side asking him what I should do, and he said, "Well....move all your stuff into the middle so you can drive somewhere useful, and pray....you're pretty much screwed.
I pray to Gork. I pray to Mork. I play Pink Orks and throw in a word to Slaanesh. I offer several prayers to the Captain. Hopefully someone in there hears my prayers!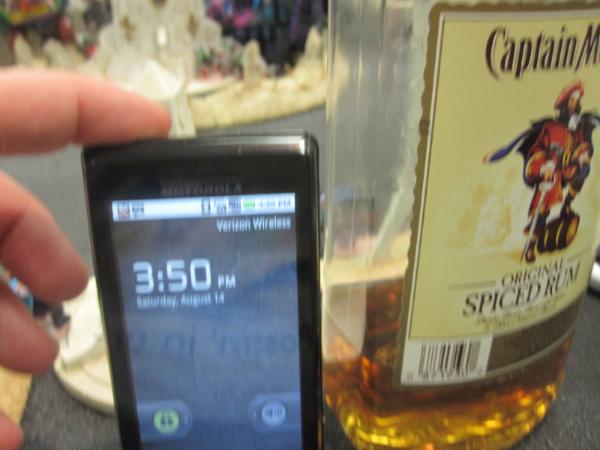 We roll off and Yermom wins - electing to make me deploy and go first. I choose the table corner that looks best for my Lootas and drop my Orks in. I can't really restrict his mobility without spreading my formation out, and I rely on a "wrecking ball" principle with my Orks, so I use my gretchin spaced 2" apart to try screening my backfield.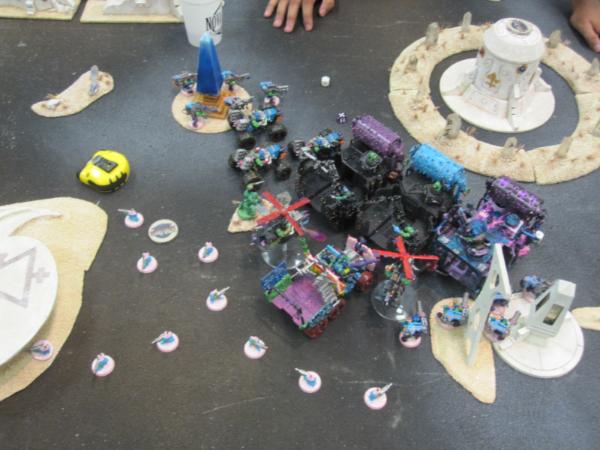 Here's a shoulder view of my deployment: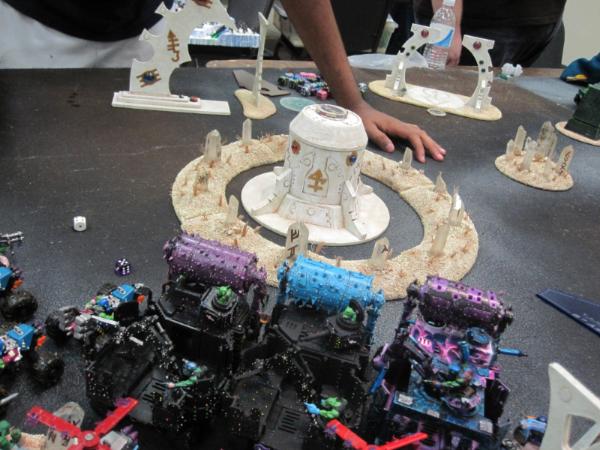 And....a wide table shot.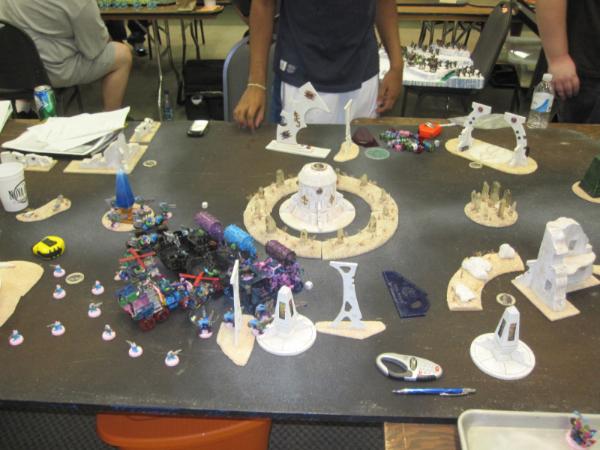 Ork Turn One:
I move up and spread out. I don't spread out far, but enough to try restricting his ability to deep-strike near me without a mishap. I don't know why I did that in hindsight; I don't see any shooting units in his list, and I should WANT him near me.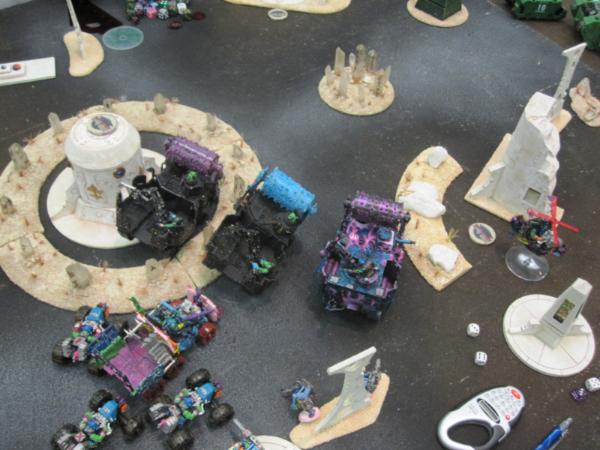 My Lootas spread out to avoid....non-existent blast templates? Habit I guess.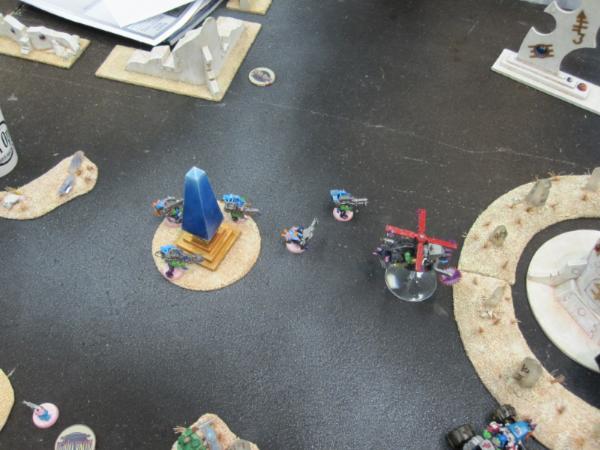 Here we are post-move. I've tried making the table quarter I deployed in as unfavorable to deep-strike into as possible, while deploying in a centralized position to give myself potential access to wherever he chooses to come down. While Daemons ARE WTFPWN ridiculous in an army vs. army fight, their nature means that it should be my army vs. half his army for a turn, and I need to exploit that for any chance of success.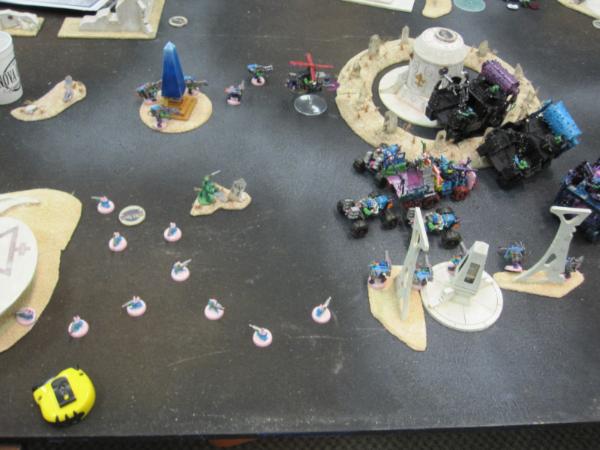 Daemon Turn One:
Hulksmash recently noted that he wouldn't be bringing Daemons to a 4+ game event again - because statistically, in something with more than 3 rounds, you're GOING to end up with a game where the rolls are all wrong. As you'll quickly discover...THIS is that round for Yermom.
It starts when Fateweaver scatters 8" away from his intended target, putting him almost off the table.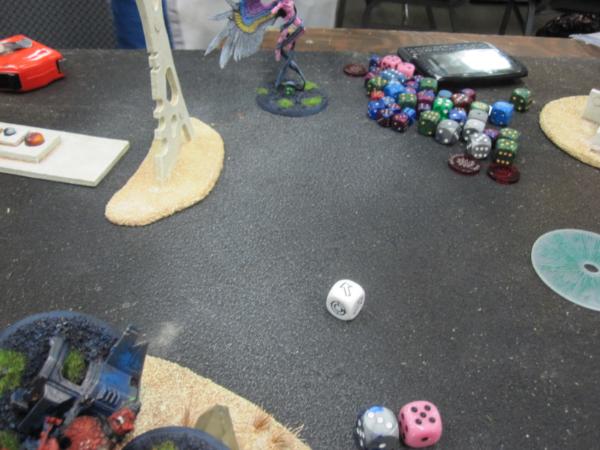 It continues with a Bloodthirster scattering 11" away from Fateweaver, into the middle of nowhere useful. Those Bloodcrushers scatter the OTHER way towards me, land in Dangerous Terrain, are too far from Fateweaver for a benefit, and end up taking a wound or two to dangerous terrain.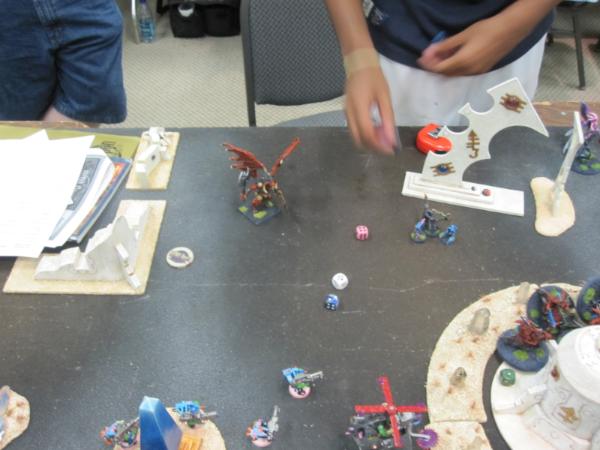 Yermom's luck continues when his screamers scatter 7-8" away from where he wanted right into difficult terrain. He rolls two 1s for dangerous terrain. And fails them both.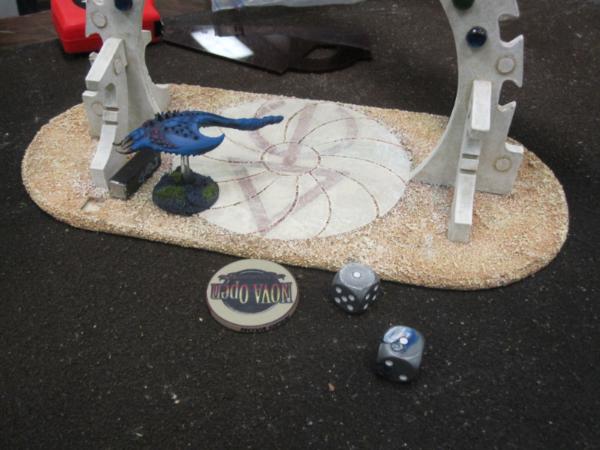 His fiends drop in roughly where he wants them and....its his first unit within range of Fateweaver!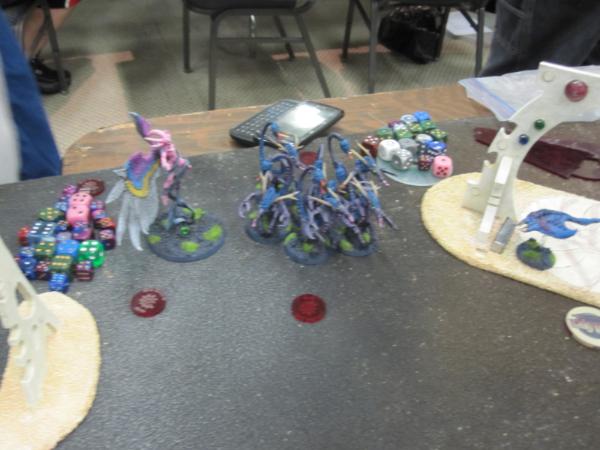 His run moves scatter his forces out a little bit, while his horrors are in range of my Lootas - they open up and kill two Lootas, who fail their break test and run. His run rolls are not enough to bring his crushers within 6" of Fateweaver, and his Bloodthirster is off by himself. Apparently, my prayers were heard! I'm not sure who heard them, so I offer up another to the Captain and head to turn two.
Ork Turn Two:
My Lootas pass their leadership test and regroup. Unfortunately, they're heavy weapons, so won't be doing any firing this turn anyway. Here you can see my Rokkit buggies and a deffkopta lining up for shots on his Bloodthirster.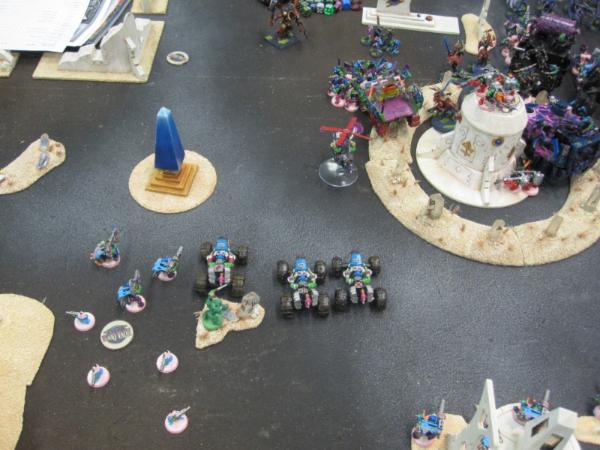 Boyz get out. Nobs get out. Burna boyz get out. Ghazghkull gets out. Trukk boyz get out. Invisible friends get out. Everything gets out except for a
KFF
mek. Fateweaver is out of range of everything except for the fiends, and while I am scared batless of daemons, I realize that Fateweaver is a HUGE force multipler, and I want to take him down while he's alone, not to mention doing as much damage as possible everywhere I can.
Here's the other side of that charlie foxtrot. The trukk boyz are out - I'm not sure whether to take on the horrors or go after the bloodthirster. The bloodthirster can wtfpwn my nobs. Then again, he can wtfpwn my boyz. T6, 6 attacks on the charge....I don't have a lot of shooting, but I'm going to do the best that I can shooting at him, since I don't dare assault that junk. Those burnas and Ghazghkull are going to go get a piece of the Bloodcrushers. I'm going to take a beating, but I need to get the charge on him.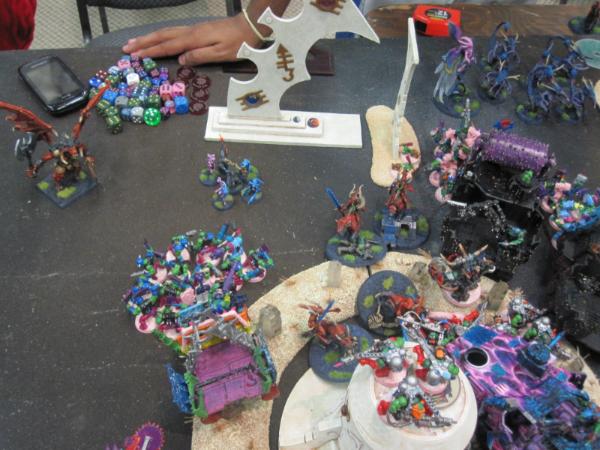 Here's what Yermom is looking at. His bloodcrushers took a wound deep-striking in. Then I hit them with two deffrollas to cause a couple more wounds. I throw a deffkopta rokkit, a trukk big shoota, Ghazghkull's pea shooter, possibly also the second deffkopta and three rokkit buggies into the bloodcrushers as well (since I don't see any wounds on the Bloodthirster (unless he saved them all)). The end result is that two go down. Ghazghkull is not the closest model (on purpose) but is attached to the burnas - meaning that I can assault Ghazghkull into base with two of his Bloodcrushers with a decent roll, leaving only two of his bloodcrushers able to assault into the burnas. On the Waaaugh! I have a 2++, so I might just walk away from this in good shape.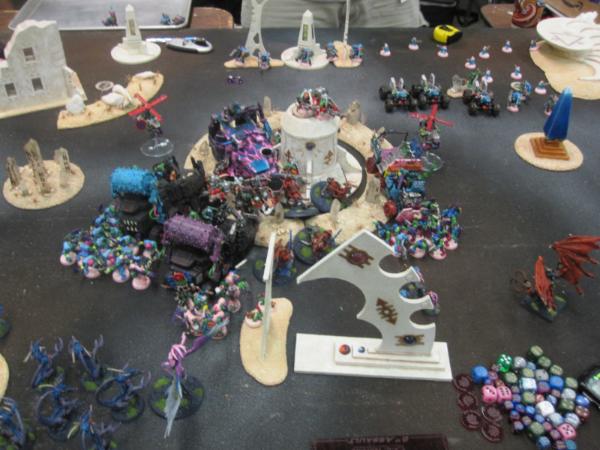 The second screamer unit takes fire from my unmolested Lootas and....three shots each!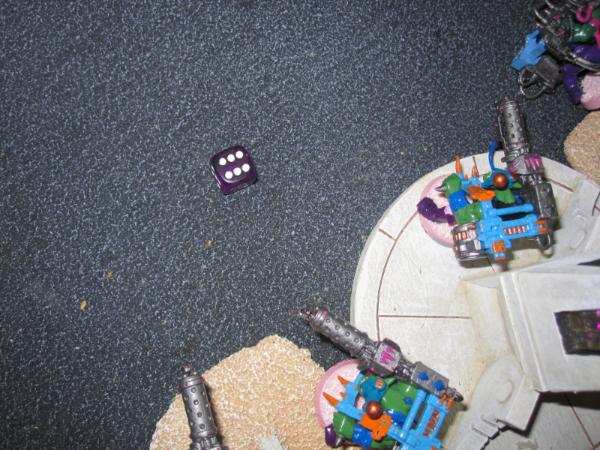 4++ invulnerable saves on the Screamers, but 15 shots from the Lootas take down....all three. Boom.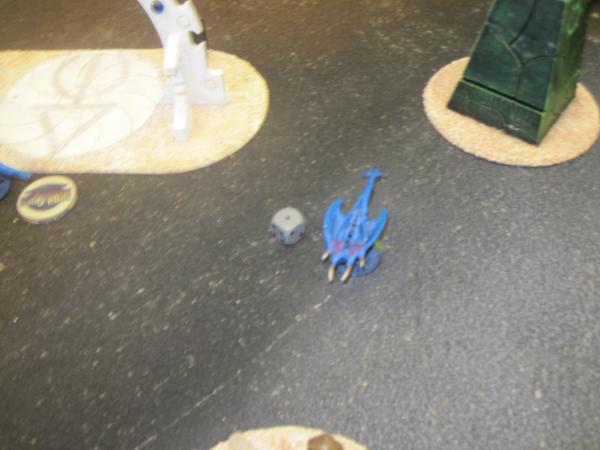 Ghazghkull wades through two Bloodcrushers without ill effect, and only a couple burnas get dropped. In return, the rest of the Bloodcrushers evaporate to mass power-weapon attacks....without rerolls to his invulnerable saves.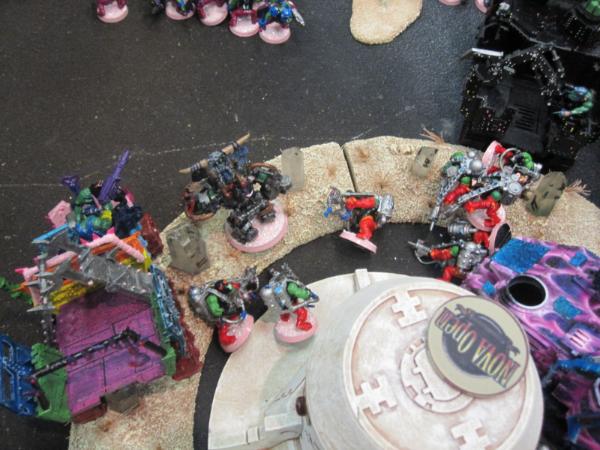 Both my nob squad and my big boyz unit assault Fateweaver, while avoiding the Fiends. While all my boyz won't make it into assault, I'd lose some anyway and will let those die. I want to pile in as many attacks as I can to try bypassing that 3++ / 3++.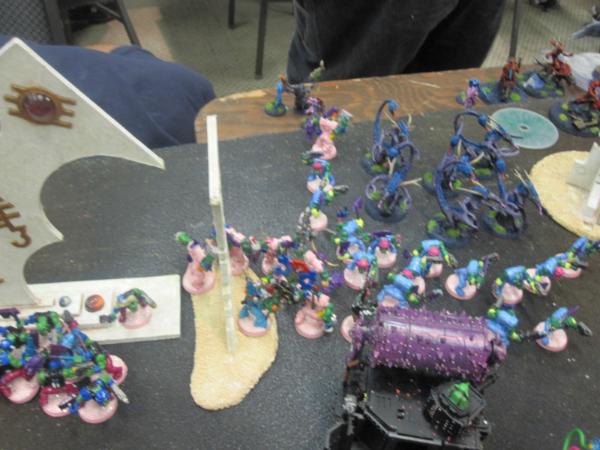 Fateweaver eats a handful of boyz, and in return takes 17 wounds from the combined boyz/nobs. Two sets of 3++ saves later, he takes a single wound, causing a leadership test and.....Yermon rolls a 10! Fateweaver flies away.

For my consolidate, I spread my boyz out to prevent his fiends from assaulting into my nobs.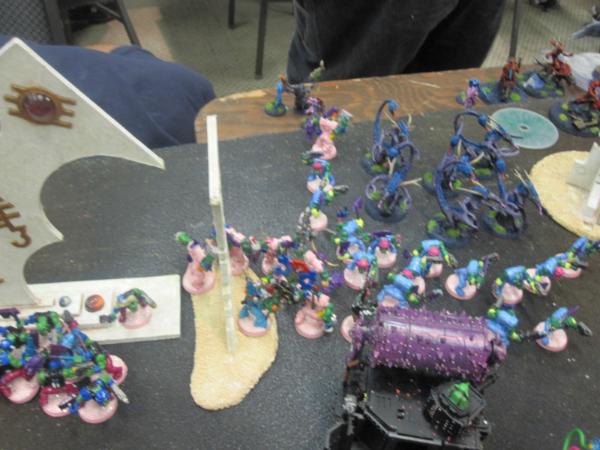 My boyz eat up his horrors!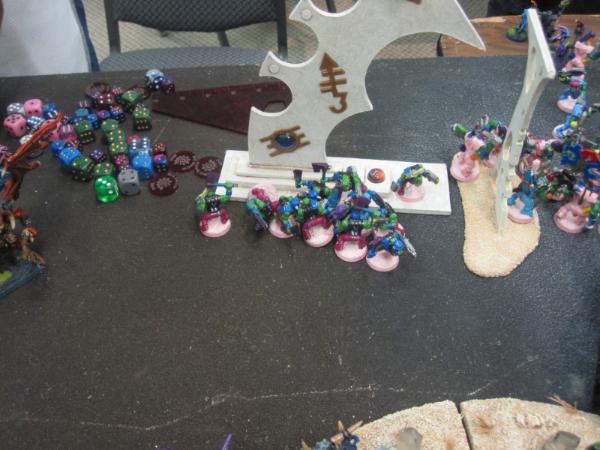 End of the Ork Turn Two: Fateweaver is dead, a unit of bloodcrushers is dead, a unit of horrors is gone, a unit of screamers is gone, 2/3 of the other screamers are gone....leaving the Bloodthirster free, the fiends trapped in by boyz, and a lone screamer.
Daemon Turn Two:
Yermom's second unit of horrors drop down roughly where he wants them, on an objective and in an empty table quarter.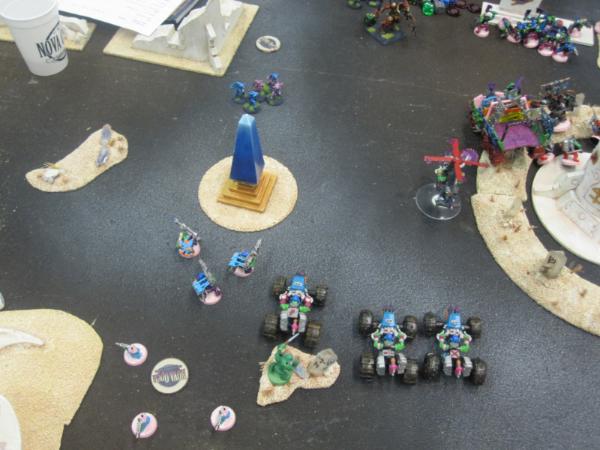 A second horror unit and his last screamer unit drop down too, also roughly where he wants them. His second unit of Bloodcrushers don't come in.
That leaves his fiends and his Bloodcrusher to assault. His horrors open up on something (possibly killing a Deffkopta?). The other horrors open up on rokkit buggies and take down one (and shake a second).
His Bloodcrusher assaults into the nobs....kills three, and in return fails all his saves and dies.
His fiends charge into my boyz and predictably....wtfpwn them. I'm still fearless from the Waaaugh! and after fearless saves, everyone but the Nob is dead. But....4 of the fiends went down.
Ork Turn Three:
Its honestly cleanup at this point. Yermom is being a great sport about it; its truly not his fault that his dice have performed so abysmally this game - coming off of two utter massacres and to ed up in your next game losing simply because everything goes to the wrong place.
Ghazghkull and the burnas jump back into their battlewagon to gain their mobility back. Lootas reach across the board trying to take down the remaining screamer and the distant horror squad and have no luck. Nobs charge into combat with the remaining fiends, fail ALL their saves (and subsequently take a wound on everyone without losing anyone) and in return kill all the fiends. I've got a one ork troop choice and a wounded nob unit floating freely now!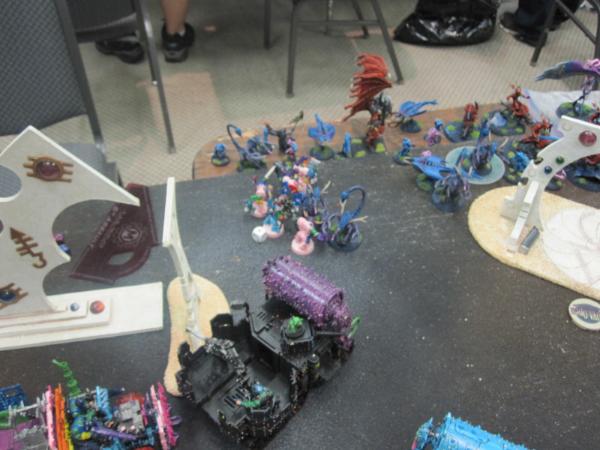 My remaining Deffkopta charges into a unit of horrors. My boyz tried getting there but rolled a 1 and a 2 to get out of difficult terrain - and I wanted them tied up, so in the Deffkopta goes. It kills one, and takes none in return, leaving combat tied up.
Daemon Turn Three:
See the picture above - he finally gets a deep strike where he wants one!! His second unit of blood crushers drop down where he wants.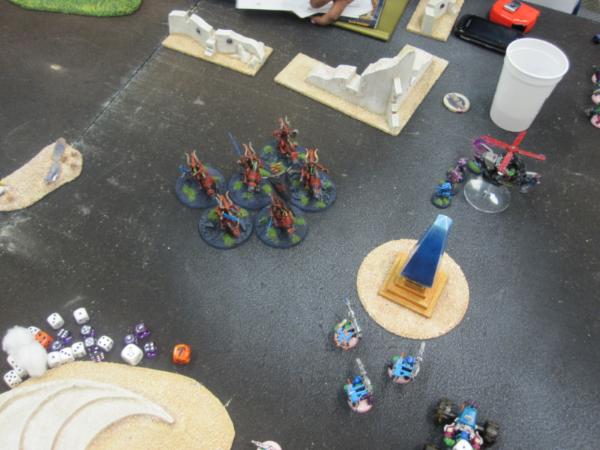 Alright, looks like I didn't manage to kill his fiends on my charge, so here they are dying, and I consolidate out of combat wounded and ragged.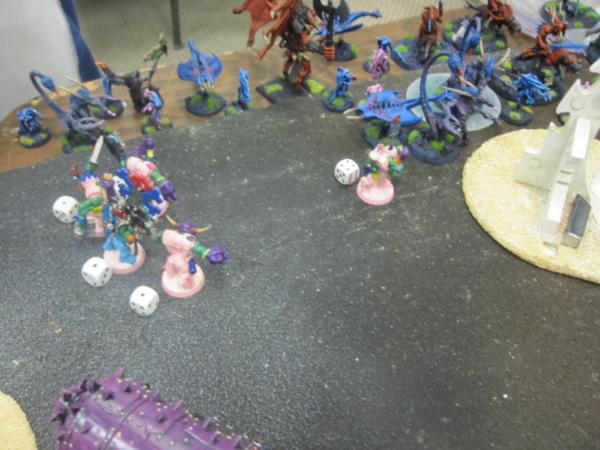 His remaining screamer charges into the
KFF
wagon and immobilizes it!
Ork Turn Four:
Ghazghkull and the burnas head out towards the table quarter with the horrors in it and jump out in preparation of destruction.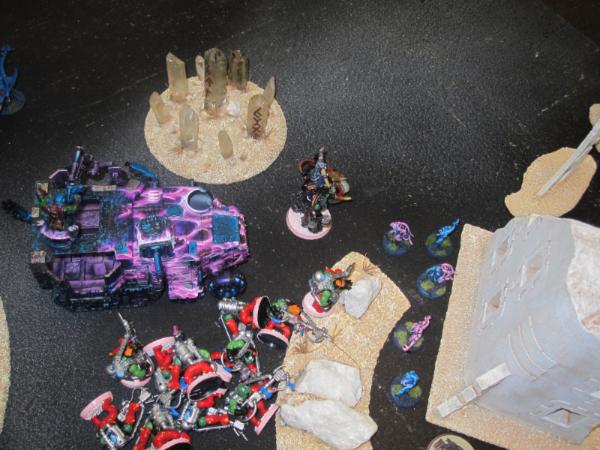 My lone nob from the boyz unit jumps into cover to sit on an objective since he can't really contribute in any meaningful way to the rest of the game. At the same time, the Nobs move up towards the screamer - I want to assault it and pull it off of the battlewagon.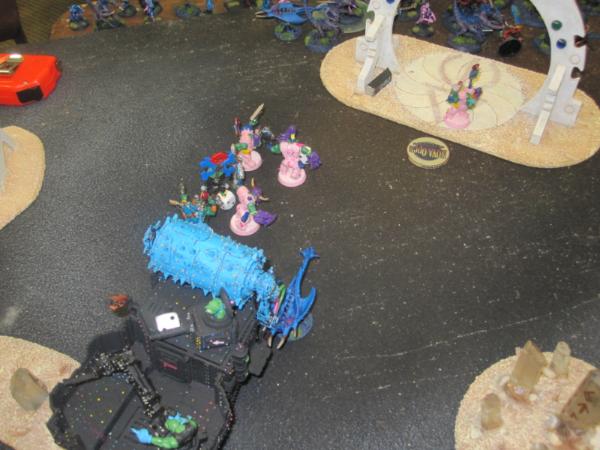 The trukk boyz are....doing something. They're not close enough to the bloodcrushers to be meaningful, and not powerful enough to do anything anyway. They jump back into their trukk to try staying safe.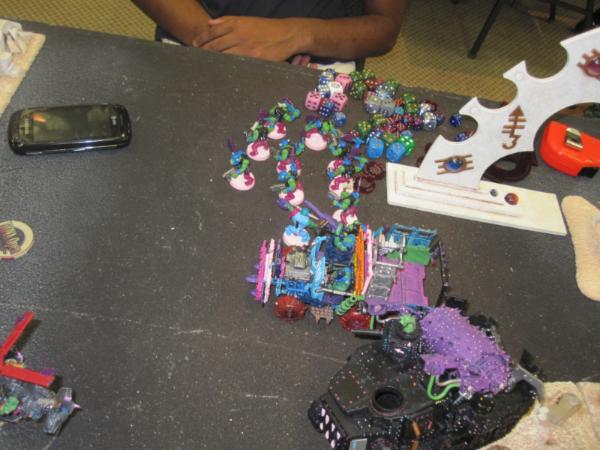 His bloodcrushers are on the table....I'm post-Waaaugh! and can't bring sufficient forces to bear to deal with them, so my gretchin run as far away as possible while my rokkit buggies try screening them. I expect to lose my Lootas, and I've got a Deffkopta over there ....but I'm hopefully spread out enough that he can't get to all of it.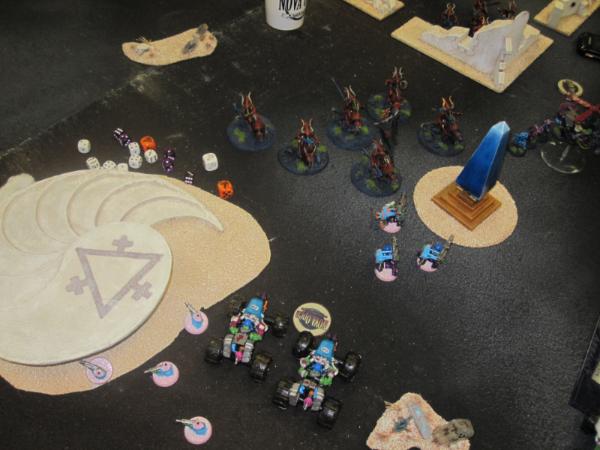 Ghazghkull and the burnas predictably end the horrors.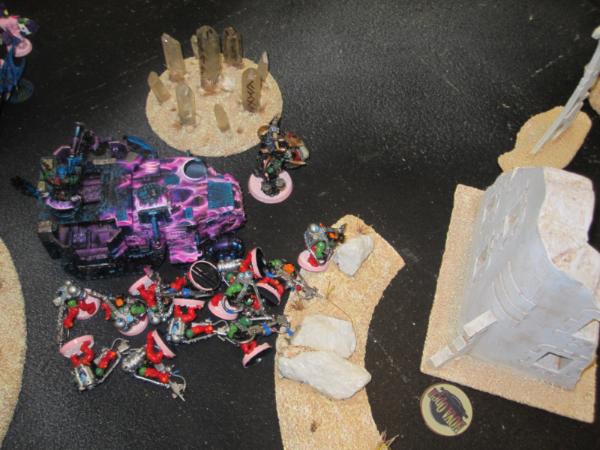 Daemon Turn Four:
Yermom's last unit, the Bloodletters drop down, and he brings them down in cover, in the table quarter his bloodcrushers are in.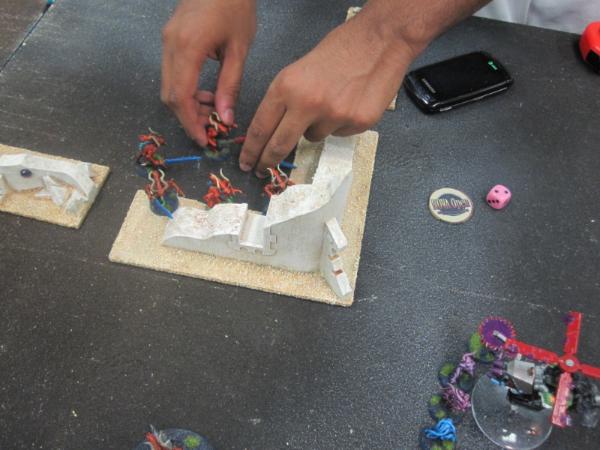 His bloodthirsters assault my Deffkopta and my three Lootas, who predictably die.
Ork Turn Five:
My Gretchin and rokkitbuggies retreat further away from the Bloodcrushers, although I *am* going to pop a rokkit or two at the bloodcrushers.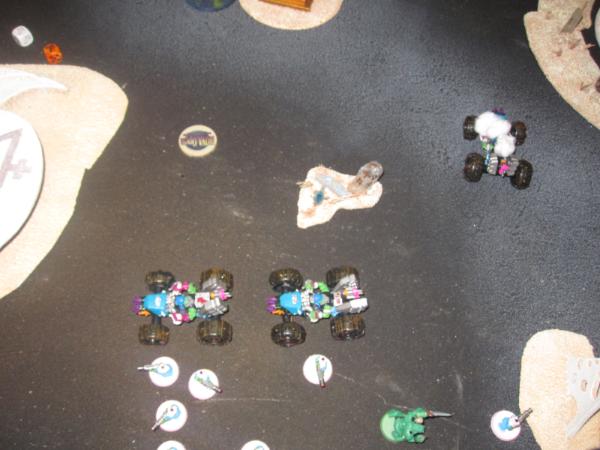 My trukk boyz run up to the bloodletters and get out. They're mostly untouched, and they only have 5++ saves...he's got as many attacks as I do, but I have more models, so a good roll should help. And....I get to shoot at him first.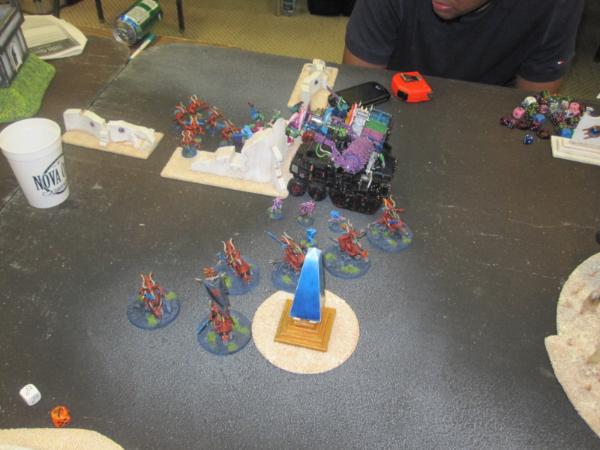 My boyz beat up on his bloodletters, leaving just his bloodcrushers and a partly depleted horror unit on the table.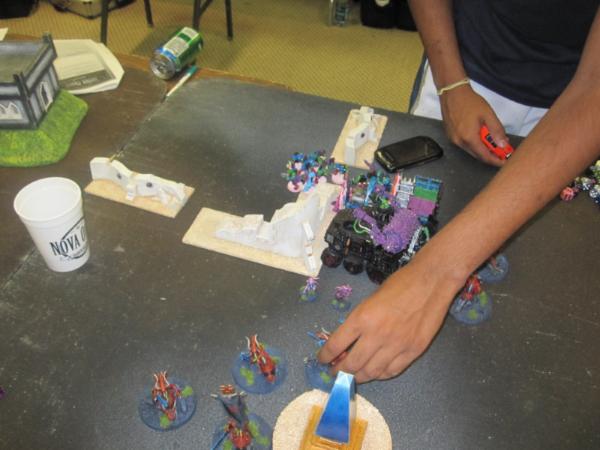 On the other side of the field, Ghazghkull and the burnas jump back into their wagon while the nobs jump into their wagon. Both wagons turn and peel out 12".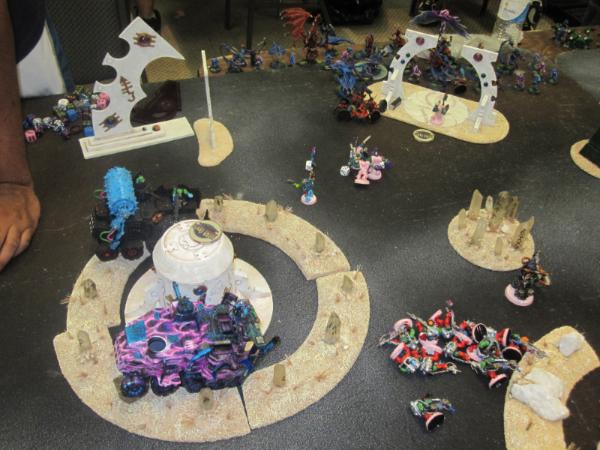 Daemon Turn Five:
Bloodcrushers I think assault into a battlewagon here and whiff completely.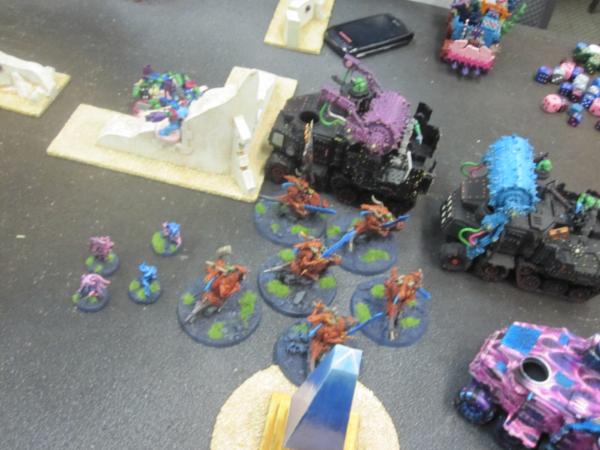 Ork Turn Six:
Battlewagon deliver their payload! Burnas get out, ready to burninate. Nobs get out for the assault.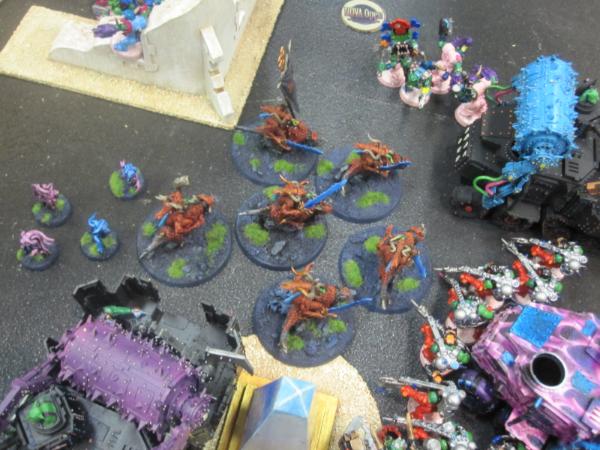 Lots of hits later, I only manage to cause three wounds to different models and kill one, and I assault in. My trukk boy remnants go clean up his last few Horrors.
Nobs survive Bloodcrusher hits (5++ is paying off), I lose 5 burnas, and in return deliver a face punch; between this assault and the next, he's got one bloodcrusher left (I think).
The game ends.

Post Game Tactical Assessment:
This game was all about dice rolls. I'm under no illusions that if he had gotten Fateweaver down next to Crushers, and Bloodthirster that this would have been a much more bloody and brutal game. There are dangers to playing a daemon list, and they manifested themselves here....bad scatter rolls, bad placement rolls, failed
DT
tests. I don't think it was fair to Yermom that his dice performed as badly as they did, but I'm glad that they *DID* because it got me the win. Most importantly in my eyes - it can be hard to take a beating and be a good sport at it, and Yermom keeps himself together. If everyone could be a graceful loser, there would be far less strife in the world of
40k
!!