@ Captain Brown: Thank you. Let's hope 2021 is a better year than the last one.
I started painting her last month, but the first model I finished this year is this Battle Sister.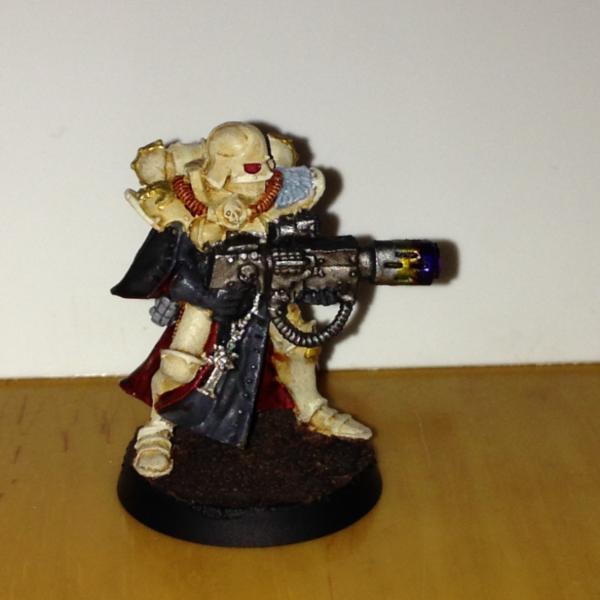 I wanted to update the colour scheme from my old
Order of the Crimson Rose
Adepta Sororitas army. Below you can see this model compared to a similar one from the original army.
The original figure was undercoated with Citadel white spray paint and then painted with Citadel
Bleached Bone
,
Chaos Black
and
Scab Red
, with Citadel golds and a silver for the metallics. The only washes were, I think, a chestnut wash on the cables. The colours on the original lack depth and definition, and some of the gold doesn't "pop" against the cream-coloured armour.
The figure for the new scheme had already been undercoated with Citadel white spray paint, and got the following treatment:
Cream - Citadel Iyanden Darksun basecoat / Citadel Bleached Bone layer / Citadel Seraphim Sepia wash / Bleached Bone drybrush
Red - Vallejo Hull Red basecoat / Citadel Scab Red layer / Citadel Chestnut Ink wash
Black – Citadel Chaos Black basecoat / Vallejo Dark Rubber layer / Citadel Nuln Oil wash
White - Army Painter Spaceship Exterior layer / Dark Star Paynes Grey wash / Spaceship Exterior drybrush
I think this makes the colours less flat than in the original scheme. This time the metallics were done with
Brass
and
Tarnished Steel
from Dark Star. They have far better coverage and are much brighter than whatever I used originally. I also tried the thermal discolouration technique on the muzzle of the gun, using Citadel washes and inks. I think it came out alright, though old-school Citadel blue ink is really potent and overpowers the other shades a bit.