Hey there! This thread will be dedicated to one of my small side projects I want to share with you and hopefully get some feedback on. The goal is to create one or more squads of Imperial Navy Armsmen using Games workshop parts as well as some bits from online sellers. The idea for this project came while I was flicking through google images of customised Imperial Guard armies. I wanted to challenge myself with this project to try and come up new ideas for what can be done with
GW
Cadian box sets. I decided to avoid the standard out-of-the-box assembly and paintjob, as I want to try out different styles and find new combinations of parts to make a truly unique looking squad/army.
I decided to base the conversion around distinct, iconic head conversion bits and go from there to complete the look. CPmodels offers some great head choices that can really help to create a unique look for your army. I decided to pick up several packs of heads and was very pleased to see the great quality of the casts when they arrived. To further customise the conventional cadian set, I decided to order some fatigue legs from Madrobot miniatures. I was trying to make the suits of the armsmen look like they could withstand the vacuum of space in case of a (rather likely) hull breach in a voidship batle. The quality on the custom legs was also magnificent, as you can surely tell from the pictures. Another final conversion to set the miniatures apart from standard Cadians was the conversion of the Lasguns to Autoguns. I like to argue that laser weapons might not be as efficient in the vacuum of space, which is why conventional slugthrowers are still relatively widespread among armsmen sqauds, but mostly I just did it for rule of cool

Spoiler contains images of all of the 10 armsman on their own, including the senior armsman / sergeant.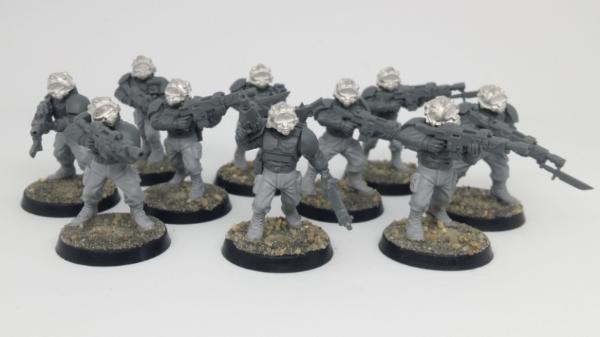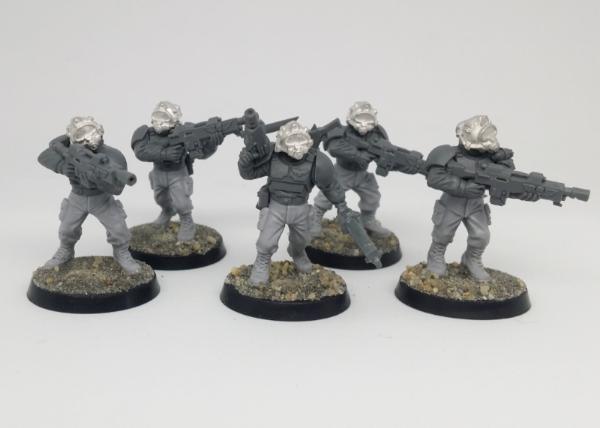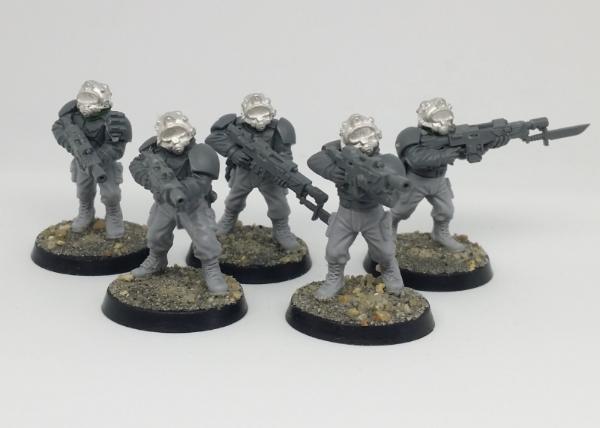 For the paintjob I will take inspiration from official
40k
Navy armsmen miniatures, meaning blue flight suit and metallic armor plates. The Autoguns will get a red casing and metallic details. I'm still on the fence for visor colors. Glossy black, yellow, pink or blue could fit, but I'll have to experiment to find out which colour is best for the look I'm going for.
I'd love to get your feedback on what I've managed to build so far! See ya later!