And just like that, I didn't want to varnish my models anymore...
Thanks for the comments, guys.
Don Qui Hotep, yes. My own spin on Maugan Ra, Dark Reaper Phoenix Lord, for my Exodite project.
Time for painting has stayed at a premium the last week or so. And then, disaster started flirting. You may recall that the dullcote was a little strong this season, and the Zoat was almost wrecked by frosting. So I went light on our girl here, and it was WORSE. Spotty, frosted, distressing to say the least. And highly frustrating because it isn't like I have not used more. cans. of. this. frikkin'. stuff. than. I. can. remember. Anyway...threw that can of dullcote in the trash, came back in with the gloss, then tried a new flat, which did the job. Most thankfully.
Siobhan Marbhadh, the Reaper. The Lady of Dorchadas. One day late for Halloween.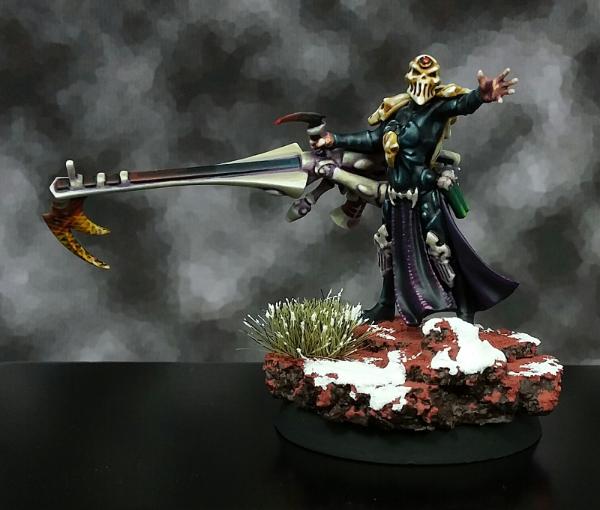 "Do you need to stop and rest?"
Sennlaoch Curaidh, Lord of Coreiag Dhuun, turned and smiled as a hulking four-legged shape emerged from the clinging fog that hung thick in the air about them. They had miles since left behind the rich red soil of Mir-Vallaen, and trod now upon hard, grey slate, from which sprang only thin, twisted, leafless trees, black hands splayed in an unanswered plea for pity from the cold sky. Second-winter was coming to an end in the lands from which they had traveled, but here there was no sign of relief from bitter cold and oppressive gloom.
"I may not be as quick-footed as you, my friend, but it will be many moons of Kantus until I tire before you," chuckled Jugger Grimlock. The Zoat came to a stop next to the armored lord.
"We are getting close. Be wary."
"Of what? I have seen naught but a few stray birds. It seems life has forsaken this land."
"Nearly. But we are certainly not unwatched. Or alone. I don't believe there is any immediate danger. My brothers would have alerted us." He looked from one side of their path to the other. Just within the range of their vision padded two large feline shapes. Niran lions. Intelligent, armored, fiercely loyal. Two guards the likes of which are the envy of any who know of their existence. "Litar and Aran have not sensed anything for hours."
"Your cats would have to sense something quite dangerous to bother alerting us before they eliminated it," mused the Zoat.
"And what of yours," asked Curaidh. "Has it sensed anything?"
Grimlock grumbled as a third, smaller feline emerged from the mist. "No. Thank you." Kram'agk the gyrinx purred and cleaned one of her paws.
"Come now, my reptillian friend. Is it really so bad? Many would consider it a mark of great fortune to have a companion such as yours."
"Fortunate, unwanted and annoying. I hope it gets lost in the mist." The gyrinx snorted. Or, laughed?
"Peace, Jugger. The little thing has attached itself to you by more than mere chance or fancy. Come, it would not do for us to tarry overlong."
The odd group marched in silence for an hour before an enormous tree loomed out of the fog. Black bark wrapped it's trunk broken by a gaping hole at it's base. The great tree was nestled against a sheer cliff face which rose sharply up and out of sight. Red-eyed crows perched in the tangled of branches, the odd croak breaking the eerie quiet.
"I will go in alone."
"Are you certain that is wise? From what little you have told me, this place is not to be dealt with lightly, and the lady within...less so."
Sennlaoch Curaidh shuddered. He had not seen her up close in three years. Not since... He had only seen her on the field of battle when she had deigned the conflict worthy of her attention. When she could exult in the bloodshed. When she might claim the souls of those who had fallen in honor and glory. The possibility of being taken was a thing of great fear to the Eldar of Mir-Vallaen. To be kept from the World Circuits that housed the waystones of the dead. To never know peace. For those claimed by the one who dwells in the great tree feed her, sustain her, and she knows no rest, only an uneasy lull between times of battle. Her few retainers are fed in a similar fashion by her power, and together they share a fearsome reputation for violence.
"Fear not. You and the cats wait here. If it should pass that I do not return, take word back to Coreiag Dhuun. Pucariel will know what to do."
Jugger Grimlock nodded solemnly as his friend turned and disappeared into the darkness. Inside, there was a hall dimly lit by a pale light which seemed to struggle to push back the shadows that slid from the outermost edges of the room. Faded cloth hung suspended from far above, swaying in an unfelt draft. Scraping and whispers betrayed the presence of something beyond. This hall should not fit within the confines of the tree, and yet, here he stood. At the far end upon a low riser sat a simple black throne with a small table beside it and a weapon mounted upon the wall behind. It's length was fine polished wraithbone, and it seemed to emit a pale luminescence of it's own. From beneath the muzzle curved a forked blade, the surface of which shimmered in the weak light like the eyes of the crows outside. A skull-faced helmet sat upon the small table next to a finely-wrought goblet of obsidian. The weapon was the Barrowbrand, terrifying instrument of the Reaper, and the coldly beautiful woman clad in form-fitting black armor that sat beneath it was it's wielder, Siubhan Marbhadh, the Dark Lady.
"You enter Dorchadas unbidden, Lord of Coreiag Dhuun."
To be continued...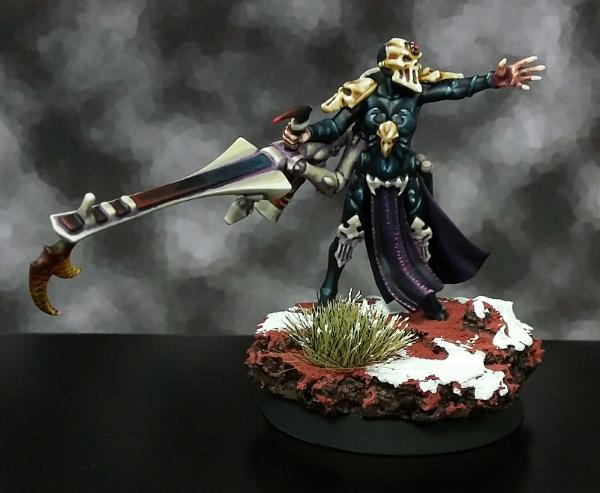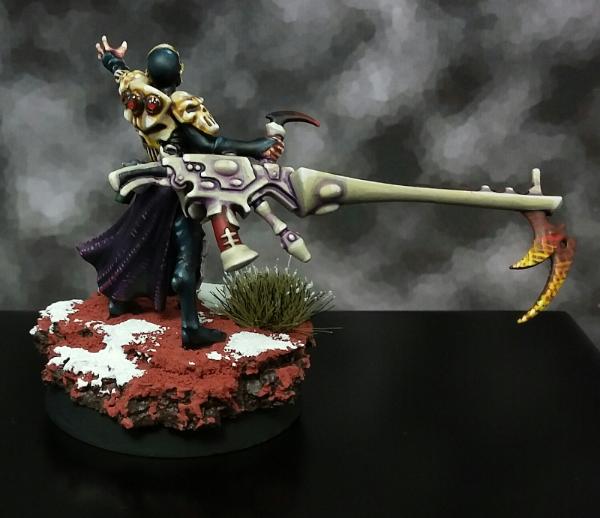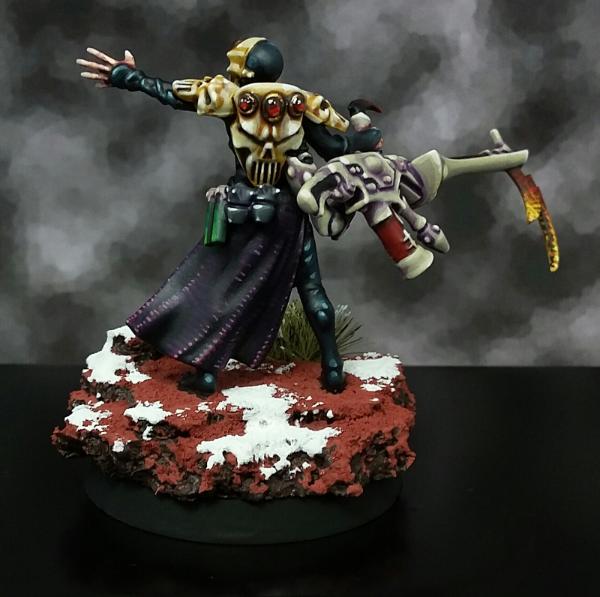 And the first BB guard is built. Beefy.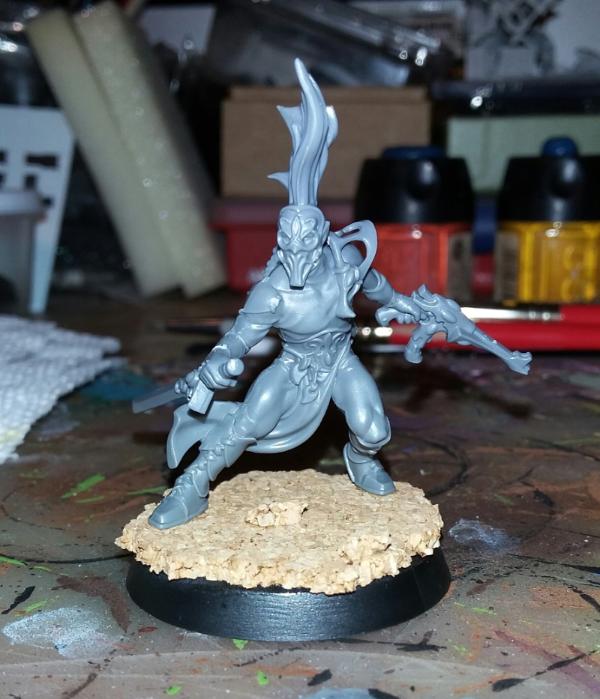 Thanks for looking!
2020 minis completed: 98