Hoo boy, kids! I am risking life and limb to get this info to you. today i bagged a Finecast Librarian in terminator armor!!!!!!!! BOO YAHH to me.
1) Don't ask where I got it, I cant say.
I can't say were this copy came from. I can say, that I don't work for
GW
and my source is here in the US and is not a member of
GW
ether. Unfortunatly returning it for another is not feasable. I am not even suppose to have it this early. The other copies were just as bad upon closer inspection. My source is now very nervous about
GW
and the finecast line.
2) I am working on it as we speak - so update will be in this post as i make more progress
Now lets begin . . . .
The Model is priced at $18.95. Only a dollar more then the metal version after tax here in the US.
Seen here is the front of the blister package (which jumps out at you on the shelf):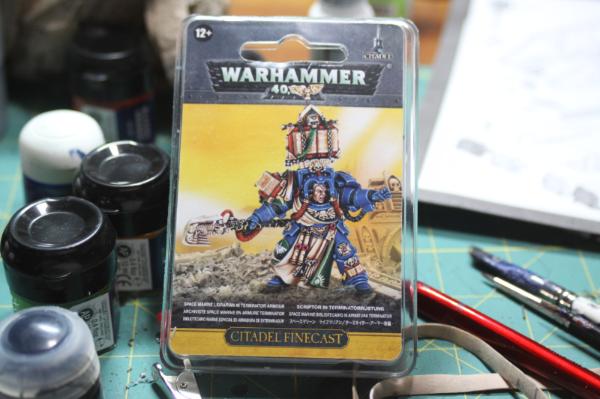 The back of the package is clear: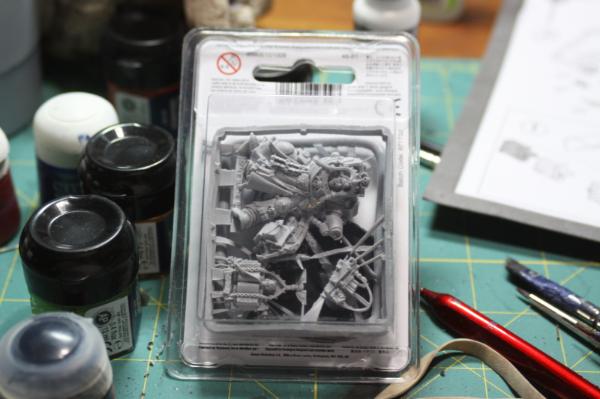 The blister has to be cut open. Its nice though to have a full color photo on the front for reference. Blister is extremely thin compared to the old blisters.
Here are the contents (my gallery has zoomable pics):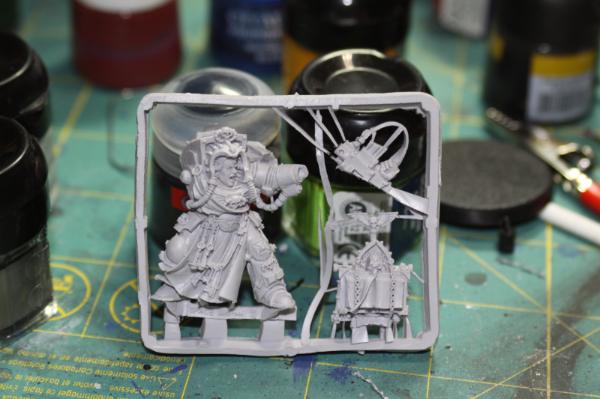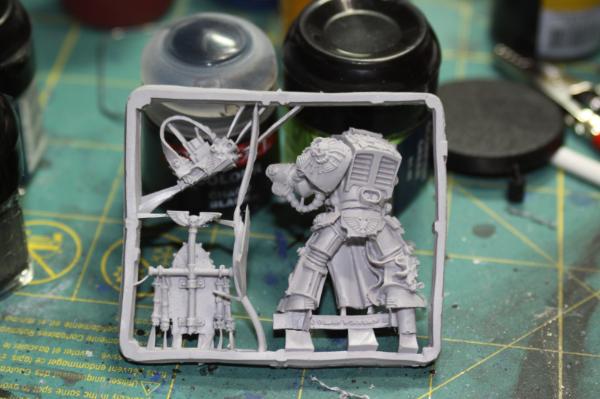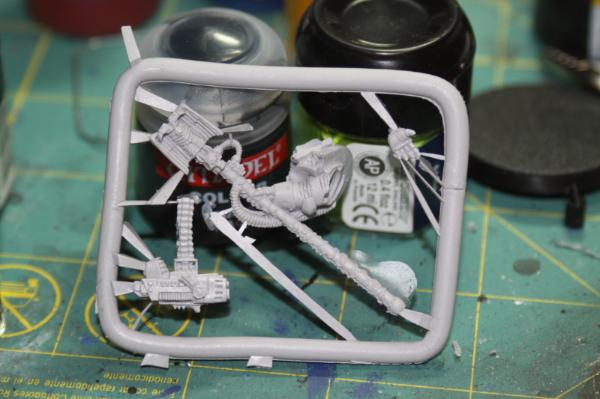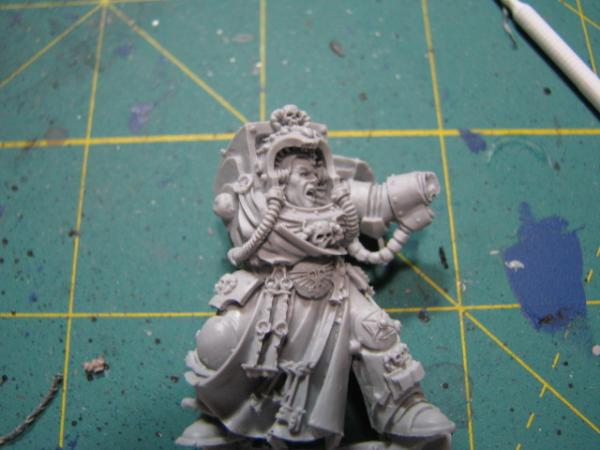 Now for my review:
The material is wierd feeling, it does not feel or smell like resin - its more on the plastic end. it is EXTREMELY SOFT - cuts with a new hobby knife easier then a hot knife thru butter. There are some heavy sprue gates but due to the softness of the material its easy to remove and clean up. Sanding is semi easy - i recommend fine grit or you will cut right thru the figures details in no time. The metal burs and stuff that plague the metal figures don't exist here. Sanding leaves less mess then a plastic figure. Almost no dust. DO NOT USE METAL FILES OR YOU WILL BE SORRY -THEY WILL DO MORE DAMAGE THEN GOOD. This is nothing like forgeworld resin or citadel plastic. I have a feeling that it will make altering figures vastly easier!
There are a few small mold lines along the guns and staff and a few micro size air bubbles (one at the very tip of his nose but is so small i can barely make it out - I never knew my metal figure had a smashed boxer's nose till I looked at the two side by side!), but the figure is clean except for his feet. nothing a little TLC can't fix. Detail is sharper then the original. I released that there were tiny ropes and stuff binding some skulls to the staff and armor. Holy Crap! The new material loves superglue. Bonding time is fast.
Good news:

Lack of weight makes pinning unneeded. The whole figure with base weighs about the same a a single plastic space marine. Also that MIGHT ensure that the kit survives a floor drop. Notice I said might.
The material has some flex to it. It can be bent (this is interesting - should prevent the broken sword, tips etc). It will return to its orginal shape after you let go.
The material does not have to be primed. This is shocking. A quick wash with warm, soapy water and BAM. Paint sticks. Period. Primer can be used, but go easy or you will lose alot of detail. Strongly recommend sealing figures whether or not you prime them.
Bad news:

Remember when i said the material is extremely soft. It also has some flex to it too. The librarians staff is impossible to straighten. I have tried heating it, then boiling it, etc. the staff is thin and has a slight bend to it. The material seems to have a limited memory to it and returns to its former shape. Will have to try other methods to fix that. Perhaps I need to heat it and chill it?
NEWSFLASH
:
I heated the staff with my girlfriend's blowdryer. It only took ten seconds for the staff to go from flexable to cooked spagetti soft. The staff went limp as soon as i picked off the desk to move to a plate. This requires extreme care. The resin stuff got mushy real quick. Weird. placed in freezer for 5 minutes. Staff is now straight. Foreworld resin will fight like a bastard to get soft, and even then it is brittle when bent.
CRAPOLA!!!!!
Missed this during the reg review which someone pointed out to me (good eye!): the storm bolter is miscast and missing the whole top half (i used the hand option). GRRRRRRRRR.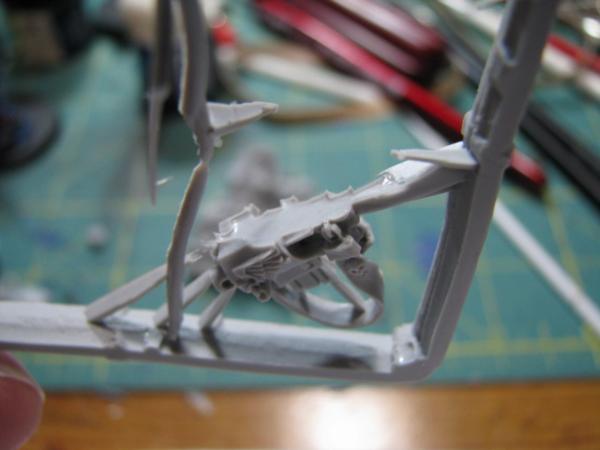 Not including the mold line on the figure's staff there is a bubble hole in the top of the staff near the right where the pipe work is: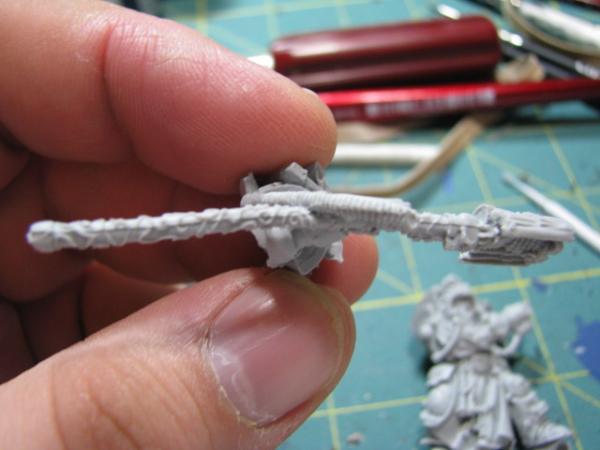 Overall:
The weight savings and lack of primer is nice, time and experiance will tell if this was a smart move by Games Workshop. Do i think a price jump is needed? NOPE. Do I like the finecast more then metal. Absolutely!!!
if they can work out the casting issues then this will be awesome
Sorry if this seems a little brief for some people, I love
GW
space marines (i build to display). I have had issues with metal models, plastic models (ever buy a warped land raider?? i have) etc.
I just posted a review of this figure after all the outrage over price increases and resin remakes. I was pretty stoked to get this kit and maybe a little overeager to share with you guys. I am working on it as we speak and when its done will show you the final product compared to my metal librarian (which was no picnic). Does this kit have issues? of course it does. Time will tell if
GW
gets it together.
Build Review:
05/27/11
So far I am liking this figure despite the flaws and the messed up gun.
The material loves superglue. A little dab and BAM - part is NOT coming off. Like I said before, paint sticks directly to it. It requires a good washing (had to go back and redo part of the robes - didn't get all the cracks).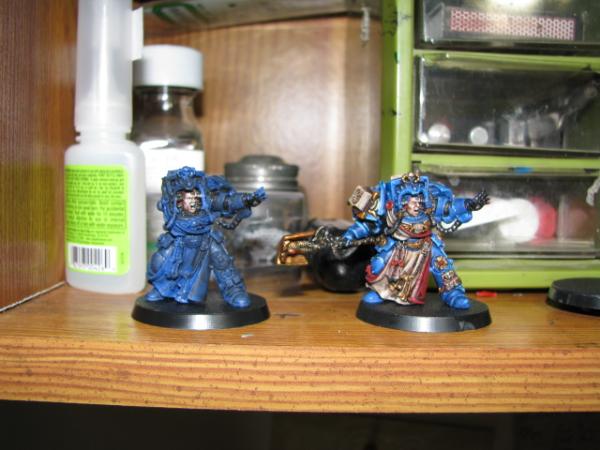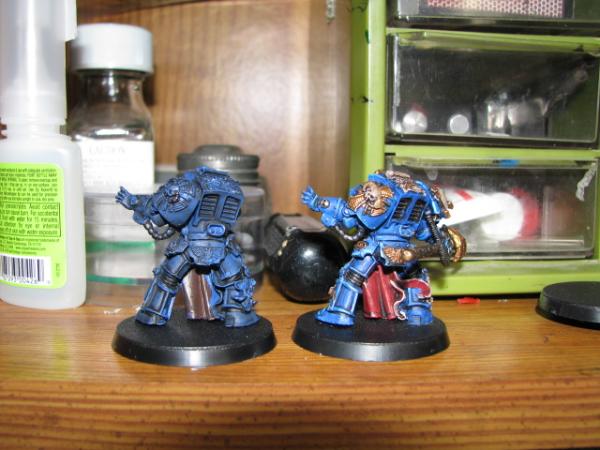 Secondly - greenstuff loves the new stuff too. I rebuilt the power cable on top of the staff. The pinholes are gonna need something else though. There used to be a product my Mr Hobby for filling in pinholes in resin (used it when building gundams). I wonder if they still make it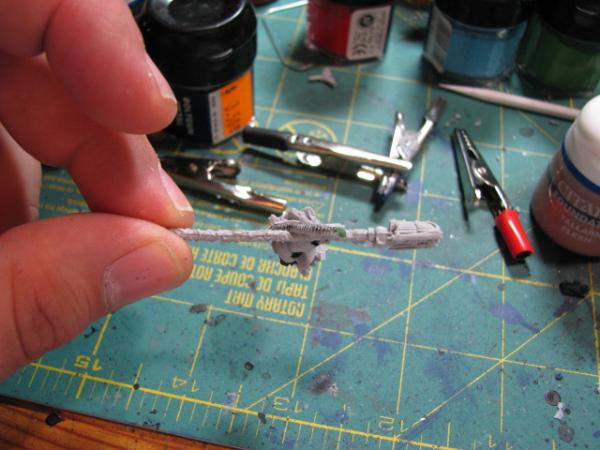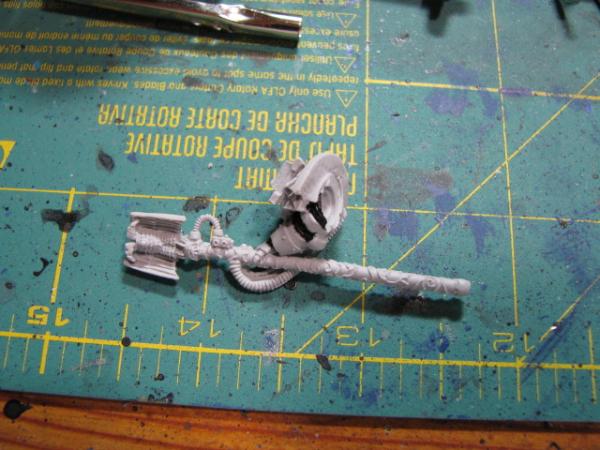 In regards to heat and flexablity: its been mid 80's here and humid. NO change in the model from sitting in my hobby room (which does not have windows and its like a sauna on some days).