Here we go, last push to completion. At this point all six boards are fully constructed, primed flat black, and lined up waiting to be brought to life. Er, barren un-life.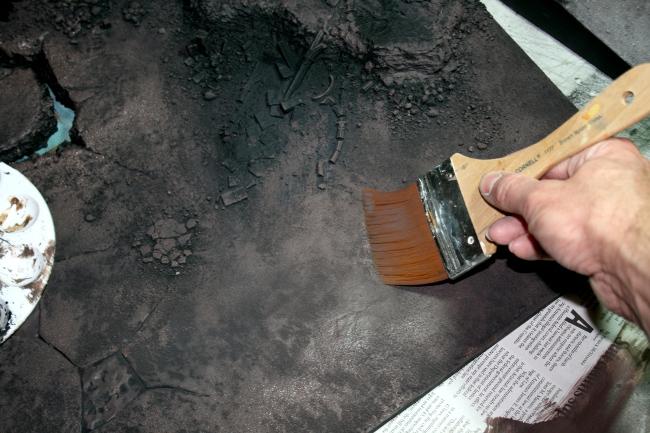 I started with the soil. I wanted the ground to have a warmth, even though it was essentially an ash-waste, so I started by applying liberal coatings and washes of burnt umber mixed with medium grey to all the ground and gravel areas with a 3″ golden nylon brush, the same exact brush I paint my figures with. (

) I was really messy with this first coat, because it would be touched up later, and messy was good for a natural uniformity of color.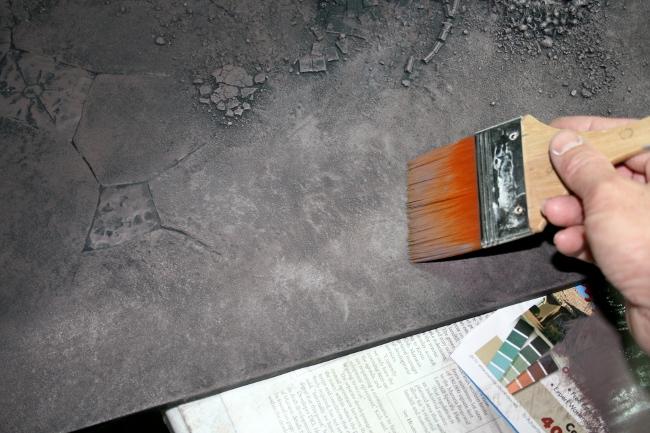 After some drying time, I added a lighter steel grey to the mix and brushed that on in circular motions to reduce streaks. This color was not as heavy as the first, but I still used a lot of paint. You can start to see the textures of the soils popping to life.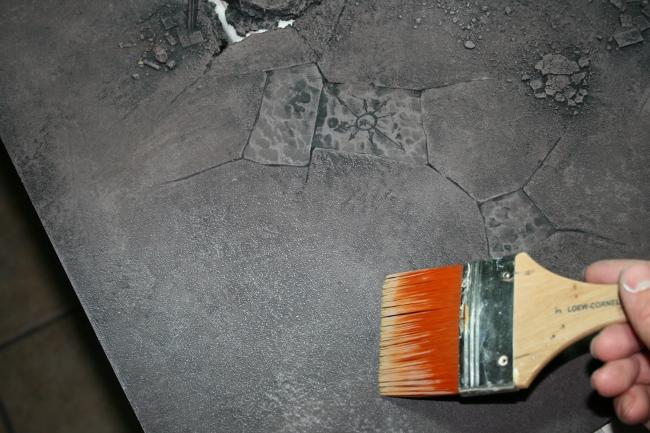 Again, working in a circular pattern, with a much dryer brush, I work in pure steel grey over all of the soil areas and rocks.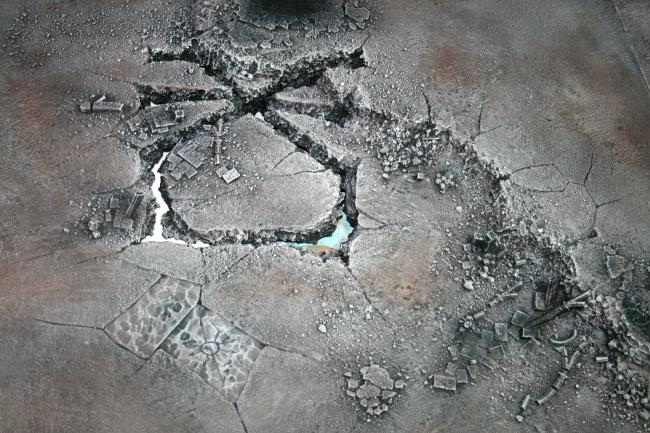 This makes a very uniform and rather unrealistic landscape, so in order to break up the large areas of unchanging color, I went back to burnt umber and applied washes in random, blotchy patterns across the boards, sometimes mixed with a little black, or grey.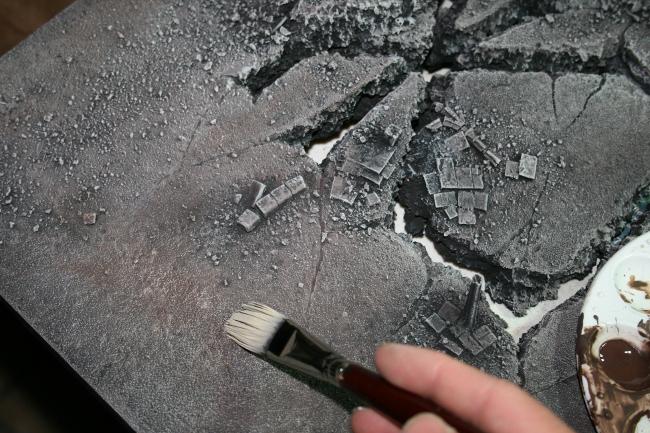 After the burnt umber washes dried thoroughly, I then changed over to a pallet of warmer toned highlights, mudstone and sandstone, sometimes mixed with steel grey, applying these last highlights more carefully with a smaller, 1″ brush, again creating a varied, mottled feel to the landscape. I carefully highlighted the square stones, cliff faces and rubble piles the same way, sometimes with a much smaller brush for tighter control.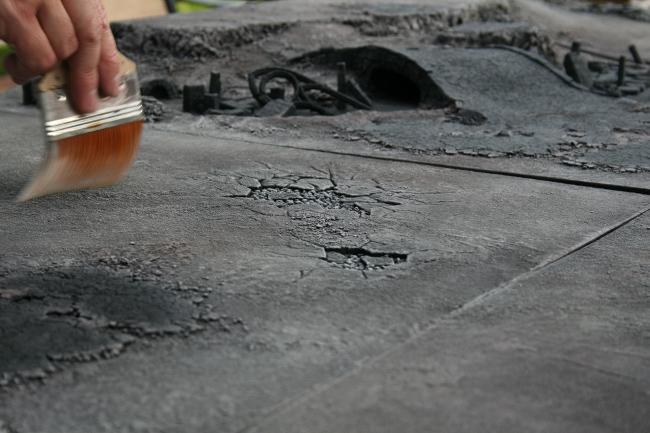 Between monsoon showers, I lined up all the boards outside under pure, natural light and made sure the "connecting" tones were even between the boards. This process was quite time consuming. (On some boards I had to re-wash or even totally re-blacken areas and repaint because somehow the colors grew too light and wouldn't fit with any other boards, on others, the base tones were too dark and had to be brought up, Etc.)
That's it for the ground cover drybrushing, the overall effect was rather bleak, barren, scorched and blighted. Perfect really. Some people would call it done at this point and start lining up their armies. Not us. We had a lot of work to do still. Ruins to highlight in contrasting tones, skulls to paint individually, fleshy monsters to paint, toxic gunk pit to paint and pour.
Using all these multiple levels of drybrushing prevents the finished product from looking… well, drybrushed. If you do it right, you can achieve an effect that closely resembles airbrushing on some textures. But enough of how awesome I am. Lets turn it over to MisMuse's work. She was tag-teaming this with me, or I would still be working on it.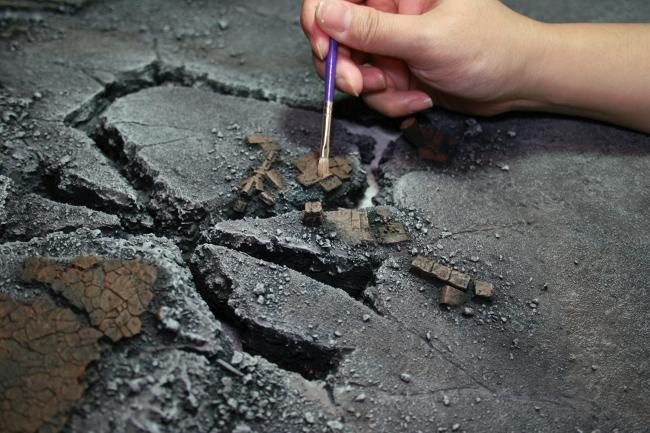 First we recolored all the ruin elements in pure black. This would give definition and clean colors.
We tried a handful of different color schemes for the ruins, blocks and cobblestones, but finally settled on a contrasting, warm toned, dirty sandstone look, which MisMuse achieved by bringing these elements up through asphaltum, light cinnamon and finally sandstone shades. While she wore her wrist out on the ruins, I started on the fleshies.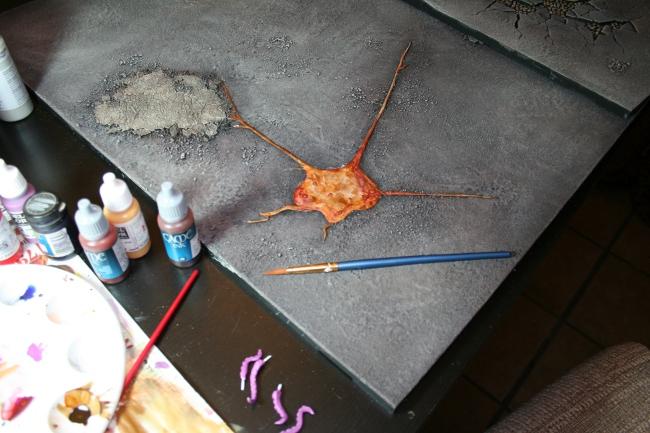 This was a crazy process I don't fully remember, because skin tones are very subtle and complicated, and I was working a large area of different subtleties. Essentially it started with Vallejo dark flesh mixed with
GW
elf flesh over the whole thing, then shaded with flesh wash and sepia ink, then highlighted with flesh tones again, then mottled patches of purple ink/saddle brown to flow into the skin texture, then painting on veins and arteries visible through the skin. Lot of work, but the finished effect was rather creepy. Also I painted those tentacles from way back, light skin with purple washes, then highlighted and flesh washed.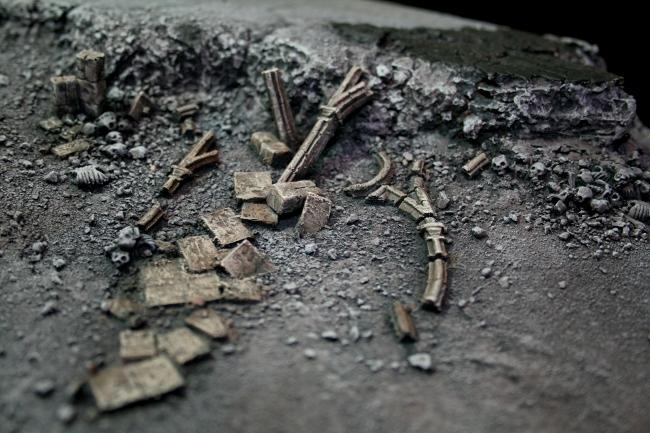 The runes were looking great. Thank you MisMuse, for helping so much with this monstrous task, and thank you for taking pictures along the way and all that fantastic photography that you did so early in the morning even though "the light and shadows were all wrong, wrong!" And thank you for telling me that the first colors I chose for the ruins looked like "boring crap". Yes, your opinion matters.

Skulls…. wow there were a lot. Most were base coated snakebite leather, and highlighted with snakebite/bleached bone, then some were washed with black ink, some were washed with sepia ink, then re-highlighted in shades of bone and/or grey. Some final highlights were added with bleached bone or grey mixed with white. This produces the effect of skulls in various states of decay or age. What, you didn't think I was just going to drybrush them all white, did you?
Note that this is the only time in the whole project did I open a bottle of white paint, and it was still mixed with other colors and used only to highlight the cheekbones and foreheads of skulls. White is a very powerful "color" and should be handled with care. Every time someone drybrushes white paint on a model or terrain piece, somewhere a little bunny dies.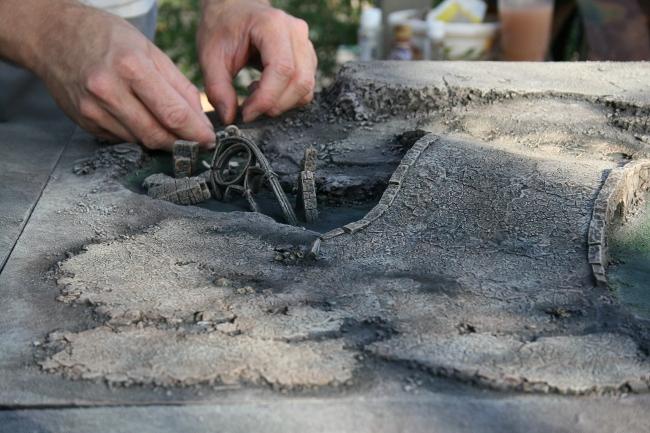 I painted the goo-pit in shades of green, fading to black to simulate depth, then attached the tentacles into the culvert with a little cyno glue. I didn't need anything too strong, since the resin would hold them in place once poured.
The resin is a 2-part polyester clear resin, with a little bit of dye added to further enhance the color of the pit. I used a disposable syringe to inject it into hard-to-reach-areas and up the slope to the culvert. This is the only stuff we use that gives off chemical fumes, so apologies to anyone knocked over when Mr X opened the box for the first time. Please note that the fumes disappear with time, and the brain damage is often reversible.
The resin is supposed to be done at the very end, but I must have spent another full day just fussing over details, l like missed skulls, repainting the edges of the boards, re-spraying matt sealant over the ruins and rubble, (with the resin carefully masked off.) And of course, making the lava background board and electronics cover for the wiring.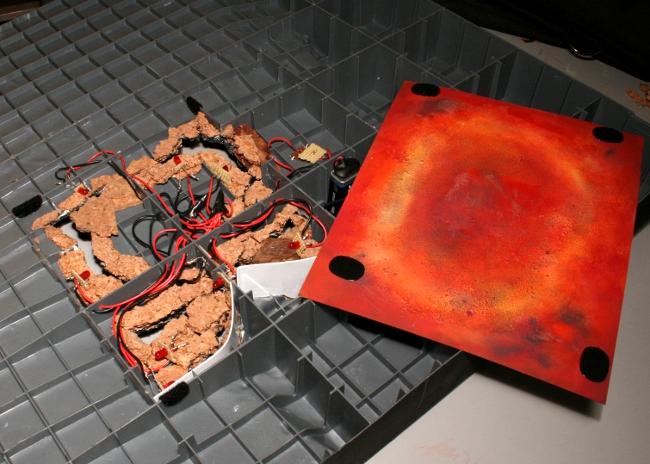 Just a piece of plasticard, textured lightly, primed white then painted with yellows fading into dark red, then a little black drybrushed around the red edges to look like cooling pieces of lava. It was attached with velcro tabs.
Then, our next step was to…. uhm, next we….
What?
What do you mean that's it?
We're done?
Oh. Okay.