graven - Cheers bud! I think that's it's defining feature

DQH - Thanks a lot.
He's been sitting around for ages, and I always thought I'd have him welding or fixing a door or wall panel, but that was when he belonged to the imperials

Not read it I'm afraid, but I think Skitarii mentioned a mechanicus magos who had three brains in the same tank. Possibly the one interesting thing in the book

CB
- I made a deal with the ruinous powers, so I get all the ideas, but never get to finish them.....

And cheers!
Kernel - Think I'm at the slowest I've been since re-appearing - don't let multiple shots of a base in progress fool you....

Viterbi - Thanks so much! Glad it turned out alright.
Doc - Many thanks. Always fun trying to figure out floating models.
Slow progress on many things - a couple have reached stages worth showing.
The marine herald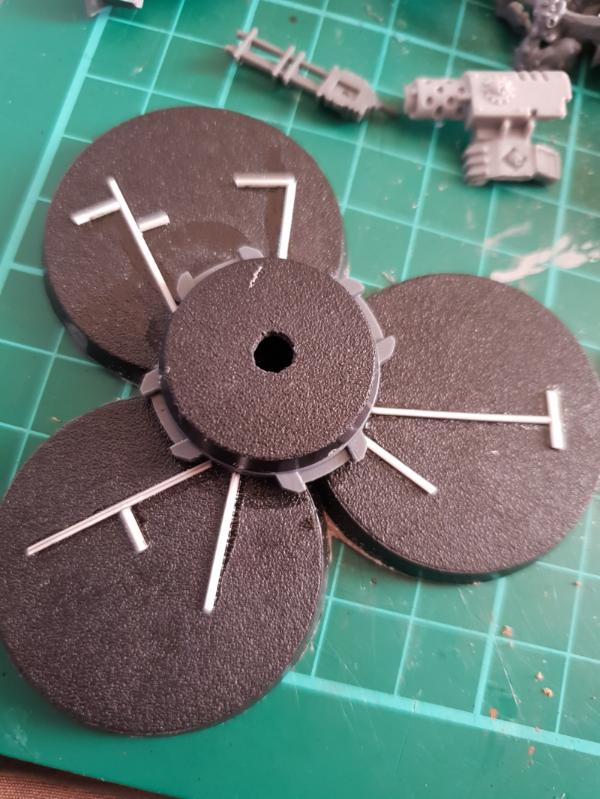 Used some strip of plasticard to add a bit of relief detail under the platform, nothing much as it will hardly be visible, but enough to beak up the flatness. You can see the messy gluing here to.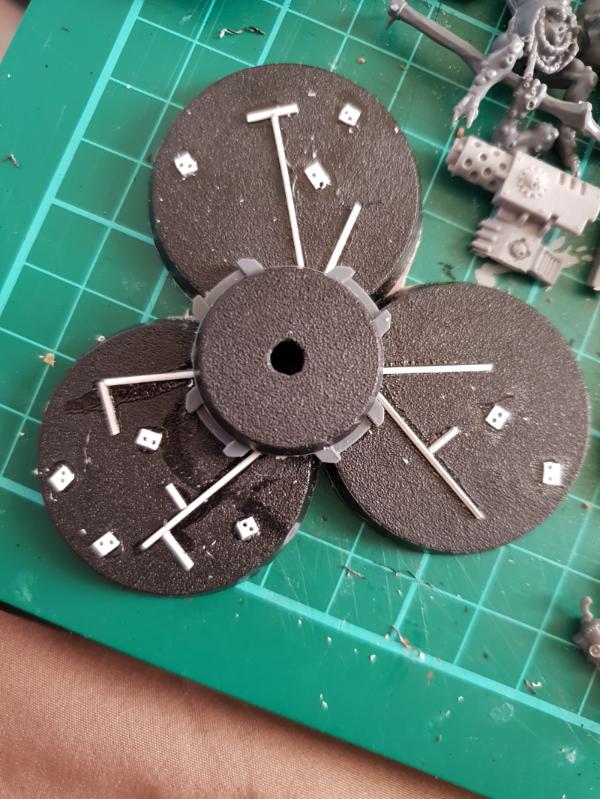 A couple of tiny strips added, which then got holes drilled through. These will take hanging chains and ropes - location was important to make sure things hang right, but alignment isn't - why they're all at odd angles.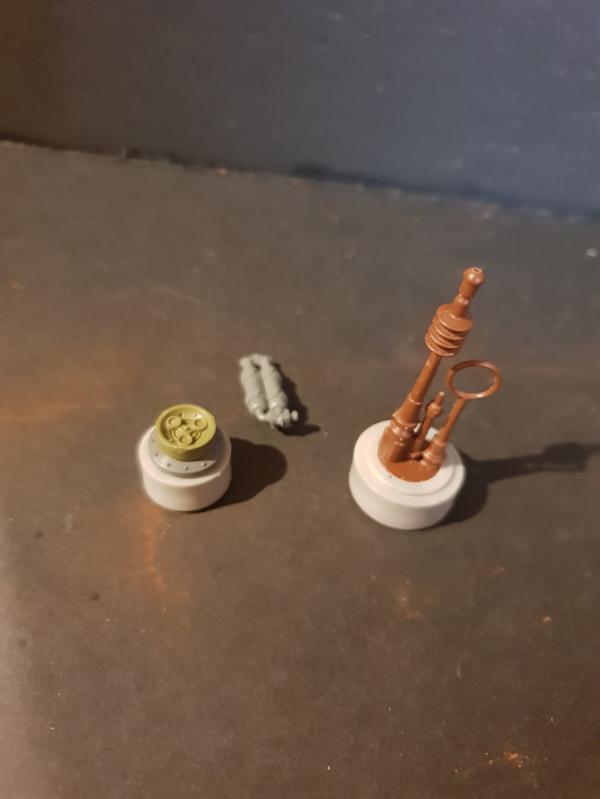 Made a little container for lovely poisonous bio-matter and an aerial post (hole drilled through the aerial to allow an extension holding a banner).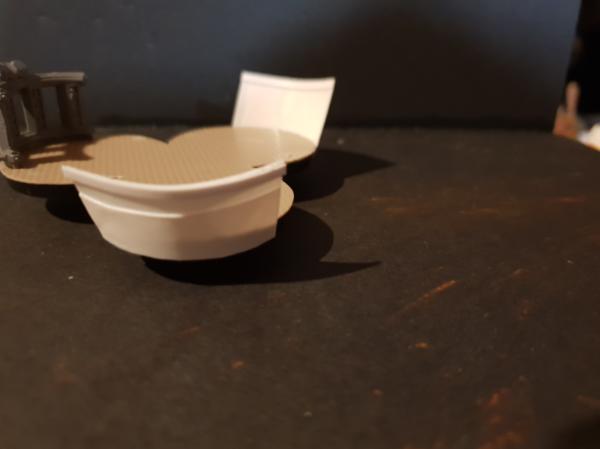 Added a couple of side barriers using layered plasticard - went with the angle of the bases instead of vertical for a bit of interest.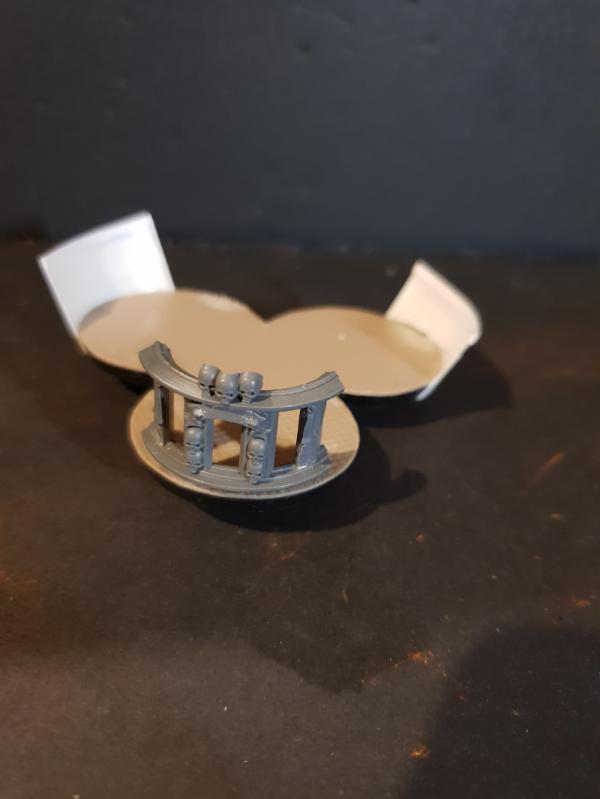 And glued the pulpit in place.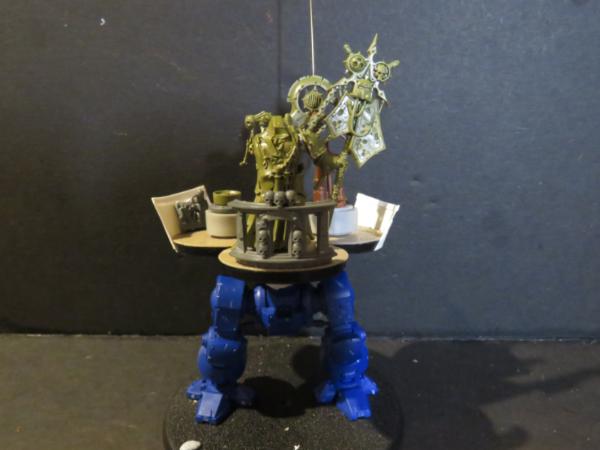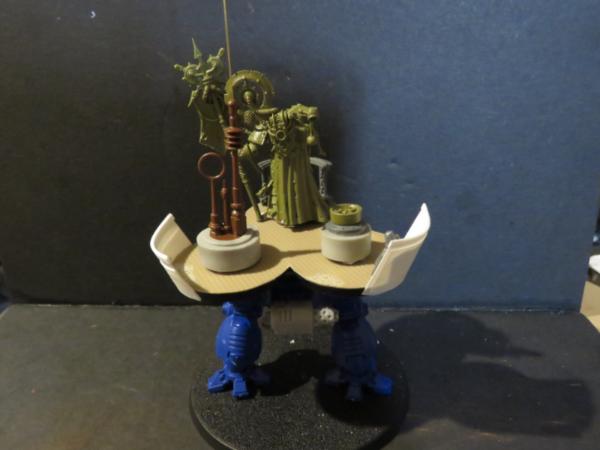 Roughly placed - there'll be some cabling t the back, maybe some more bits on the interior walls.
Thought for a bit about removing the banner from the herald and having a torii type of affair holding a bell in place of he bits. Although that makes the 'banner' bigger which would seem right, it doesn't quite give me the sense that he is the herald. I'll work on detailing the current bits whilst I ruminate on that - I might change my mind.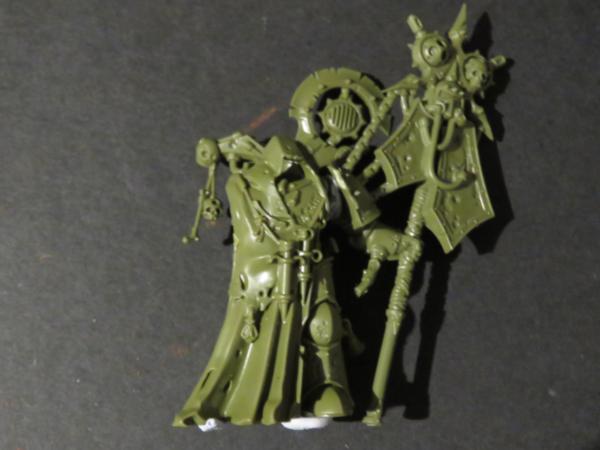 And the herald himself turned out to be a very simple bits swap - albeit he doesn't have a right arm yet. Body from one, banner from another, backpack from a third - just some minor trimming so far.
In place of a face he'll get three cables feeding into the back of the three skulls on the pulpit.
And there will be the odd skull, spike, head and whatnot hanging on rusty chains for good measure.
Imperial Probe Droid
Sniffer Drone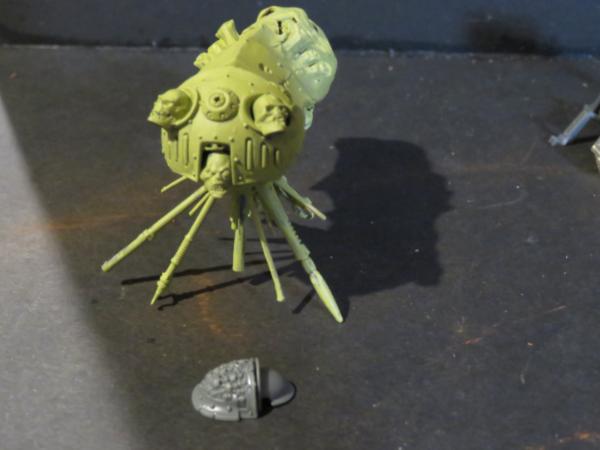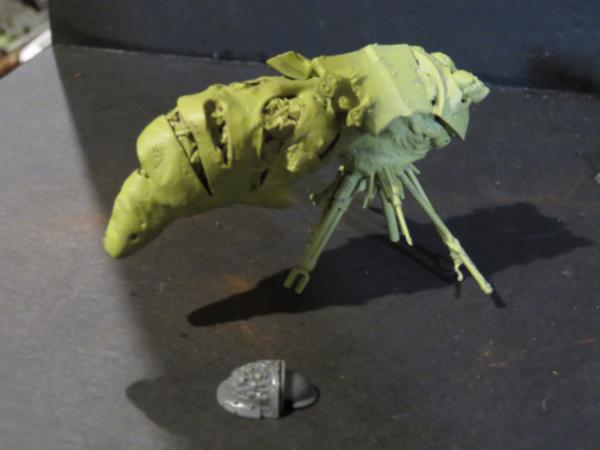 Body finished and primed.
And current batch of contenders for Robot Wars, err...the floaty drone's baby probe-bots.
Filth Columnist Chimera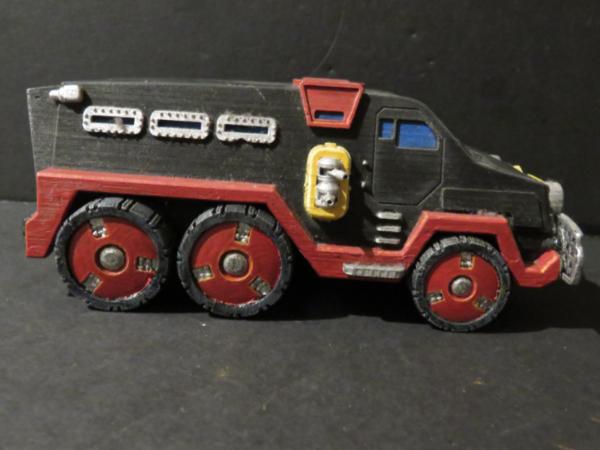 Had this Mega-City Pat-Wagon from the old Judge Dredd kickstarter and managed to get some paint on it before I lost interest in building a scale model of the Big Meg in my room (which is what it was turning into in my mind

)
For a long time there were plans to cut the eagles head off and mould on two heads - making it an ideal arbites transport. But realistically that project is one several blocks past the wall behind the back-burner. I have another project lying around (quel surprise!) involving a civvy truck that is used as a chimera by a Slaaneshi cult, so it seemed reasonable to do likewise but for Papa Nurgle. It's not a great cast - it was taken from an old (now) 3d printed master and suffers with print lines very badly. Hopefully I can use that to help create a badly worn and rusted vehicle. It'll be used by the Filfth Columnists who have infiltrated the planer ahead of The Scourge in order to spread unrest, create cults and do a bit of poisoning along the way.
First, to
de
-Meg it.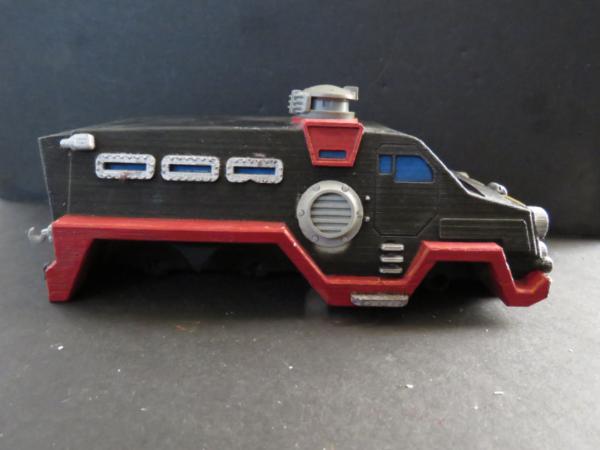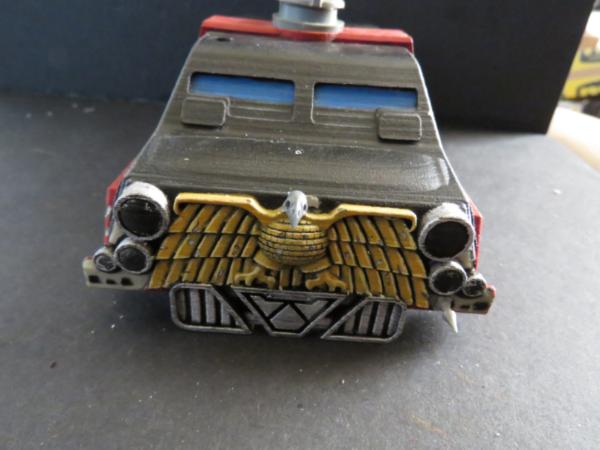 Remove the side bull-bars, remove the gun emplacements, remove the eagle's head. Add some vents to cover the gun mounts, stick a hook on the back, add a bird skull, and create a little pop-up turret (not working in this instance). Alsod rilled a hole in the bonnet for an attachment point for a couple of chains that will be wrapped around the 'steel crow' (work i progress name for this particular cult...). The eagle also got a few hacks and holes around the feathers.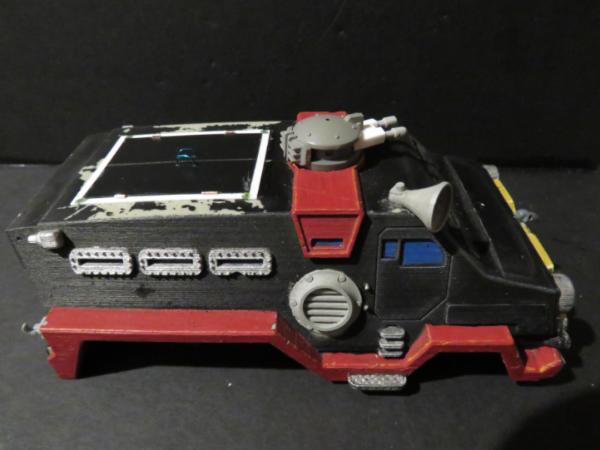 Added top doors and a mega-phone speaker - as a cult vehicle it can spread the word via sweet sweet harmonies as it travels. Managed to ad the door handles at a wonk, I've left it for now, secretly hoping it adds to the decrepit look when finished (I know, I know, just lazy....).
Created the weapons for the turret - two old las-rifle barrels to give the impression of a multi-laser, will also get a flamer nozzle in there - didn't want to fit one externally, so all weapons in the turret.
The idea is to have it heavily rusted, so going to try out a couple of techniques to get there. Using chipping fluid to get a version of the hairspray technique, and using powder textures to create some natural chipping. For those that don't know it, the hairspray technique involves first painting our model in the colour you want to show through the chips (so bare metal, primer etc) then spraying several layers of hairspray on it, before spraying it your final color. The hairspray allows you to then chip and weather the top layer with wet stiff brushes, cocktail sticks or whatever, allowing the underlayer to show through. There are a few mediums on the market that do a similar job to hairspray, which can be a bit temperamental sometimes. I seem to recall using this on an ork building back in the day, but this will give it a real test to see how it performs. Need to check might even have two different mediums.
Using pigments to add texture and create chips involves painting on a mix of paint/wash and pigments which ends up with a rough texture. the final cloour is painted over that, and then using cocktail sticks and brushes you can chip away the paint exposing the pigment powder. I was thinking this could work well with the print-lines as the added texture will help disguise them.
I'm not expecting world-class results without completely stripping the model and doing some hideous amount of filling and sanding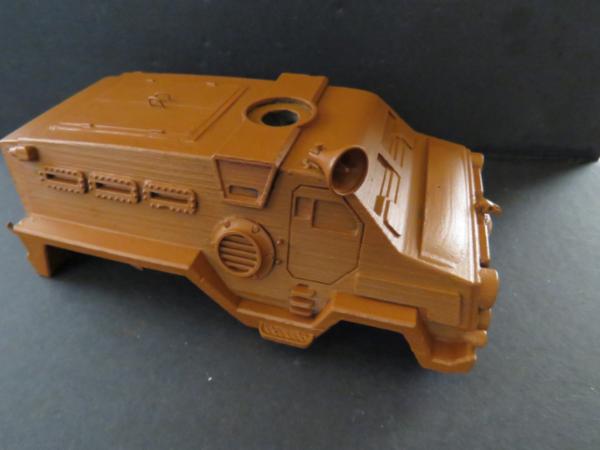 Undercoat of scrag brown to start with.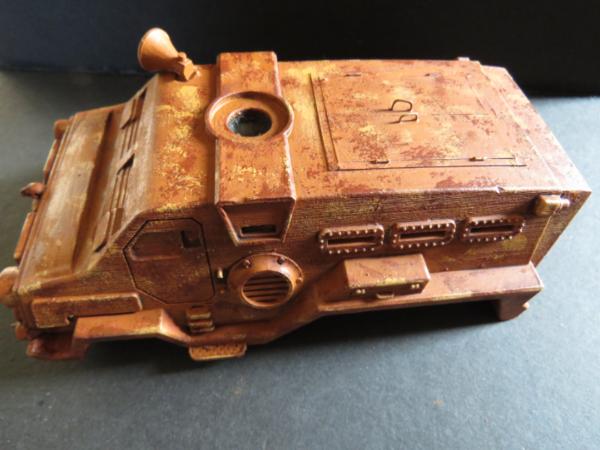 Then I start with a sponge - first doombull brown, then tau light ochre. making sure to get coverage across the surface, not just the high points and wear points like you normally would with sponging. make sure attention is paid to some of the hard to get area, push that sponge in.
At this point I actually decided I didn't like the initial start, really wanted a darker start point.
So created a 'wash' using fleshtone, black wash and some rust pigment - don't need a lot for colour, it's very strong - pigment

This got a fairly liberal application, and whilst still damp I transferred more pigment to various areas - just dropping it there, not trying to blend it.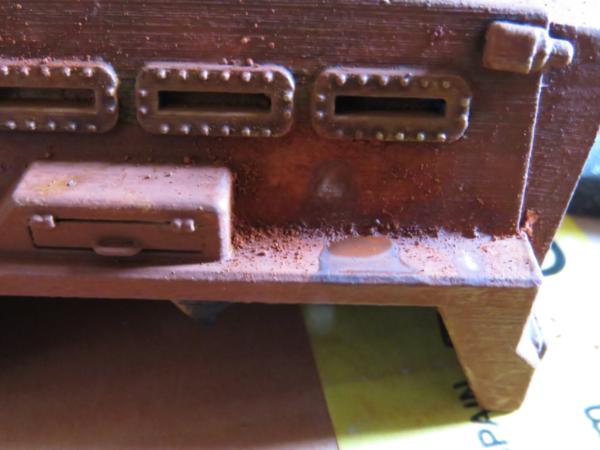 It ended up much rustier and darker in tone (who'd a thunk it?) with some areas - like by the locker - getting a nice coverage.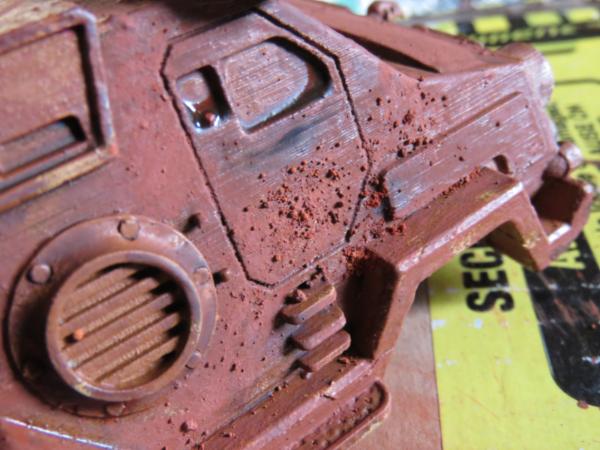 Some areas - like the door - just got big old lumps stuck there.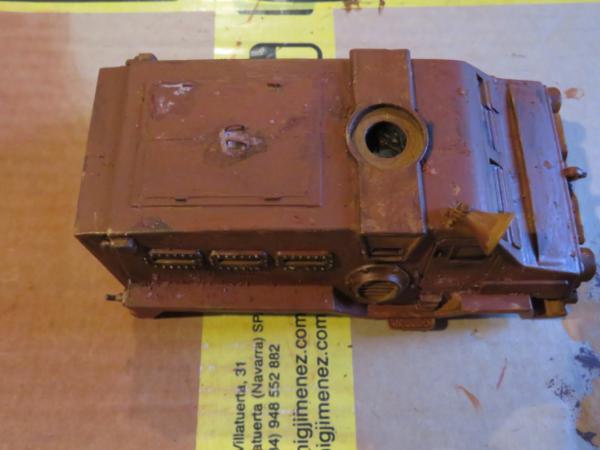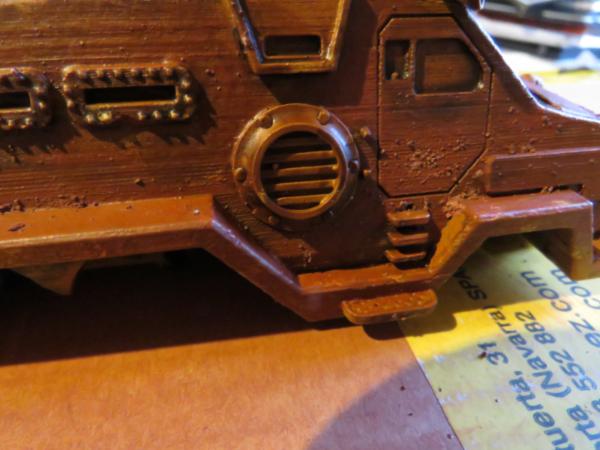 Using stick and stiff brush I blended in some of the bigger lumps, then gave it all a spray of dull cote.
Then back for more sponging.
Unfortunately I got carried away here and forgot to take photos at each layer, which was the plan

Sponged on were
Doombull brown - darker than the default, reasonable coverage, again pay attention to nooks and crannies.
Scrag brown - plenty of coverage but trying to keep a lighter touch than the doombull.
Celestra grey - very light touch, only in scattered places, not full coverage.
Charadon granite - as above maybe even lighter.
Dy rust (army painter) - reasonable coverage, light touch.
Used a couple of different sponges, several pieces of each, trying to twist the sponge between each dab to avoid repetitive patterns forming. If one area gets too heavy a dab of paint from the sponge make sure you hit that lightly a few times with the next layer to break it up.
The cross beam got heavier layers of the greys, slightly different material or batch.
Then got two rust powders out and dabbed a fair splodge around - blending it a little, but not completely, keeping it a bit rough in places. This all then got hit with pigment fixer - it dakens the pigment slightly, but that's not a issue here. There will be a few bits of powder added at the end, so just adds variation.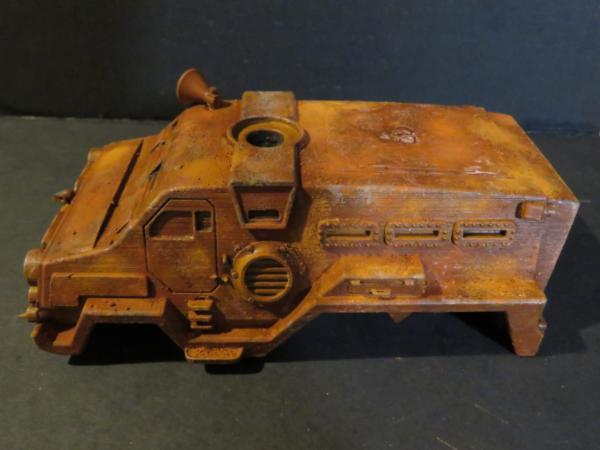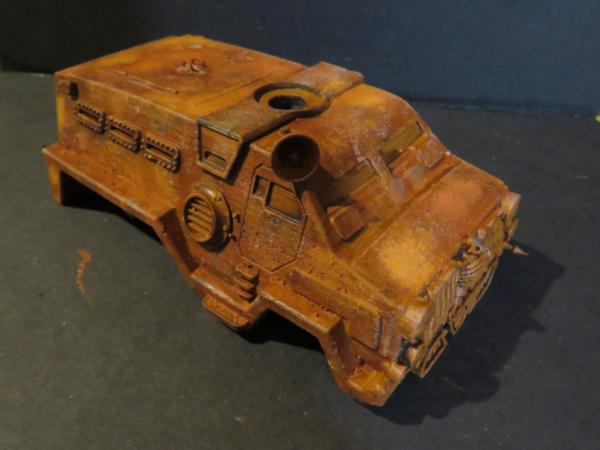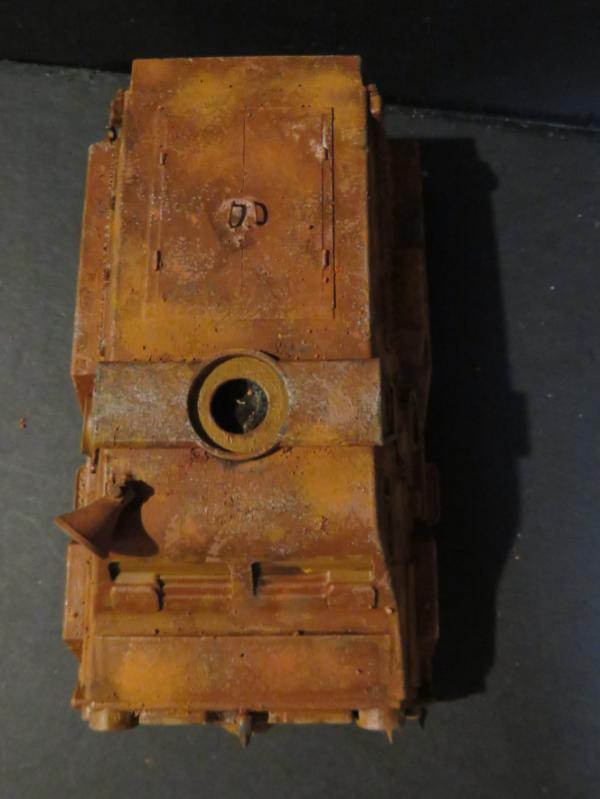 And there 'll leave it overnight and examine it in the morning to see if I want to do anymore before next stage. And I need to check my spray as it's fairly old - and I won't get a re-stock till next week.
Thanks as always for popping in...